The program has expanded into a more comprehensive month long series, which now encompasses a wide-ranging array of matters in which the "wise women" guest speakers provide a continuing source of inspiration and information to guests, many of which come to celebrate their last round of chemo or a special birthday. Others come to heal after losing a loved one or finalizing a divorce, but regardless of the reason for their visit, the goals are usually the same: making positive change. And through motivational programs that explore, enhance and honor the many aspects of women's overall health and wellness, changes happen mentally, physically, emotionally, and spiritually.
I spoke with three of the guest speakers, Sara Moulton, celebrity chef, cookbook author and TV host; Spike Gillespie, acclaimed author of seven books and countless magazine articles; and Anne Irving-Likes, therapist, yoga teacher and wellness consultant, for the Wise Women Retreat, who bigheartedly put together a toolbox for the rest of us, who might not be able to attend.
Together, these three INCREDIBLY wise women created the below tips. What is great to remember is that these tips can apply to children as well as adults, and are helpful for living a more balanced life.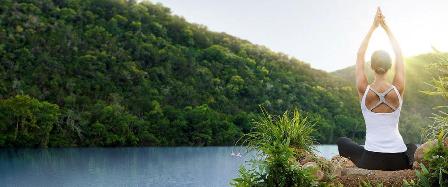 1.Make yourself a priority. Too often, women put everyone else first before themselves, rethink that. It's no wonder that the HealthCare industry has grown and developed around Men's Health vs. Women's Health. Women need to be their own advocate. Each year, before your annual exam, sit down and think about what you want to achieve, make a list of items to discuss with your doctor and take control of your own health.
2.Find time for a quick meditation. Even if it is 5-10 minutes just to find and follow your breathe. Breathe deep and don't forget to exhale.
3.Buy a foam roller. For a one - time cost of $13.95 you can buy an unlimited amount of self-massage! Roll out the tension and kinks in your back and IT band using your own body weight. Roll where it hurts.
4.When feeling stressed or depressed you can self -sooth by applying gentle pressure on acupressure points located on the collar bones. Apply gentle touch to the heart and/or solar plexus while speaking kindly to yourself, ie "I'm having a hard time right now, but I'm going to be okay." It doesn't matter where the kind words come from--ourselves or someone else-- it only matters that they sound sincere.
5.To stimulate your brain, listen to music. If you want even more stimulation, play music. For the highest degree of stimulation, compose your own music.
6.Take a dance class, get out of your comfort zone.
7.Make yourself a special drink. It is important to hydrate and it is important to spoil yourself so throw in a lemon or lime wedge, crush some mint, be thoughtful, it's good for you.
8.Be moved by scents and treat yourself to a lavender or orange blossom candle.
9.Cultivate your girlfriends. Reach out to the people that you love, having conversations, making eye contact, these connections calm us and help us feel that we are our best selves.
10.Turn down the volume of your inner critic. You likely wouldn't choose to spend time with a friend who kept reminding you that you have gained weight, wrinkles and gray hairs. Turn down the disparagement and crack on the kindness.
11.Forgiveness is freeing. Holding grudges is like giving free rent to live in our brain to people we would rather not have in our life.
12.When you are grieving, don't isolate yourself. Leave your house, check in with friends, let others help carry the load.
13.Give yourself permission to tell your story. Journaling through trauma helps the process of healing and improves physical health.
For more information on the 20th Anniversary Gathering of Wise Women at Lake Austin Spa Resort visit www.lakeaustin.com or call 800-847-5637
Related
Popular in the Community