All photos by Meghana Gandhi
Twice a year in spring and autumn, people flock to Round Top, Texas, for Antiques Week, a shopping extravaganza to rival the world's best. This year's Antiques Week starts from Saturday, September 21st through October 6th. Fathom contributor Meghana Gandhi gives you a teaser of her favorite treasure-hunting experience in the world.
ROUND TOP, Texas – As Marfa has proven, the tiniest Texas towns can be full of the quirkiest cool surprises, and Round Top (pop. 80 as of the 2010 Census) is no exception.
In spring 2011, Rachel Ashwell, the doyenne of the French-country-elegance-meets-SoCal-cool style Shabby Chic, opened The Prairie, a five-house B&B on 46 acres in sleepy Round Top, midway between Houston and Austin. Several months later, an editor friend from Conde Nast Traveler went to check it out and came back with Ashwell's Round Top tips, which included a bi-annual antiques fair and Royers, a cafe that specialized in pies. The trifecta -- Ashwell-outfitted digs, antiques, artery-clogging desserts -- was irresistible to me, so I set off for rural Texas.
In less than 48 hours, Texas Antiques Week came to beat out Buenos Aires' San Telmo, London's Portobello Road, NYC's Brooklyn Flea, and Paris' Puces de Saint-Ouen to become my favorite treasure-hunting experience. Touted as the largest antiques fair in the United States, the event, which has been around since the 1960s, attracts more than 2,000 vendors who descend upon a 25-mile stretch of Highway 237 from Burton to LaGrange (with Round Top somewhere in the middle) for roughly a week or two every fall and spring. The next dates are September 21-October 6,2013, and March 22-April 6,2014.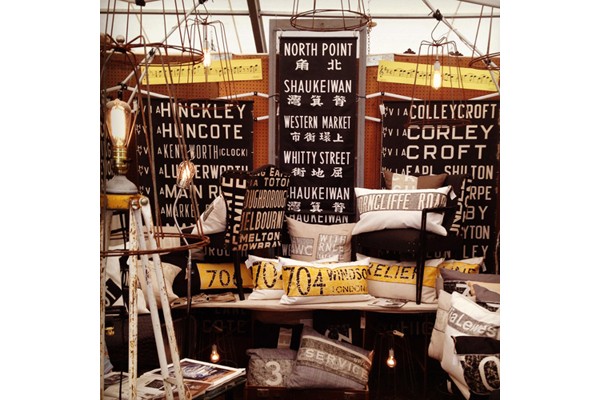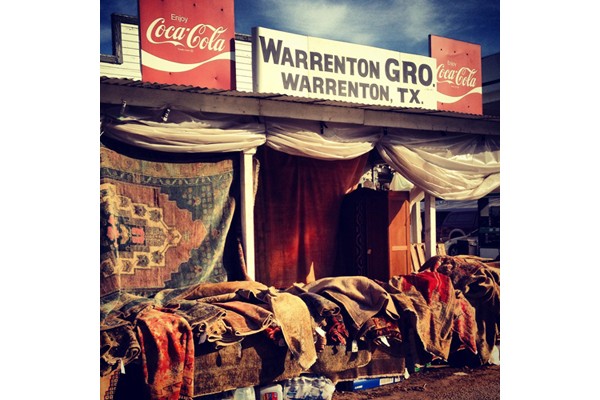 Vendors set up shop along the highway in various venues consisting of clusters of enormous white tents, as well as in barns, dance halls, and general stores. The straight-out-of-a-Western quality of many of the buildings makes for a setting that's unintentionally arresting, where seemingly impersonal tents house incredibly creative displays, chandeliers hang from the porch rafters of a wooden house, and Soviet Russian art filled a bingo hall.
"Antiques" is perhaps a loose term, as the merchandise also includes crafts, clothing and accessories, and flea-market-type curios. Unsurprisingly given the number of dealers, the variety of items is staggering: cigar box labels, Goyard trunks, 1920s French fashion newspapers, rifles, carriages, cloth mail bags, jewelry, cash registers, china and cutlery, American Indian moccasins, and furniture from what seemed like every era. And that's a mere sliver of the offerings.
The atmosphere is equal parts carnival and commerce. Major venues like The Big Red Barn, Marburger Farm, and Zapp Hall offered picnic-style areas and various catering options (including Royers and famed Black's BBQ of Lockhart, Texas, which has been run by the same family since 1932). Ashwell, whose aesthetic seems tailor-made for worn wooden farmhouses, provided wine and cheese during the late afternoons in The Prairie's cozy reception area.
The best event was the Junk-o-Rama Prom that's hosted every Antiques Week by local vendor The Junk Gypsy. As the story goes, several years ago, the Junk Gypsy team discovered a pile of vintage prom dresses and, in honor of the gowns' glory days, decided to throw their own Antiques Week bash. Today, the party includes live music, beer, tulle skirts, sequins, DIY finery, and, of course, cowboy hats and boots. Revelers can document their getups in an outhouse that has been converted into an ironically luxurious photo booth, complete with chandelier and velvet cushions. This year's party is happening October 3rd at Zapp Hall in nearby Warrenton, Texas.
My worth-the-entire-trip find was a $5 white suitcase trimmed with red and navy and lined with decoupaged decades-old newspapers. Either that or the chocolate chip pie.
PLAN YOUR TRIP
Fly: You can land at Austin (AUS) or Houston (IAH).
Drive: You'll need a car to get around. Round Top is in Texas Hill Country, about 75 miles from Austin and 85 from Houston.
FIND IT
Dealers, shows, directory, maps, and more info.
Fathom reinvents the travel website by mixing inspiring stories and practical destination guides with the best travel resources and products. Follow Fathom on Twitter, tell us about your travels on Facebook, and sign up for our weekly wanderlusty newsletter.
Related
Popular in the Community