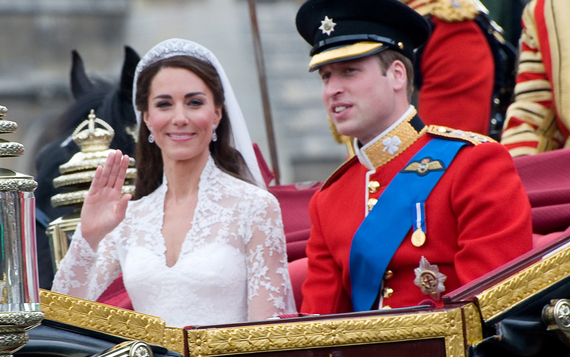 It's not uncommon to feel overwhelmed when planning a wedding. Even brides that have hired the most talented planners in the business still feel pressure to choose the best floral arrangements, cakes, caterers and find a location that will be intimate and romantic while still holding hundreds of people. But finding the perfect bridal gown should be fun and easy, whether you're looking for something modern and sexy or revamping your mother's traditional dress. For a little inspiration, we found some of the most iconic royal wedding dresses in history—from Queen Victoria to Princess Stéphanie of Luxembourg—because every woman should feel like a princess on her wedding day, even if she's not marrying Prince William.
Color is currently trending for the non-traditional bride, but most women are still opting for white wedding gowns—a trend started in the mid-1800s by the stylish Queen Victoria. Today we think of the white shades symbolizing purity and virginity, but in the 19th century, it was a color of mourning. It was the fashion-forward royal who created the tradition of wearing white on your wedding day when she opted for a cream-colored gown for her marriage to Prince Albert in 1840. She met with some backlash for her wild color choice, and was criticized for being too restrained in her adornment, as she was wed without any of her royal jewels, crown or robes. As with all fashionable royals, Queen Victoria started a trend—one that most brides continue almost 200 years later.
In 2004, journalist Letizia Ortiz married Prince Felipe of Spain at the Almudena Cathedral in Madrid. Crowned Princess Letizia after the ceremony, she is now the Queen of Spain, and a fashionable royal at that. On the advice of her future mother-in-law, she opted for a couture Manuel Pertegaz gown with a silk veil and a nearly 15 foot train. The dress was embroidered with silver and gold fleur de lys flowers, clovers, strawberry tree fruits and ears of wheat with a high collar around the neck. She paired this with the Prussian Diamond Tiara (her something borrowed, on load from Queen Sofía), diamond earrings gifted from the King and Queen, and an almost 10-foot long veil commissioned as a wedding gift for her by Prince Felipe.
When Grace Kelly married Prince Rainier III of Monaco on April 19, 1956, she was already a star, and women were emulating her style long before her engagement. For her nuptials, the Hollywood icon actually had two dresses made up, one for each of the civil and religious ceremonies, which were gifted to her by MGM head costume designer Helen Rose. For the civil ceremony she wore a demure pink embroidered skirt suit and Juliet cap. The grandest of the two dresses, and the one most associated with her wedding day, was worn to the religious ceremony. The long-sleeve gown took 30 seamstresses six weeks to make and was made with 125-year-old Brussels lace, a 90-yard veil and three petticoats. This gown has inspired bridal wear all over the world, including the Alexander McQueen gown worn by Kate Middleton on her wedding day. The gown was later gifted to the Philadelphia Museum of Art by Princess Grace, where it remains today as a permanent part of their collection.
Soraya Esfandiary-Bakhtiari married the last Shah of Iran in 1951 at Golestan Palace in Tehran. After falling in love with a photo of the Iranian-German beauty, Mohammed Reza Pahlavi proposed with a 22.37 carat diamond engagement ring, and the following wedding was just as opulent. On the day of their marriage, Queen Soraya wore a couture Christian Dior gown made with 37 yards of silver lamé studded with pearls, 6,000 diamonds and 20,000 marabou feathers. Reportedly the gown weighed 44 pounds and required four bridesmaids just to help her walk down the aisle. As their wedding took place in the dead of winter her strapless gown came with a matching jacket and mink coat, both gifted by Dior, to keep the bride warm.
Princess Elizabeth married Lieutenant Philip Mountbatten on November 20, 1947 in Westminster Abbey in front of 2,000 guests. The ceremony was broadcast to 200 million radio listeners around the world and in the days following the wedding, the couple received over 10,000 congratulatory telegrams and 2,500 presents. In post-war Britain, the royal nuptials were seen as a joyous affair—it's also why the princess had to purchase her dress, like all English citizens, with clothing ration coupons. With 200 extra coupons, gifted to her by the government, she was able to secure a gown designed by Norman Hartnell. But just because she had to use ration coupons doesn't mean her dress wasn't worthy of a future queen. The design, inspired by Botticelli's Primavera, was embroidered with star lilies and orange blossoms, and embellished with thousands of seed pearls and crystals. While not often displayed, the dress will go on exhibition this summer at Buckingham Palace.
Princess Stéphanie of Luxembourg
In 2012, Countess Stéphanie de Lannoy married Hereditary Grand Duke Guillaume at the Cathedral of Our Lady of Luxembourg. Dressed in a couture Elie Saab dress, Princess Stéphanie opted for a more romantic look than anything too grand or on-trend. Her wedding dress took 700 hours and 10 seamstresses to create, and used over 220 feet of silk crepe, 100 feet of silk lining, 164 feet of Chantilly lace and 131 feet of Calais lace. The detailed embroidery took 15 people an additional 3,500 hours to design as the piece was decorated with over 50,000 pearls, 80,000 crystals and 32,000 feet of metallic thread. Her regal look was topped with her Lannoy family tiara which was worn by her sisters and sisters-in-law for their weddings, and has been in her family since 1878.
Crown Princess Victoria of Sweden
On June 19, 2010, Crown Princess Victoria of Sweden wed her personal trainer Daniel Westling in Stockholm Cathedral. The couple took their vows in front of 1,000 friends, family members and international dignitaries, while 250,000 people lined the streets outside the cathedral to celebrate the joyous affair. The princess wore an off-the-shoulder, cream duchess silk satin dress custom made by Swedish designer Par Engsheden. Aside from the detachable 16-foot train, the dress was fairly simple, and was cut to complement the Bernadotte family heirloom lace veil which has been in the princess' family since the early 1900s. Her look was finished with the Cameo Tiara, a crown that has been worn by generations of European royals for weddings, and was originally given to Empress Joséphine by her new husband Napoleon Bonaparte, in the early 19th century.
Catherine, Duchess of Cambridge
No royal event in recent memory has created an international fervor quite like Kate Middleton's wedding to Prince William. The two were married in 2011, but ever since they announced their engagement there was talk and speculation about who Middeton would be wearing on her big day. For her nuptials, she opted for a Sarah Burton-designed Alexander McQueen gown with a lace bodice, long sleeves and Victorian-style bustle which was trimmed in a lace hem crafted by the Royal School of Needlework. For the ceremony she wore a diamond tiara loaned to her by the Queen. Covered in 739 brilliant-cut diamonds and 149 baguette-cut diamonds, the tiara was made by Cartier for the Queen Mother in 1936 as a gift from her husband, King George VI.
In December 1960, King Baudouin and Fabiola Mora y Aragon were wed in the Cathedral of St. Michael and St. Gudula in Brussels. For her vows, Fabiola chose to commission a couture piece from Cristóbal Balenciaga, a designer from her Spanish homeland. The dress was seemingly simple at first glance and was made with ivory satin and a white mink trim with a drop-waist, but the neckline fell back over the shoulders and extended into a 22-foot long train. The dress was so heavy it took no less that seven people to help her move down the aisle and she almost fainted several times during the four-hour, traditional Catholic ceremony. She paired the gown with the Nine Provinces Tiara, which had belonged to her late mother-in-law Queen Astrid. Later in life Queen Fabiola donated her wedding gown to the Balenciaga museum in Spain, where it can still be seen today.
On July 29, 1981, Lady Diana Spencer married Charles, Prince of Wales in front of 3,500 invited guests and 750 million viewers around the world. Princess Diana chose a gown designed by Elizabeth and David Emanuel for the ceremony, a piece custom made to match the grandeur of the occasion and the location. The dress, which was a very on-trend, '80s design with puffed sleeves, 275 yards of ivory taffeta and a 25-foot train, was detailed with hand-sewn embroidery, sequins and 10,000 pearls. "The dress had to be something that was going to go down in history, but also something that Diana loved. And we knew it was going to be at St. Paul's, so it had to be something that would fill the aisle and be quite dramatic," Elizabeth Emanuel said in Diana: The Portrait. The dress toured museums globally for years until 2014 when ownership passed to her sons.