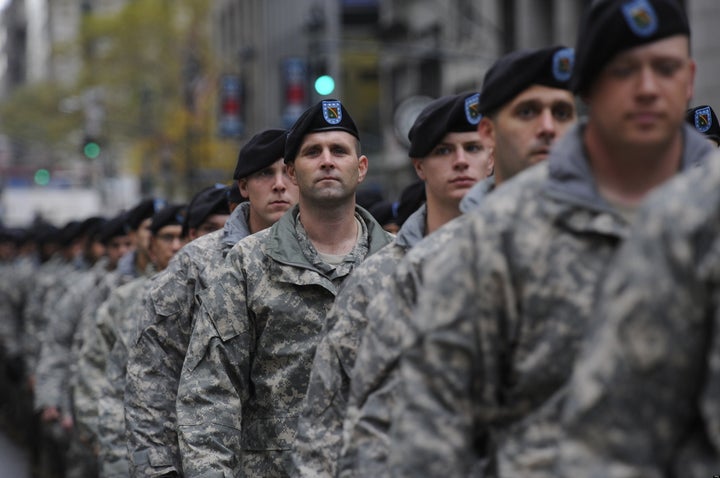 For months, our country has been divided over "ObamaCare," Bush tax cuts and Wall Street bailouts. But with the election finally behind us, it's time for all Americans to come together and find some common ground. It won't be around immigration reform or deficit spending, but it can be around one critical and universal issue: Veterans Day.
Veterans Day is easily forgotten. It falls right after the election and right before the holidays, and for many Americans, it's a holiday that usually drops off the radar. Yet, for the millions of veterans who have served our country throughout history, this is our day. A day to be honored, a day to remember our fallen and a day to remind all Americans that we are a nation at war.
But this wasn't always the case.
Many of us have read about the important leaders behind our country's defining social movements. Rosa Parks and civil rights. Susan B. Anthony and women's rights. Harvey Milk and gay rights. But what many people don't realize is that there is a leader behind the movement to honor our nation's veterans: Alvin King.
For a long time, Veterans Day didn't exist as Americans know it today. Celebrated initially as Armistice Day, Nov. 11 was a day to honor veterans of World War I. And up until 1953, Americans continued to follow that tradition, even though we saw waves of veterans return from World War II and Korea.
But Alvin King, a shoe store owner in Emporia, Kan., refused to accept that our country should honor only one generation of veterans. Why wouldn't our country recognize the service and sacrifice of all generations of veterans? From his store in Emporia, King rallied fellow shopkeepers to transform Armistice Day into something much bigger. Word spread through town, the community put pressure on Emporia's elected officials, and before King knew it, the movement had spread like wildfire across the nation, and Veterans Day was born.
Today, as a testament to King's determination and vision, veterans and their families will gather nationwide to march in Veterans Day parades across the country. From Houston to San Diego to Washington D.C., veterans of all generations will proudly march and remind Americans of the sacrifices that they and their families have made for our country. I will be marching in the New York City Veterans Day Parade, the largest in the country, with over 400 other veterans of Iraq and Afghanistan. I can't even begin to explain the pride my fellow veterans and I will feel marching up Fifth Avenue with hundreds of thousands cheering.
It doesn't matter if you voted for the Green Party or the Tea Party, live in Boston or the Bayou; Veterans Day is about uniting as a country and supporting our nation's troops and veterans. We can turn the page on a divided America and unite the country on this important day.
I know Alvin King would be proud.