Beleaguered Iraqi journalists are seeking their government's protection against assassins despite critics' charges that state-run television incited gunmen to abduct and kill a private station's crew while filming a popular show.
The Iraqi Journalistic Freedom Observatory (JFO) and the country's Interior Ministry have agreed to set up a mechanism, including a hotline, to protect journalists after a crew for Al Sharqiyah TV was murdered September 13 in the northern city of Mosul, where other journalists have been killed.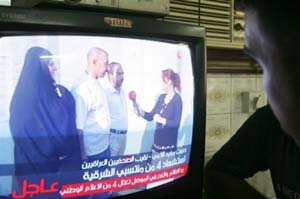 Al Sharqiyah TV crew brutally murdered (AFP)
"This is the first stage of a wider four-point project, in cooperation with Support for Independent Media in Iraq (SIMI), on the long road to providing better security and protection for journalists," said JFO director Ziad El Ojaily.
He told the pan-Arab daily Asharq Al-Awsat the JFO and ministry had been discussing the matter prior to the latest deadly incident but that the issue had become more pressing after the attack and countless other assaults on journalists in recent months.
JFO and SIMI have also agreed to provide security training for journalists and equip them with flak jackets, helmets and first aid kits.
A ministry spokesman said hotlines would be established between various police departments, government agencies, intelligence services, swat teams and journalists to enable the ministry to protect reporters on dangerous assignments and secure their safe passage in and out of crime scenes.
But Al Sharqiyah news director Ali Wajih told AFP the government-owned Al Iraqiyah TV channel had prompted his colleagues' killing by slandering his station's journalists and accusing them of harming the country when they broadcast a report on torture in Iraqi prisons.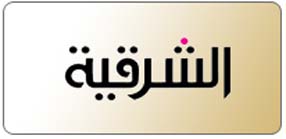 Al Sharqiyah TV logo
Wajih also told Dubai-based and Saudi-owned satellite channel Al Arabiya that the murders were motivated by those who sought to "silence voices, intimidate journalists who do not take their orders from the government, and target free media and independent journalism."
He said threats were directed at Al-Sharqiyah soon after it aired footage received from a government source of prisoners being abused and a female prisoner being raped in front of her daughter in an Iraqi government-run jail.
"Iraq is not only the most deadly country in the world for the press, it also has an unblemished record of impunity for the killer of journalists," said Joel Simon, executive director of the New York-based Committee to Protect Journalists (CPJ), adding that these two facts were not unrelated.
Simon urged Iraqi authorities to ensure that the investigation into the latest murders is timely and transparent and that the murderers be brought to justice.
The CPJ reports that at least 20 other journalists have been killed in Mosul since the U.S.-led invasion of Iraq began in March 2003, making it the second-deadliest city for journalists in Iraq after Baghdad.
Award winning former CNN News Executive and President of Newsgathering Eason Jordan has been helping alleviate the problem since founding a war zone-focused news company, Praedict, that provides insights and safety tips to those in harm's way and their employers.
Praedict's first nation-specific services are IraqSafetyNet and IraqSlogger (http://www.iraqslogger.com/index.php).
Since resigning from CNN in 2005, Jordan, whose network experience included overseeing coverage of the wars in Iraq, Afghanistan, the former Yugoslavia, Somalia, the September 11, 2001 attacks, and the 1989 Tianamen Square crackdown, has visited Iraq on many occasions.
He trained Arab journalists, including Iraqis, at the American University of Beirut on how to deal with safety measures, health issues, post-traumatic stress disorder, ethics in war coverage, humanitarian organizations, and children in conflict zones.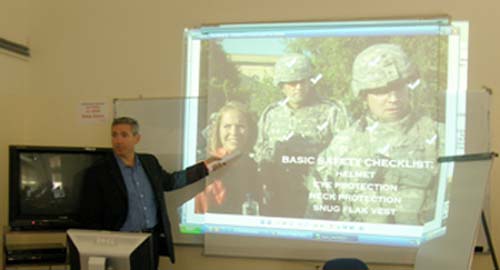 Eason Jordan trains Arab journalists in Beirut on safety, war coverage (Abu-Fadil)
Untold numbers of journalists who endured years of fear, harassment and threats have left the country.
A former Iraqi reporter for a key U.S. daily and retired pilot in Iraq, moved his family to Amman, Jordan, before they all settled in suburban Washington, DC, where he is an aviation consultant for one of the "Beltway Bandits" -- mostly defense contractors dotting the Northern Virginia and Maryland landscape.
"I am happy now with my life, and my daughters started going to a high school owned and run by Quakers," he emailed this writer, adding that the experience would help them forget about the war and threats they faced in Iraq when the daughters were almost kidnapped by armed men.
According to a Reporters Without Borders report, hundreds of Iraqi journalists have been forced into exile, mostly to Jordan and Syria, but their problems are hardly over.
"Most of the journalists who flee Iraq do not find work. Many have to give up journalism. All or nearly all of them are living from hand to mouth, alone or with their families," the press freedom organization said.
Arab media say that after years of Saddam Hussein's ouster as Iraq's strongman, Iraqi media are torn between a modicum of freedom and total chaos.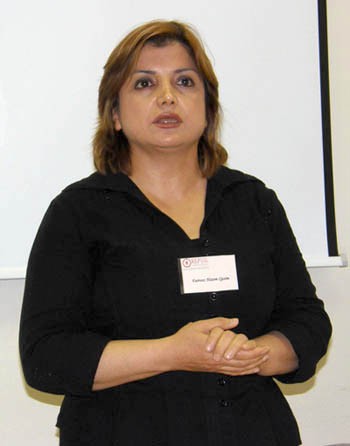 Fairooz Hatem Qasim (Abu-Fadil)
Fairooz Hatem Qasim, who recently attended a workshop organized by the Journalism Training Program in Beirut, is executive director and talk show host on the satellite channel Al Hurriya.
She has chosen to stay in Iraq and said it's worth fighting for the cause of freedom, independence and secularism, despite an increasingly sectarian environment in the country.
Qasim told Asharq Al-Awsat daily her channel's programs were not subject to censorship, save self-censorship to ensure there was no impingement on religious or social values.
Popular in the Community