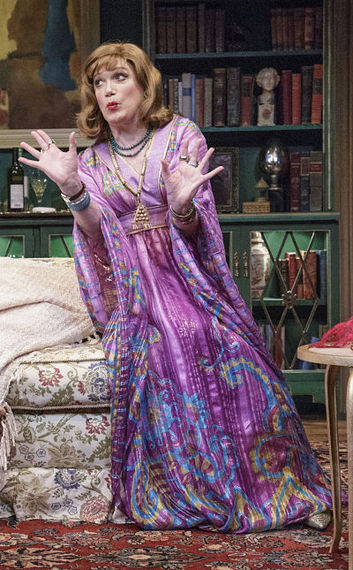 "You confuse nasty with a European sense of irony," diva designer Adriana says with barely concealed glee. A rich widow who lives in a gorgeous Greenwich Village townhouse, she can afford her affectations.
However, when Adriana (a terrific Cynthia Harris) dies, her broke friend Jimmy and his real-estate sidekick Rita (Julie Halston) concoct a kooky caper. Jimmy -- "I'm not a drag queen, I'm a celebrity tribute artist!" -- will impersonate her long enough to sell the manse. But two wrinkles quickly emerge: Christina, an emotionally unstable niece (Mary Bacon), claims the townhouse was left to her, while Rodney (Jonathan Walker), an ex-beau of Adriana's, threatens to expose the hoax.
There is one man clever enough to imbue such a real-estate fraud with farce and zingy one-liners: Charles Busch. And his latest work, The Tribute Artist, now at 59E59 Theaters, is wonderfully entertaining. As any New Yorker can attest, finding an apartment in Manhattan is tough, expensive and soul crushing. One can be forgiven an unconventional assault on the market, especially when Anna Louizos' lovely set design is the prize.
Known for his gender-bender farces, such as Die, Mommie, Die! and The Divine Sister, as well as the straight Broadway hit A Tale of the Allergist's Wife, Busch, who usually plays glamorous women, has taken an interesting departure here. He's a man impersonating a woman, capturing her elegance, but adding the requisite social satire and vulgarity on occasion.
Camp can sometimes possess a harsh underpinning; Busch mines subtler terrain. Ever the tribute artist, he delivers a spirited, more humane rendition.
His humor, which steals liberally from movie queens and classic cinema scenes, remains. But like all Busch parodies, there are issues to explore. A skilled actor, his faux Adriana navigates the blurry lines between illusion and reality and discovers the value of honest emotion.
Throw in Christina's transgendered son Oliver (Keira Keeley) and some outrageously over-the-top tales by Rodney and The Tribute Artist finds Busch in rapid-fire top form. He's aided by his longtime sidekick Julie Halston, who cracks wise like Eve Arden, but can pounce on a line and, thanks to a unique vocal delivery, make it her own.
Tribute Artist marries Busch's flamboyant theatricality with key truths. The wackier it gets, thanks to a wonderful cast and director Carl Andress, the better it is.
Three Little Birds, set in a small Jamaican village, is now at the New Victory Theater. A reggae musical folktale, with music and lyrics by Bob Marley, Birds features 11-year-old Ziggy, his friend Nansi, and a wild trio of African, Spanish and Chinese birds.
Based on a story by Cedella Marley, Ziggy worries about hurricanes and evil spirits like Duppy. He'd prefer to stay in his room and watch TV, but as Ziggy's mother reminds him: "You cannot be so fearful that you don't enjoy the world."
The simple set -- a sun, mango trees and multicolored corrugated tin panels -- evokes Jamaica, as do Marley songs, like "Jamming," "Roots Rock Reggae" and "I Know," which highlight the lively hour-long adventure. Adapted by Michael J. Bobbitt, the show boasts colorful costumes by Kenra Rai and notable performances by S. Lewis Feemster as Duppy and Ayanna Hardy as Zippy's mom.
Three Little Birds is an energetic and endearing tale. It teaches kids an invaluable lesson: Despite danger, they have to live their lives and be happy.
Popular in the Community