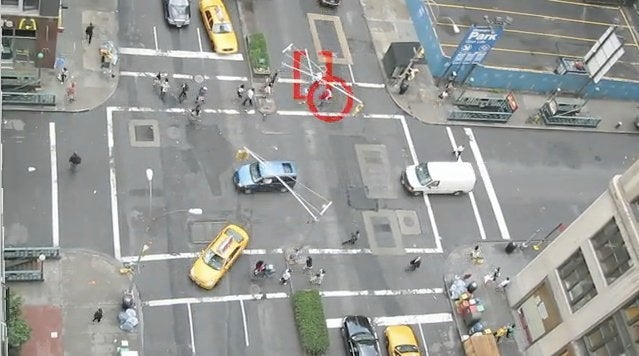 Bike wars, road rage, jaywalking--it's no secret New Yorkers are aggressive and often reckless commuters. But we had no idea just how hazardous we were until we saw this bird's eye view of a single New York City intersection.
As part of his master's thesis project at the School of Visual Arts, Ron Gabriel's "Three Way Street" shows cyclists swerving through crowds, riding against traffic and on the sidewalk--an 18-wheeler making a tight U-turn--a whole slew of cars almost getting into accidents--and all the while, hapless pedestrians unaware of how close they are to meeting their maker.
And all of this in one intersection of New York's 12,370. According to Gabriel, 74% of the city's accidents (which kill or seriously injure 4 people a day) happen at these crossroads where all types of commuters collide.
Gabriel's video is part of his developing "NYC Goes Three Ways" project to improve the "safety and usability of our streets".
REAL LIFE. REAL NEWS. REAL VOICES.
Help us tell more of the stories that matter from voices that too often remain unheard.