In case you were wondering, Tiffany Haddish wants hip-hop, including Cardi B's "Bodak Yellow," played at her funeral.
The "Girls Trip" actress talked to Marie Claire for a profile published on Tuesday about everything from the best career advice she's received ("Don't let nobody in your house that ain't got nothing to do.") to the moment she felt like she'd made it ("When I was on 'The Arsenio Hall Show' and I licked his face and he tasted like Ovaltine.").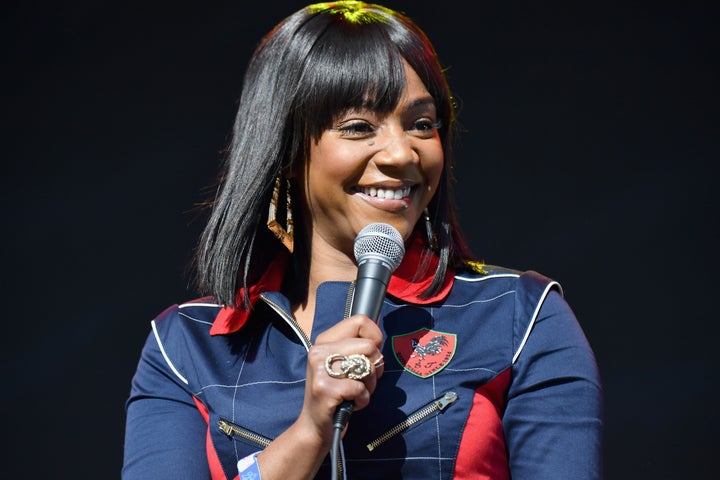 Naturally, the topic of songs she'd want to be played at her funeral came up.
″A compilation of hip-hop from the '90s and '80s, and maybe one Cardi B song. 'Little bitch you can't fuck with me …' That funeral would be a straight party," Haddish told the publication.
"I want people to be celebrating the life I lived, not mourning it."
To Haddish's credit, "Bodak Yellow" is a damn-good song and would definitely have people on their feet. 
Haddish also described her bucket list, which she called a "tub list."
"I want to go to every single country. I want to buy two streets that intersect and call them Tiffany and Haddish, and I want to open a youth center, a job-training center, a mental-health department, and a whole art center there," she said.
"Then when people say, 'Oh my God, how did you learn to play the trumpet?' 'Oh, I learned it on Tiffany and Haddish.' I want to go on a date with Michael B. Jordan. I want a fried-chicken-and-girls' night with Michelle Obama. There's a lot of things I want to do, girl."
BEFORE YOU GO
PHOTO GALLERY
Tiffany Haddish Photos