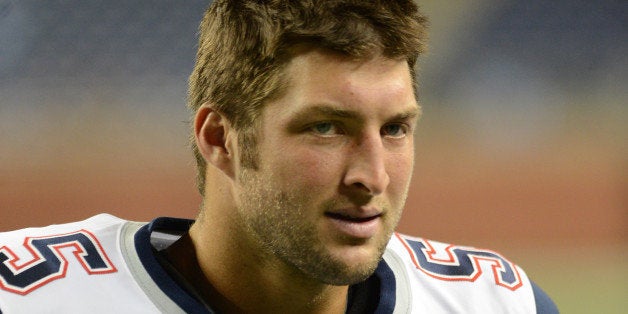 Tim Tebow's time is over in New England.
The polarizing quarterback has been released by the New England Patriots, as first reported by Adam Schefter of ESPN. The cut came after a lackluster preseason for Tebow, who could not unseat Ryan Mallett as Tom Brady's backup.
As is the case with all things related to Tebow, his release garnered plenty of attention among both his supporters and critics.
Tebow signed with the Patriots in June, inking a two-year deal without any guaranteed money. Although the team didn't waste time in selling his jersey to fans, the 26-year-old didn't impress during the preseason. He appeared in three of the Patriots' four preseason games, completing 11 of 30 passes for 145 yards, two touchdowns and two interceptions.
"I'm blessed because of my faith, because you don't have to worry about the future, because I know who holds my future," Tebow told reporters after the Patriots' final preseason game with roster cuts looming, via CBS Boston. "A lot of times people use that as a cliche, but it's something I try to live by. It really gives you a lot of peace in whatever circumstance you're in."
His release by the Patriots is the latest plot twist in what had once been a storybook rise to NFL stardom. Since piloting the Denver Broncos to a stirring overtime playoff win in 2012, Tebow has endured a tumultuous season with the Jets and an unproductive preseason with the Patriots. He will be looking for his fourth team since arriving in the NFL out of the University of Florida in the 2010 NFL Draft.
The Patriots began Saturday with 65 players on the roster, meaning that a dozen players will be waived during the day. It seems that Tebow will be among that group forced to look for a spot with another team before the season opens.
With Tebow's time in New England appearing to be drawing to a close, Patriots owner Robert Kraft told the media earlier this week that he was "rooting" for the devout signal caller.
"I'm rooting for him. I'm in his corner," Kraft said on Tuesday, via The Boston Herald. "I have the privilege of letting Bill (Belichick) make that decision. He's got a pretty good record doing that."
UPDATE 4:51 p.m. EST: Tim Tebow tweeted out a message to his fans and the New England Patriots regarding his release.
UPDATE 6:17 p.m. EST: The Patriots confirm that Tim Tebow was among 13 players cut on Saturday.
Popular in the Community