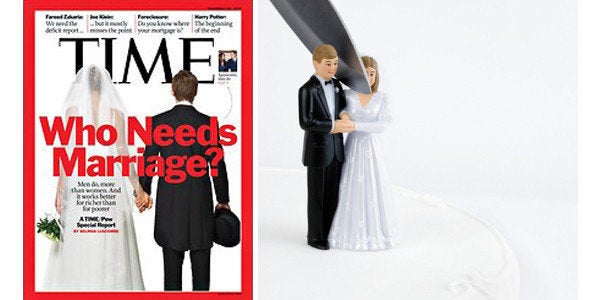 Thirty-two years after Time magazine first asked Americans whether they believe marriage to be obsolete, the magazine posed the question again in a survey conducted in conjunction with the Pew Research Center. The results, published in this week's issue of the magazine and online, were startling. Nearly forty percent of those surveyed, or four-in-ten people, said they do--that is, over ten percent more than in 1978.

We've watched that famous royal marriage [of Charles and Diana] and the arrival of Divorce Court. We've tuned in to Family Ties (nuclear family with three kids) and Modern Family (nuclear family with three kids, plus gay uncles with an adopted Vietnamese baby and a grandfather with a Colombian second wife and dorky stepchild). We've spent time with Will and Grace, who bickered like spouses but weren't, and with the stars of Newlyweds: Nick & Jessica, who were spouses, bickered and then weren't anymore.
It shouldn't come as a surprise that the poll found that many of the people most willing to accept these kinds of arrangements are themselves in them--39% of divorced or separated respondents said the growing variety of family arrangements don't make a difference to society overall.
Maybe they're onto something. Says Andrew Cherlin, sociology and public policy professor at Johns Hopkins University, who is quoted at length in the piece: "...a child living together with unmarried parents in Sweden has a lower chance that his family will disrupt than does a child living with married parents in the U.S." In light of that sobering statistic, it's surprising that, when asked whether marriage was an obsolete institution, more Americans didn't say, "I do."
Watch Richard Stengel, managing editor of Time, discuss the study on MSNBC's Morning Joe:
Related