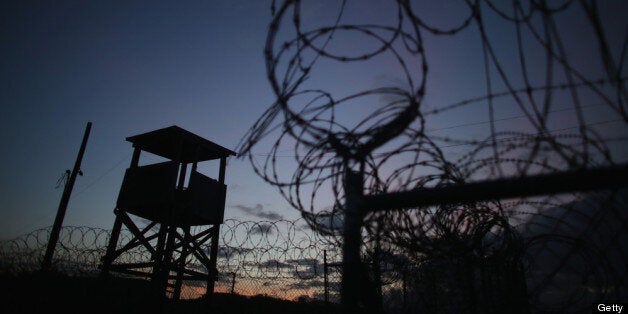 On Thursday, the president of Yemen will visit President Obama in the White House. The announced purpose of the visit is, among other things, to "enable the return of Yemeni detainees at Guantanamo Bay who have been designated for transfer."
If that seems like a thin reed on which to base U.S. repatriation policy, it is. But President Obama was roundly attacked by his critics for prosecuting Umar Farouk Abdulmutallab in the United States (he's now serving life in prison); the ban on returning Yemeni detainees was an easy response.
The hunger strike of more than 100 of the remaining 166 men still imprisoned at the U.S. detention center in Cuba has finally put some pressure on the administration to re-focus on the President's pledge to close the prison. He officially made that pledge more than four years ago. In a national security speech in May, he announced he'd lifted the categorical ban on returning detainees to Yemen -- a small but important step forward.
Of the 86 detainees at Guantanamo already cleared by U.S. authorities for release or transfer to another country, 56 are Yemeni. So working with President Abdo Rabbu Mansour Hadi on a way to safely send them home is critical to the United States' ability to ever close Guantanamo.
Yemen is often portrayed as an insoluble mess too terrorist-ridden to be able to accept former detainees safely on its soil. But the improving relationship between the United States and Yemen over the last few years, most of it based on mutual support of their counterterrorism programs, provides a strong basis for the two presidents to develop a solid plan. Even Senator Dianne Feinstein (D-CA), who originally supported the ban on transfers to Yemen, last Spring wrote to the White House urging the President to re-consider, saying "it would be prudent to re-visit the decision to halt transfers to Yemen and assess whether President Hadi's government, with appropriate assistance, would be able to securely hold detainees in Sana'a."
Surely, with the United States' help, it can. President Hadi has asked the United States for $20 million to help build a rehabilitation facility for suspected terrorists. That could include some of the Guantanamo detainees, if there's evidence they participated in terrorists activities. (None have ever been charged, let alone convicted of committing any crimes.) That cost pales in comparison to the $151 million per year U.S. officials have estimated it costs to continue to detain the 56 Yemenis deemed eligible for transfer. There are models for successful rehabilitation and reintegration programs that Yemen and the United States can follow.
The United States can't imprison these men forever. There is a clear way to begin: to close Guantanamo now. Of the 166 remaining prisoners at Guantanamo, 86 have been cleared to leave. The Yemenis among them have been stuck there en masse due only to their citizenship. It's high time to start sending them home.
Calling all HuffPost superfans!
Sign up for membership to become a founding member and help shape HuffPost's next chapter