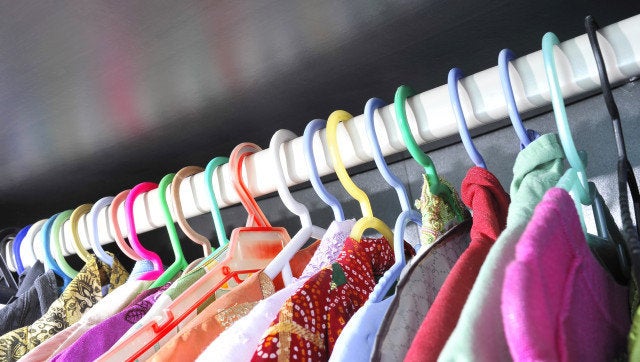 In all walks of life and at any age, nothing to wear can masquerade as a closet full of clothes. But when you're an 11-year-old girl in junior high, this is akin to a catastrophic wardrobe malfunction, not just another bad day.
"Nothing matches!" Chloe said.
"Nothing matches?" It really wasn't a question.
Chloe's knuckles were resting atop the curving hips she inherited from me, her eyebrows were raised and her blue eyes were wide and close to tears. It was clear we were on the brink of a preteen meltdown. While a closet bursting at the seams that seemed empty was nothing new for me, for Chloe, this right of passage was an obstacle to being her organized and fashionable self.
My tweenage daughter pivoted daily between childhood and adolescence, therefore, I was constantly morphing from the mom of a little girl into the mom of a teen, and back again. Frankly, it made me dizzy. Sometimes I peeked into her room and she was organizing stuffed animals. Ten minutes later, she was wearing lip gloss.
It was Chloe's nightly ritual to pick out clothes for the next school day. I watched her put outfits together, choose jewelry and carefully clip, pony tail or head band her hair. This was the same little girl -- excuse me, tween -- who wore nothing but baseball or soccer T-shirts for all of fifth grade. Starting sixth grade had rendered her meticulous about her clothing, hair and accessories. I encouraged the organization, planning and independence with drawers full of grooming products with ample kudos. It made the mornings run smoothly not only for her, but for my 15-year-old son.
It wasn't difficult for me to stand in her shoes. I have strewn clothing around my own bedroom in an effort to find the one perfect scoop neck black T-shirt among the six. I have waded through warm-up suits and sifted through sweaters in order to look and feel a certain way.
I knew if I didn't do something she would be standing in that same spot the next morning, steadfast in her belief that she would rather go to school in her pajamas than in a "stupid" outfit.
But I didn't say, "You have plenty." I didn't say, "Wear this."
Instead I said, "You're right."
The task at hand was to move from stupid to sensational. At that moment, I found myself at a crossroads in parenting an adolescent girl. Dismissing her frustrations by pulling out pants and their sleeved or sleeveless counterparts and tossing them on the bed would have been quick and easy. But, since there was nothing quick and easy about parenting a (pre)teen girl, I took it very seriously, knowing that her future closet karma hung in the balance (so to speak).
So, with a cautious hint of sarcasm I said, "Nothing matches, huh?" And then the kicker: "How about this? I'll give you a dollar for every combination that really doesn't match."
Chloe perked up and giggled, thinking her mother had finally all-out lost her mind. She rubbed her eyes as I pulled out a pair of camouflage Capri pants and a striped tee and held it up against myself as if to model. "Whaddaya think?" I asked her, striking a pose. "Is it worth a buck?"
The laughter, and solution, followed.
Mismatched pants and shorts with their unlikely tees and tanks flew around the room like feathers from a pillow fight. Chloe modeled outfit after outfit for her audience of one as I gave thumbs up or thumbs down accompanied by some heartfelt icks and boos. We belly laughed our way through flowered skirts paired with colorful socks and brights paired with pastels, which we agreed was "just wrong."
And in our exercise in outrageousness we not only found things that no longer fit and needed to be donated to charity, but amidst the frivolity, more often than not, she said, "That's not so bad."
Although she cashed in and made a few dollars, it wasn't a winning streak in the financial sense. But in her sense of self, and in spending a fun time together, we hit the jackpot. I knew I couldn't tell her what was inside the closet and inside her. She had to see it for herself, not by looking in the mirror, but by really just letting go and forgetting there was a problem.
As I'd hoped, she ended up at the end of our fashion show with a new appreciation for her clothes, with combinations of shirts and pants that tickled her fashion fancy. Most were things she'd worn plenty before, but seen through giggling eyes, they looked much better.
After that, any time she sashayed my way and said, with a raised eyebrow, that she had nothing to wear, she started chuckling and just skipped away. Sometimes though, she worked it and added a caveat. "Well, I do have things to wear and I do have things that match, but I just don't feel like wearing what I have."
Although I gave her an "A" for effort, her comment was always met with a sideways glance and a very special eyebrow raise of my own.
I think she knew she'd met her match.
This article appeared in the 2007 November edition of Chicago Parent. Chloe, after years of wearing nothing but skulls and then nothing but dresses, is now heading off to college in August -- with lots of clothes.
Support HuffPost
A No-B.S. Guide To Life
Related
Popular in the Community