BERKELEY, Calif. ― Milo Yiannopoulos didn't get his "Free Speech Week."
But Yiannopoulos doesn't go down without a troll. As he admitted defeat, he promised an "unofficial" rally for his followers on Sunday, effectively mobilizing hordes of counterprotesters, anti-fascists and anyone in his far-right brigade brave enough to face them.
He got what he wanted. The "rally" at Sproul Plaza on campus brought hundreds of demonstrators out, including Antifa activists and Yiannopoulos supporters. Police set up barriers with metal detectors before letting them into the area.
The British media personality showed up around noon to speak to a smattering of supporters and sign autographs. However, thirty minutes into his arrival, Yiannopoulos fled the area as his security detail escorted him to a white SUV.
Sunsara Taylor with the New York City-based activist group Refuse Fascism called Yiannopoulos a "salivating sycophant for Trump" and took aim at the White House in a speech to crowds.
"We're glad Milo got canceled but we're here because we have white supremacists in the White House. Trump and Pence have got to go."
Antonio Freeman, who identified himself as a bodyguard for the alt-right celebrity troll Baked Alaska, stood outside Sproul Plaza and scoffed at anti-fascists speaking into a megaphone. The 26-year-old Los Angeles area resident says he's part of the anti-government militia group Oathkeepers but opted not to show up in uniform.
Freeman said he was here "just supporting free speech. Just making sure people stay peaceful, that people are out here respecting each other and making sure things don't get too heated."
"No bad optics," he added, referring to the violence that occurred in Charlottesville, Virginia, last month that left one anti-racist protester dead. "No Charlottesville stuff. Can't have that anymore. Just a civil discourse."
He claimed to know Yiannopoulos personally but said he was more supportive of speakers today that are American citizens like his friend Mike Cernovich.
But the alt-right icon's mere presence in Berkeley has been a huge burden on the community. The university said it was in the process of spending about a million dollars on security for the four days-long event, likely because the last one in February drew 1,500 protesters, violence and general chaos.
Yiannopoulos — who the Anti-Defamation League calls a "misogynistic, racist, xenophobic, transphobic troll who is extremely good at getting people to pay attention to him" ― used the episode to play victim and claim that liberal-leaning colleges like UC Berkeley fight against free speech. He did so again during Saturday's presser, and some critics say that he only organizes these events to declare himself a martyr when platforms and venues refuse to host him or when counterprotesters appear.
He knows his trolling draws out only people who are ready for battle. Anti-fascist groups like Refuse Fascism were waiting in the wings to mobilize at any event Yiannopoulos threw, and mobilize they did.
More troubling, in an email chain obtained by the Bay Area News Group, right-wing blogger Lucian Wintrich for The Gateway Pundit, who was scheduled to speak, told UC Berkeley spokesman Dan Mogulof that organizers from the event knew they wouldn't go through with it from the start.
"Wait, whoah, hold on a second," Mogulof responded. "What, exactly, are you saying? What were you told by MILO Inc? Was it a set-up from the get-go?"
During the rally, 18-year-old college student Edgar Magana wore a "Dangerous Faggot" shirt ― the title of Milo's previous campus speaking tour ― with an American flag wrapped around his neck.
He said universities across America are "destroying Republican life on campus" and that he showed up to support free speech and Yiannopoulos, who he referred to as his "idol."
The failure of Yiannopoulos' "free speech" rally echoed a similar one in Boston in August. While dozens of alt-righters came out for the rally, 40,000 more counterprotesters met them with a message of their own following the violence in Charlottesville: White supremacy has no place in this country.
Sebastian Murdock contributed reporting.
Before You Go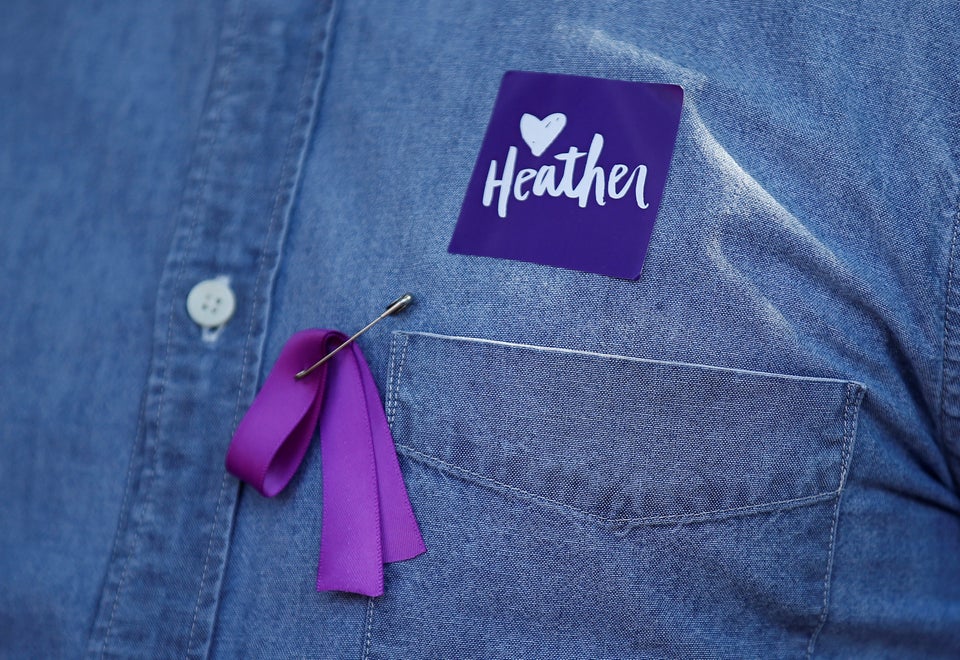 Memorial Held For Charlottesville Victim Heather Heyer
Popular in the Community