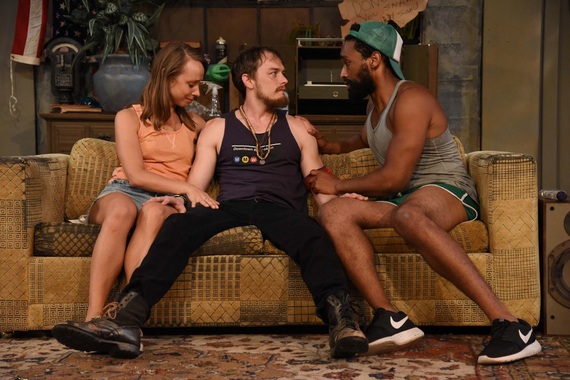 When Hamlet exclaims, "The play's the thing!" he is about to become a scribe. Of course, this is simply a plot device -- Shakespeare, considered one of the best writers in history, had a plan for his young prince. But isn't this true of all great playwrights? Don't they have plans for their characters and, just as important, for their audiences?
In a time when technology has left all with opposable thumbs glued to their four-inch screens, I asked the producers and writer/director behind the Los Angeles production of the Pied Pipers of the Lower East Side why they would go to such great lengths to stage a New York theatrical production in a traditionally non-theatre town like the City of Angels. Sure we have the reputation of being the entertainment capital of the world but that is with recorded media crafted with film crews on sound stages. Live theatre, however, is typically a New York vocation occasionally visited by those screen actors with a performance itch. Yet just west of Hollywood in a trendy community east of Fairfax Blvd. on the south side of Melrose Avenue, sits the Matrix Theatre Company: a legendary 99-seat equity waiver mainstay that has been featuring original plays and classic tales for decades and is the current home for Pied Pipers. What I learned was as basic as any other decision, plays are designed to be performed. Period.
To better understand the challenges of staging a theatrical production in a non-equity house it is first necessary to understand the intricacies of producing theatre. Derek Ahonen, the writer/director, was attached to direct so there was no problem in securing the rights. RZT Productions inked The Matrix Theatre. All that remained was to cast the roles and the financing which seemed to be less of a hurdle than one would think. The reputation behind Pied Pipers motivated Jordan Tisdale to fly to LA from NY in order to audition for the role of "Wyatt," a good decision since he eventually won the job. Theatre -- check. Cast -- check. Rehearsal -- check. Audience... now this is where the real heavy lifting begins.
Angelinos have an innate sense of the three-act structure: we get in the car, we endure traffic, we arrive at our destination. Late. And there lies the big distinction between LA and NYC, our cluttered car culture shuns certain niceties that others take for granted: we do our best not to travel during certain hours of the day, and we valet park even at the supermarket. Theatre is typically a farther drive than your local megaplex where the curtain lifts at the tail end of "rush hour". Valet parking? Hard to say. The other distraction is that many New York apartments can fit into the living rooms of Los Angeles mini-mansions. That means that our furniture often includes plush couches that face mammoth televisions with large curved screens and an assortment of designations for vibrancy and clarity. How can black box theatres compete with a 4K screen and six-speaker surround sound all while in your pajamas?
Assuming your television is on the blink and you have a deep yearning for culture, then theatre, especially this production of Pied Pipers, is your ticket. Early on producers Joey Tuccio and Alex Zoppa, along with Derek Ahonen, recognized one of the most important aspects of producing theatre in Los Angeles: social media. Employing Facebook, Twitter and the other currently relevant digital cork-boards are vital, and to this team's credit, they did it with aplomb. Unlike New York, where audiences seek out new productions and shows thrive by word of mouth, Los Angeles, with its sprawling landscape and assorted communities, must rely on a more proven communication model. Yes, the show was a raucous success in New York playing to sold out crowds week after week. Opening in Los Angeles, the team's strategy proved just as successful filling the house night after night. Of course it helps that Pied Pipers is enormously entertaining as it challenges social norms through well-written prose and fine performances. Tasteful nudity advances the plot just as it should.
Pied Pipers of the Lower East Side continues its run at the Matrix Theatre Company through the end of May. Word-of-mouth, social media and great reviews won't lead you astray. If you're in the Los Angeles area, turn off your TV, get in your car and plan accordingly. It's worth the effort.
REAL LIFE. REAL NEWS. REAL VOICES.
Help us tell more of the stories that matter from voices that too often remain unheard.