The batsh*t crazy keeps on coming: I just got an email from a frustrated wedding guest -- we'll call her Gretchen -- who is currently in school and recently lost her job and hasn't gotten around to giving her childhood friend (whom we'll call Brandy) a wedding gift. Gretchen, who is 23, had given Brandy a homemade bridal shower gift and had said (TWICE) that she'd "make up" for the wedding gift when she had more cash. (I should mention here that while wedding planning, Brandy was vocal about what she and her groom spent per guest to throw their wedding: $200.) Of course at this point (twice) Brandy-the-bride should've said, "We know you're strapped. We don't need a wedding gift; we just wanted to celebrate with you."
Instead she basically said, "Show me the money." Here's a text convo. (The candles are part of the bridal shower gift, I assume.)

I was going to add little arrows to point out the parts where the bride was being out of line, but since everything she said was offensive, I went with numbers, so you'll know which section of offensiveness I'm referencing.
1. It's poor form to ever mention gifts to your guests. And worse form to imply that "a card" (read: cash) is the gift you're expecting.
2. Your money woes are NOT your guests' problem. If you couldn't afford to throw a $200-a-head wedding, you shouldn't have done so at the expense of, say, your electricity.
3. "U coming for free" I. Just. Can't.
4. Oh MAH GAWD. A baby shower, like a wedding, is not an open call for gifts. It's a celebration of something wonderful in your life, which you should want the people you love to be a part of, regardless of their ability to "make up" for their crustless cucumber sandwiches.
Here is the "card" Gretchen later dropped off (with the identifying info blurred out, unfortunately):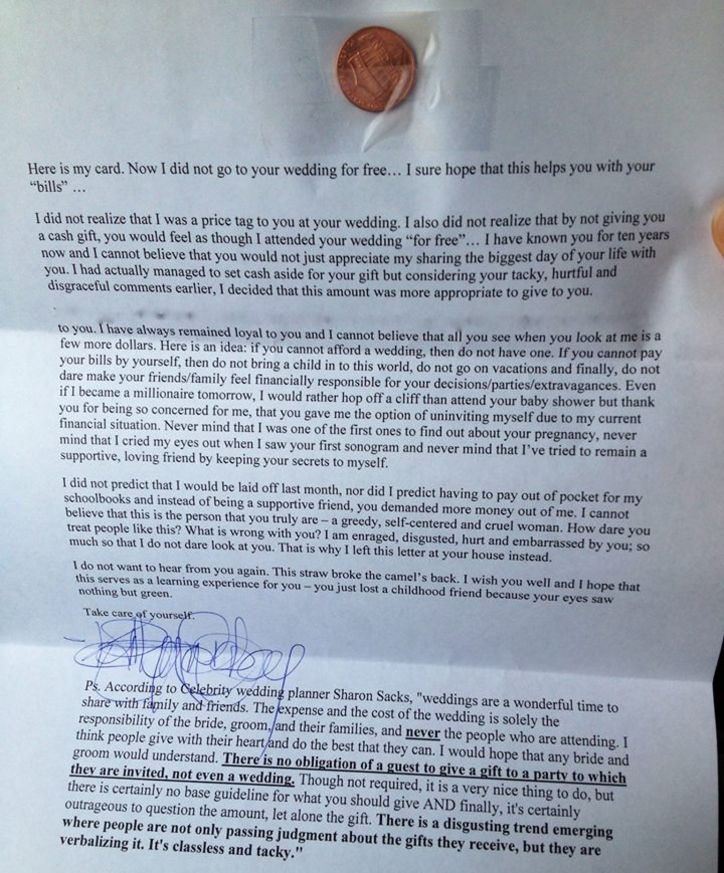 Well done, Gretchen. Well done.
Thoughts on today's batsh*t crazy bride? Is anyone OK with her behavior?

Related