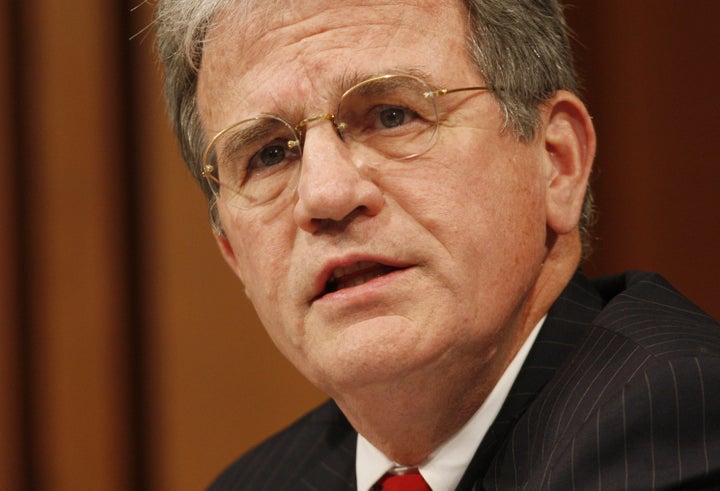 After the Senate passes its health care fix-it bill on Thursday, it will take up a measure to extend eligibility for soon-to-expire enhanced unemployment benefits for laid-off workers.
It's the exact scenario that played out at the end of February, when Democrats asked for "unanimous consent" to extend benefits and were single-handedly blocked for several days by Kentucky Republican Jim Bunning, who objected that the measure was unpaid for and would add $10 billion to the deficit. Bunning said "tough shit" to Democrats who complained that the stand-off jeopardized benefits for hundreds of thousands of people.
This time, however, Republicans, hoping to avoid another embarrassing scenario in which the party appears insensitive to the plight of the unemployed, are much better prepared. Senate Minority Leader Mitch McConnell (R-Ky.) on Tuesday laid the groundwork for an identical bill that would offset the $10 billion measure with unused stimulus funds -- the same offset Bunning wanted -- which Democrats argue are already dedicated for other purposes.
And, as Politico reported on Wednesday, Sen. Tom Coburn (R-Okla.) has intimated that he may "pull a Bunning" and object to the Democrats' emergency version of the bill. Coburn said he doesn't care if the impasse keeps the Senate in session past Friday, when it's supposed to adjourn for a two-week break.
Several Senate Republicans said Thursday they didn't know what would happen with the unemployment benefits. Sen. Bob Corker (R-Tenn.) referred HuffPost to Coburn.
"I think the bill ought to be paid for," Coburn said while thumbing his Blackberry.
Will you object to a motion for unanimous consent to move forward on the Democrats' bill?
"I haven't decided that yet," he said.
Democrats have indicated that they are up for a floor fight over the measure, which would extend by 30 days (to May 5) eligibility for up to 53 weeks of unemployment benefits and subsidized COBRA health insurance for laid-off workers. Without an extension, the enhanced benefits will lapse on April 5. The Senate already passed a bill that would extend the enhanced benefits for the rest of the year, but a disagreement with the House over how it should be funded requires another vote, and this week there's no time for that.
"If there is any effort to deny our most hard-hit Americans help with unemployment," said Sen. Ron Wyden (D-Ore.), "I and certainly a substantial number of other senators will be out there saying we're drawing a line in the sand and we won't let that happen."
It's hard to imagine, however, that leadership from the two parties is willing to force members to stick around past Friday.
Popular in the Community