With everyone else looking forward to tomorrow's grand opening of The Wizarding World of Harry Potter - Diagon Alley , it might seem kind of strange that Tom Williams, the chairman and CEO of Universal Parks & Resorts, is using this exact same moment to look backwards.
"But you have to understand that I was part of the opening team for Universal Studios Florida. I was here back in 1987 when this was all still snake-filled marshland. And to see what it's become -- Central Florida's newest destination resort -- is just kind of mind-blowing," Williams said during a recent interview.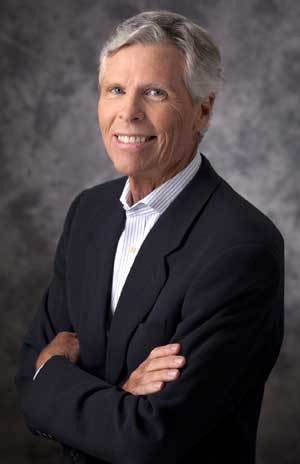 Mind you, Tom didn't transform this 840-acre parcel all on his own. Williams had lots of help when it came to the design, development and construction of two world-class theme parks, four all-inclusive resort hotels and a popular retail, entertainment and dining district.
Tom was quick to credit everyone from the Universal Creative team to the marketing team to the operations team -- as well as a few more popular people.
"Take, for example, Steven Spielberg. He was the creative consultant on our first theme park, Universal Studios Florida. Steve was the guy who came up with that park's core concept, that we were going to put our Guests in their favorite scene from their favorite film. Ride the Movies, if you will," Tom said.
"And Universal Studios Florida and its attractions proved to be so popular with Central Florida visitors that -- by the mid-1990s -- we were committed to building a second gate," Williams continued. "And when Islands of Adventure came online in May of 1999, that's when we also opened CityWalk and our first on-site resort, the Loews Portofino Bay Hotel. After that came the Hard Rock & the Loews Royal Pacific Resort. And just this past spring, we opened the Cabana Bay Beach Resort. Which now brings us up to 4,200 rooms on property."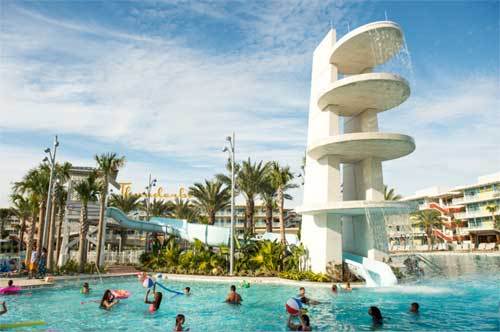 And Universal Orlando certainly hasn't had any problem filling up those hotel rooms ever since a certain boy wizard set up shop in Central Florida back in June of 2010.
"The Wizarding World of Harry Potter certainly was a game changer for Universal Orlando. But you want to know what else made a big difference here? When Comcast came onboard as the new owner of NBCUniversal in September of that same year," Tom stated. "With that acquisition, we got Steve Burke, who's now the CEO of NBCUniversal and Executive Vice President of Comcast Corporation. And Steve had a previous life in the theme park world."
And soon as Burke came onboard at NBCUniversal, he met with Williams and assured him that he was a big fan of what had been going on with the theme parks. More to the point, that Steve wanted to keep Universal Orlando's post-Potter momentum going.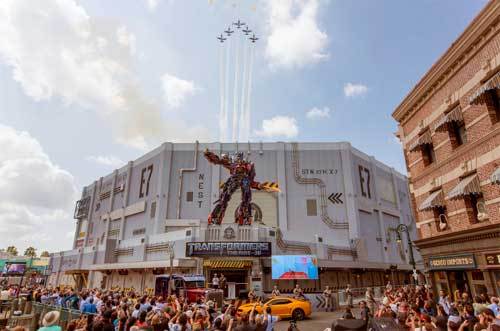 So that's exactly what Tom and the Universal Orlando team did. In just four short years, they added Despicable Me Minion Mayhem and Transformers: The Ride 3D to Universal Studios Florida. Not to mention turning The Simpsons Ride into its very own "land" -- Springfield U.S.A. -- by adding Kang and Kodos' Twirl 'n' Hurl and Fast Food Boulevard. USF also got a brand-new daytime street pageant -- Universal's Superstar Parade -- as well as a new nighttime extravaganza -- Universal's Cinematic Spectacular. Not to mention a refreshed assortment of clubs & restaurants out in Universal CityWalk as well as the resort's very own miniature golf course, Hollywood Drive-in Golf.
But like I said at the top of this article, what people are most interested in these days is Diagon Alley. And even though Tom had been intimately involved in the design and development of what he likes to call "Harry Potter Phase Two" and knew exactly what was being built on top of Universal Studios' old "Jaws" ride, Williams kept coming up with excuses to go down and walk that construction site.
"I'm so excited about Potter, I can't see straight," Tom admitted. "I was out there this morning. I'm out there every day. I'm going to be out there later today. It's just a delight to all your senses in every single respect."
That said, other theme park professionals might not have gone as far as Universal Creative did when it came to turning Diagon Alley into this hyper-themed, fully immersive environment.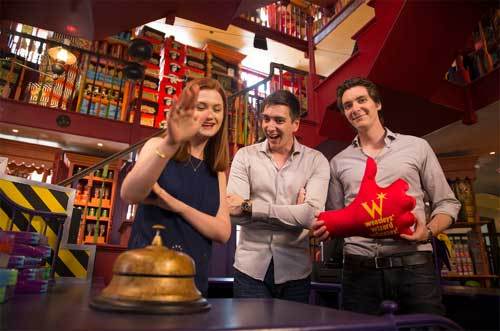 "Take -- for example -- Weasleys' Wizard Wheezes. Just this morning, I went into this shop to see the animation that's been installed up in the skylight of this store. Now keep in mind that you first have to know to look up at the ceiling in order to see this piece of animation. And even when you do look up, you really have to crane your neck in order to see this animation because there are all these stairways & catwalks blocking your line of sight," Williams explained.
"Now I'm sure that other people in the themed entertainment business would have said 'Why did you spend money on that?' Because an almost hidden piece of animation like that doesn't really have a direct and obvious payoff for the consumer," Tom continued. "But that's not really what we're looking to do with Diagon Alley. We want our guests to discover all of the details that we've hidden here. To accidentally look up and suddenly realize that there's this perpetual fireworks display going on up in that skylight. All because Fred and George Weasley probably thought that this might be a fun spell to cast."
And while work is finally winding down on the Diagon Alley project, Williams and his Universal Parks & Resort team aren't exactly resting on their laurels. In addition to the new Fast & Furious-themed finale for the tram tour that will be coming online at Universal Studios Hollywood in the summer of 2015 as well as the West Coast version of The Wizarding World (which is supposed to open in the Spring of 2016 with its very own Hogsmeade Village & Hogwarts castle as well as a few surprises), Tom has a full slate of projects scheduled for Universal Orlando Resort.
"We've already got the next five years planned out. We already know what we're going to do after Diagon Alley. Plus 2015 will be the 25th anniversary of the opening of Universal Orlando. So we've got something special in the works for that as well," Williams said.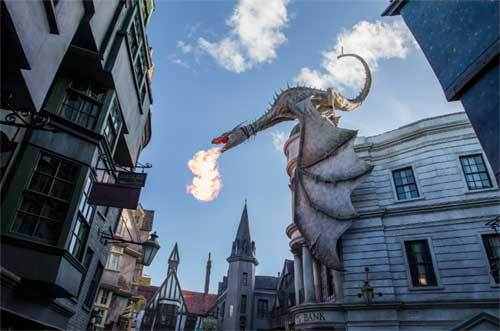 "But we're not going to stop there. We're going to keep going with new hotels & new attractions and give people from around the world lots of great reasons to come visit this destination. Experience the sort of authenticity & the immersion that only Universal can do and then go away delighted, come back again and tell a friend," Tom concluded.
Only don't tell your friends too much. Leave them a few surprises for them to discover all on their own while they're visiting Universal Orlando Resort. Like -- say -- that never-ending fireworks display hidden up in the skylight at Weasleys' Wizard Wheezes.
Calling all HuffPost superfans!
Sign up for membership to become a founding member and help shape HuffPost's next chapter