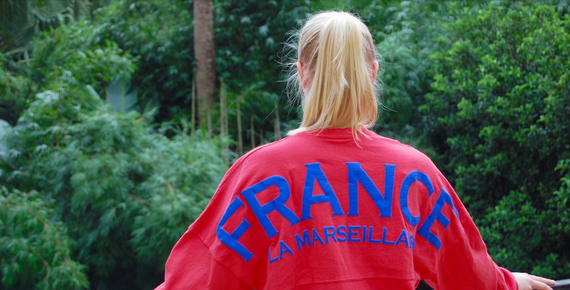 By College Tourist; Author: Alex Mathews, Davidson College
Paris, with its charming streets, classic cafes, and sophisticated culture: this magical city will make you never want to leave.
I spent six magical weeks exploring this capital city and find myself coming back for even more. Follow these 10 tips to make the most of Paris.
1. The most magical spot to capture a sunset
Walking along the bridges that cross the Seine, is the perfect place to view some stunning sunsets. Grab a bottle of wine, sit along the riverbanks, and make a night out of it. It still gets chilly during the summer, so a spirit jersey is perfect for keeping you warm and ready for Parisian nights.
2. Fashion sets Paris apart
Whilst most of Europe has a reputation for being well-dressed, Parisians are especially chic. They effortlessly look like they've stepped off a fashion runway with their neutral and classy wardrobes, so dress to impress while you're there!
There's nothing quite like French food. And there's no French food quite like pastries. Croissants, pains au chocolat, chausson aux pommes, eclairs, macarons and hundreds of others will steal your heart. One bite and you'll never truly enjoy a pastry outside of France again. During weekend mornings, I would don my spirit jersey for a touch of home, head to a patisserie and order enough pastries to last me an entire lazy day in my neighbourhood park.
4. The most amazing birds-eye view
Whilst most head to the Eiffel Tower to get a birds-eye view of Paris, the best place to view the Paris skyline is from the top of the Arc de Triomphe. With this view you actually get a fantastic view of the Parisian skyline that includes France's most iconic structure, the Eiffel Tower.
5. The most entertaining event
Fête de la Musique is an annual all-night music festival that occurs in late June that is surely one of the best events to take advantage of in Paris. Local musicians and buskers take to the street to play music and perform impromptu shows for those who wander the streets. The city is fully alive on this night and it's a can't-miss, free event.
6. The best place to get lost
Le Marais, one of the oldest areas of Paris, is without a doubt one of the best places to wander around during your stay in the French capital. The streets are narrow and winding, lined with wonderful patisseries and fashionable boutiques. The buildings are old and quaint. Each street will lead to a new discovery and you'll spend hours just walking around and trying to resist all the delicious food.
7. The most famous tourist attraction
The Eiffel Tower dominates the Parisian skyline. It will most likely be your first stop in the city and will likely make a surprise appearance in your pictures throughout your trip. Head there during the day for a picnic, or visit at night to see it sparkle. Either way, it will take your breath away!
8. The most breathtaking historical places
The Louvre is the world's most visited museum and is surely one of the most historical places you'll visit while in Paris. It is home to not only thousands of years of historical art and artefacts but the museum itself served as a palace before it became a museum, making the interior itself a glimpse into the culture of monarchical France.
Parc des Buttes Chaumont is a gorgeous park in the 19th arrondissement of Paris that offers beautiful views of the city. It is also one of the only parks in Paris where you're actually allowed to sit on the grass. Go to a local market, buy a couple of baguettes, some cheese, and a bottle or two of wine, and weave amongst the locals for a spot on the soft, grassy hill.
Mont Saint Michel is an island castle off the coast of Normandy that looks like it was plucked from a fairy tale (or Harry Potter). Once only accessible during low tide, this magical attraction can be accessed by the land bridge year-round, making it a perfect day trip from Paris. Grab a train from Gare Montparnasse to Rennes and take a bus to Mont Saint Michel. Bring your student ID for free entry to the abbey and castle, and spend the day wandering around the tiny island and surrounding sands (if you're there during low tide).
Want your own authentic Spirit Jersey to bring on exchange? Custom orders are available on spiritjersey.com