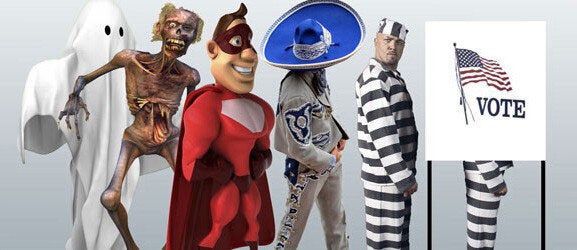 The 2012 election cycle saw the greatest rollback on voting rights since the post-Reconstruction era. Largely driven by a spate of new laws and policies, including new restrictions on the type of ID that voters can use and flawed voter purges, conservative legislatures stopped at nothing to make it harder to register to vote, harder to cast a ballot, and harder to have a vote counted.
But there was another story this year, a story of voter protection and democracy advocates who fought back -- and won.
10. Missouri tries to sell voter suppression as "voter protection."
Hoping to get a piece of the photo ID pie, Missouri legislators introduced a photo ID ballot initiative under the misleading name "Voter Protection Act." Advancement Project and co-counsel challenged the measure in 2011, arguing that there is nothing "protective" about placing unnecessary restrictions on the right to vote -- restrictions that could disenfranchise up to 250,000 Missouri voters.
This year a judge agreed that the initiative's deceptive language failed to inform citizens of what, exactly, they'd be voting on. It was removed from the 2012 ballot.
9. Ohio meddles with its wildly successful early voting period.
Ohio lawmakers got to planning back in 2010 when, for no legitimate reason, they eliminated the last three days of early voting (except for active-duty military or voting overseas). It's no coincidence that African-American voters are more likely to cast early ballots, and in 2008, when Obama won the state, nearly 100,000 Ohioans voted during those last three days of early voting.
This year the Obama campaign filed a lawsuit to restore the early voting period for all Ohio voters. Despite attempts from the right to mischaracterize the suit as trying to revoke voting rights from military members, a judge agreed with the Obama campaign that a two-tiered voting system is unconstitutional - -and the last three days of early voting were reinstated for everybody.
8. Wisconsin and Ohio get ominous billboards in communities of color.
During the final weeks before Election Day, we saw a wave of intimidation tactics. In Wisconsin and Ohio, billboards popped up in primarily African-American neighborhoods, depicting a gavel and ominously threatening, "Voter Fraud is a Felony! Up to 3 1/2 yrs and a $10,000 Fine" -- clearly designed to intimidate and confuse people of color away from voting.
After a national outcry, letters and petitions, the billboards (the work of the Einhorn Family Foundation, a conservative Milwaukee nonprofit) were removed from both states. To let voters know that we had their back, a coalition of groups, including Advancement Project, placed our own billboards in the same neighborhoods with the empowering messages: "When We Vote, We Are All Equal" and "Stand Up and Have Your Say. VOTE!"
7. Ohio to voters: If election officials make a mistake, too bad.
Previously under Ohio law, election officials threw out all provisional ballots cast in the wrong precinct, even if a voter was following a poll worker's instructions- - and even if the voter was in the right polling place but in the wrong line! This affected thousands of black voters, whose communities are more likely to have several precincts grouped together in a single polling place. These voters were going to the right location, but poll workers sometimes directed them to the wrong table or provided the wrong ballot.
Reasoning that voters shouldn't be disenfranchised for a poll worker's error, Advancement Project took Ohio to court. A judge had the common sense to order that those ballots be counted.
6. Florida targets "Souls to the Polls."
The Florida legislature reduced the state's early voting window from two weeks to eight days. The move expressly took out the Sunday before Election Day, the date when black churches organized successful statewide "Souls to the Polls" campaigns encouraging their congregants to vote. Coincidence?
Not according to former Florida Republican Party Chair Jim Greer, who admitted the party held meetings about strategies (including reductions in early voting) for "keeping blacks from voting." Former Governor Charlie Crist also said that during his term, GOP leaders approached him about changing early voting in an effort to weaken Democratic turnout. But the plan backfired, as Florida's Black voter turnout exceeded 2008's historic levels.
5. Florida takes on the Boy Scouts and League of Women Voters.
Not content with just making it harder to vote, Florida legislators also made it harder to register to vote. A 2011 law placed onerous requirements and penalties on voter registration drives. All completed registration forms, for example, had to be submitted to election officials within 48 hours or face a fine of $1,000 per application. The law had its intended effect: many groups, including the Boy Scouts and the League of Women Voters, shut down their voter registration operations in Florida as a result.
Although damage was done during the 12 months that the law stood (registration dropped by a staggering 14 percent), in 2012 a federal court struck it down for disproportionately affecting voters of color, who are more likely to register from voter registration drives. Despite this setback, in the end, Black and Latino voters still came out in record-breaking numbers.
4. Ohio: No convenient voting hours for anybody!
Ohio Secretary of State Jon Husted decided to further chip away at voting in the state by denying expanded early voting hours in only Democratic-leaning urban counties -- just as hours were expanded in solidly Republican rural and suburban ones.
After public outcry over the flagrant disparity, Secretary Husted ordered that all Ohio counties must vote by the same standard. But rather than extending voting days and hours in urban districts, he eliminated weekend voting and slashed hours in all districts across the state. Although voting got less convenient under the new rules, Black voters in Ohio came out in historic numbers, making up 15 percent of the state's electorate.
3. Pennsylvania's voter ID plan (or lack thereof) falls apart.
Less than eight months before Election Day, Pennsylvania passed one of the nation's strictest photo ID laws -- despite the state's admission that there had never been a single instance of voter impersonation in the state, even though more than 750,000 registered voters in the state lacked the required forms of identification, and the state had no plan for issuing enough ID cards in time. If there were any doubts of the partisan motive, Pennsylvania House Majority Leader Mike Turzai put them to rest after boasting that the law would "allow Governor Romney to win."
After a lawsuit brought by Advancement Project and partners, a court concurred that Pennsylvania officials were in over their heads, and that the law would disenfranchise voters. It was blocked for the 2012 elections.
2. Florida plots an embarrassingly flawed, error-ridden voter purge.
Apparently unsatisfied by the extent of their other suppression efforts, this year Florida threatened to purge thousands of registered voters from the voter rolls based on suspicion of their citizenship status. Using flawed data, the state sent letters to more than 2,600 registered voters (mostly of color -- many of whom were citizens) saying they'd be kicked off the rolls unless they provided proof of citizenship within 30 days. In Miami, where most of the targeted voters live, more than 98 percent of 562 people who responded proved that they were in fact eligible citizens.
When a coalition of groups, including Advancement Project, sued, the state backed down. Officials agreed to restore to the rolls anyone who was removed without proof of their being a non-citizen, and to inform those voters that they were indeed registered.
1. Texas gets rejected - -twice -- over blatantly discriminatory voting changes. The Lone Star State geared up for a number of voting changes beginning in 2011, designed to make voting harder in 2012. First, state lawmakers passed a strict photo ID law that made only five documents acceptable for voting: a state-issued driver's license or identification card, a military photo ID, a passport, a U.S. citizenship certificate with a photo, or a concealed-carry handgun license. They followed up with a redistricting plan that changed districts belonging to incumbents of color, while making no such alterations to districts represented by White incumbents. Fortunately, these plans never saw the light of day.
After concluding this year that both policies would reduce the voting power of people of color and the poor, a federal court struck them down. The state's redistricting map was so blatant, in fact, the court said lawmakers had intentionally discriminated against Latino voters.
Popular in the Community