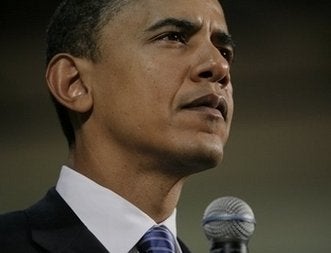 As the players play down to the main event final table at the 2008 World Series of Poker in Las Vegas, I asked top pros what politicians can learn from the game.
The majority of poker pros I interviewed believe Obama's got "the nuts"-- meaning he's holding a better hand than McCain. Daniel Negreanu issues cautions about McCain potentially being on "tilt," while Chad Brown cautions Obama about playing weak hands (i.e. holding on too long to Rev. Wright). And Jamie Gold tells us the ultimate question all poker players and politicians should be asking: "Is the reward worth the risk?"
• Jamie Gold, 2006 WSOP main event winner. It was the first major tournament he entered and ESPN called it, "one of the most dominant performances in all of sports history." Gold is successful and well-known in the entertainment industry, discovering and launching talent.
• Greg "Fossilman" Raymer, 2004 WSOP main event winner. Raymer has degrees in chemistry and biochemistry, as well as being a patent lawyer. He credits The Theory of Poker by David Sklansky as helping to lay a lot of the groundwork for his poker education.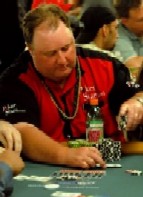 • Daniel "Kid Poker" Negreanu, One of the most well-known figures in poker. He won a gold bracelet in this year's WSOP, which is another notch in his belt that includes three other WSOP bracelets and two WPT titles, holding more top three finishes than any other player. He has won nearly $10 million in tournaments. Negreanu is the author of Hold'em Wisdom for All Players, and Daniel Negreanu's Power Hold'em Strategy.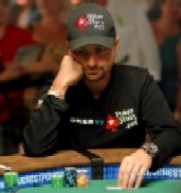 • "Downtown" Chad Brown, Consistently a top player among poker pros with live tournament earnings of more than $2 million already. He was named Bluff Magazine's 2006 Player of the Year. Brown honed his poker skills at Italian cafes in the Bronx before turning pro. He started out as an actor.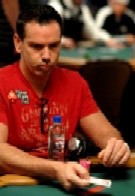 • Vanessa "Lady Maverick" Rousso, Glamorous and brainy Rousso was the top female money earner in the U.S. on the Pro Tour in 2006. Rousso studied economics, political science, and game theory at Duke. She's currently attending University of Miami Law School.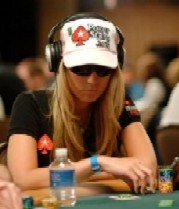 • Marco Traniello, Twenty WSOP cash finishes since 2005. Italian-born Traniello was a world-renowned hairdresser before he met poker pro Jennifer Harman, who now is his wife.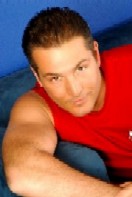 • Eric Mizrachi, Part of the triple threat in the poker world -- Eric's twin brother is Michael "the Grinder" Mizrachi. His other brother is pro Robert Mizrachi. Eric is an up-and-coming poker pro who has cashed six times at major tournament events.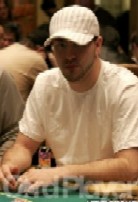 What can politicians learn from poker or poker players?
Gold: "Unlike poker players who are encouraged to bluff every now and then -- especially yours truly -- I think politicians would best be served by playing it straight up all the time. That is, they should just lay their cards on the table, open and honest for all to see, and let the voters decide whose ideology and strategy for leading this nation they most agree with."
Raymer: "They can learn to think long-term instead of short-term."
Negreanu: "The most important skill at the poker table is the ability to deal with bad runs ... Poker is a game that mirrors life in so many ways and a person's true colors come out even more when things aren't going smoothly."
Brown: "Great poker players adjust their game to their opponents and the voters they are talking to ... When Hillary Clinton was campaigning in the South, you could hear her using a slight southern accent. The only problem was that it looked fake and her voters could spot a tell, as we say in poker. In poker, as in politics, don't bluff unless you can make people believe you."
Rousso: "Part of poker, like politics, is acting decisively with less than 100 percent of the information."
Traniello: "Calculate all the odds before a decision."
Mizrachi: "Learning how to read your opponent..."
How can the candidates read their opponent during the Presidential debates to go for the win?
Rousso advises, "I'd look for consistent patterns of being dumb-struck or changing topics as a cue to areas of vulnerability... then I would constantly return my opponent to the topics they fear most. We look for these weaknesses constantly -- shifty eyes, touching your neck, hesitating. In the debates, it's all about a strong combination of control, attack and humor. If you can keep your mind focused, attack the 'short stack' (weak argument) and inject table talk (disarming humor), you win the debate and the crowd."
Going all in is about taking a calculated risk to bet all your chips. When you go all in you put everything on the line and go for it. What does it mean for a politician to go all in?
The majority of these poker pros feel politicians don't go all in enough. For Traniello, going all in means commitment -- taking a definite stance on an issue, while Rousso thinks, "the biggest all in move for a politician is to be him/herself ... really putting him or herself out there to be scrutinized. Going all in is like going off message on instinct. You never know for certain how it will play out ... but the rewards can be enormous."
Gold speculates that, "the saying 'fortune favors the bold' seems to hold true in both poker and politics. You can't lead from behind, and you certainly can't win if you're always the small stack. Sometimes you just have to take a chance."
However, Brown issues a caution: "Sometimes politicians don't need to make big moves or go all in. Bill Clinton played his hand perfectly in his re-election. I don't think he needed to go all in and that is the best way to win. Never put your tournament life on the line if you don't have to." Negreanu agrees, "A politician, almost by definition, has to be careful not to go all in too often because every time they do they could lose it all ... you don't want to be in desperation mode at the poker table sticking all of your chips in on a bluff."
Who do you think is holding the best hand this presidential election: Obama or McCain?
The majority of these poker pros think Obama has the nuts (a poker term meaning the best possible hand). Traniello sums up Obama's hand: "He's got it all." Mizrachi feels the same saying, "Obama is just out-playing his opponent ... his debating skills are more polished than McCain's. He's more aggressive and convincing."
Negreanu doesn't flinch saying, "My money is on Obama and I'd lay odds." Negreanu describes his hand this way: "Obama has great momentum, has broad appeal, is an extremely polished speaker and he inspires people. That's not all; his campaign is doing an excellent job of getting their message across that McCain is essentially a third Bush term. That's too strong of a combination for McCain to handle in my opinion."
Rousso brings up an interesting point: She believes Obama has a better read of his opponent which is how you win hands. "McCain has no idea what's coming at him next and that is power in poker parlance."
However, Brown has his money on McCain, literally. "I made a prop bet with a friend of mine ... I took McCain. My bet is contingent upon Obama's running mate. If he picks Hillary, I think Obama will win. Brown feels that the GOP has a bad "table image" because of Bush, however, and says that McCain definitely is holding the stronger hand because Obama has played with too many weak hands when he should have folded. "Reverend Wright will haunt him throughout his campaign. He should have divorced him in his speech in Philadelphia."
Raymer, a Libertarian, says, "Who cares who wins between a Democrat and a Republican?" He gives this colorful analogy: "It's like picking between the rotten coleslaw and the peanut brittle when you're allergic to peanuts.
Do you know of any politicians who are good poker players?
Raymer: "Alfonse D'Amato, the Chairman of the Poker Players Alliance, is a good poker player. Word is Nixon was a very good poker player."
Negreanu: "When I met Barack Obama at a celebrity gala in Los Angeles, not only did he know who I was, but he also told me that he played poker the previous night! I also read that he played a lot throughout college and he seems to enjoy the game."
Brown: "Bill Clinton would be a great bluffer ... I want to see a pros' vs. politicians' game."
Rousso: "D'Amato, Obama, Barney Frank. I know a bunch of Senators who do play, but I'll wait until they come to the World Series before I share their stories."
Gold and Negreanu sum up Obama and McCain's Strengths and Weaknesses.
Gold: "McCain has considerably more experience and seems to have a better and more realistic economic plan. Obama seems to have a greater sense of the pulse of the current times and gives more hope for change, which I think is important. Both are obviously great patriots, who care deeply about our nation, otherwise they wouldn't open themselves up to criticism by stepping to the political forefront."
Negreanu: "With Obama I think it would be his people reading skills. He inspires people when he speaks and in order to do that you have to understand people. You have to be a good listener and know what people want to hear. As far as weaknesses go, I guess you could say he made a 'bad read' with Rev. Wright.
"As for McCain, obviously with him being a war hero the strategy side of poker is something that should come naturally to him -- outwitting his opponents and also being able to predict an opponent's next move. As for weaknesses, he may have a biggie. A short temper doesn't translate well to the poker table and McCain has shown flashes of a temper now and again. In poker, we call that tilt."
Rousso's Challenge
"I'd love to challenge both McCain and Obama to a game, online or on the felt. Then we'll see who gets my vote!"
Popular in the Community