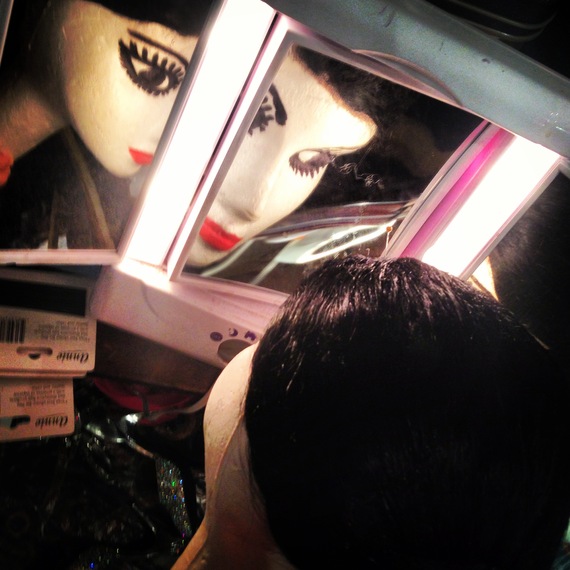 Randall Smith, owner of Renaissance Pageants, met me at the Starbucks by the WalMart in the west side of Atlanta. He stepped out of his luxury sedan, flawlessly dressed in slick camel-and-black wool and leather. In the backseat of his car sat several big boxes. Since the night of the big pageant was just a few days away, I asked if they were crowns and trophies.
"No," he said. They were products.
Randall wasn't even in pageant mode yet. He was in workaday mode as a hair product distributor. He had meetings all over greater Atlanta leading up to his national pageant weekend. He had boxes of new sprays and creams to attend to -- just another small part of his beauty empire.
Randall is a Southern, black man from Anniston, Alabama who first stepped into the pageant world at the University of Alabama. He'd tell the girls what to wear, how to walk, and how to tie it together with hair and makeup. Randall has long worked with "real" girls on state and national level pageants; today he mentors contestants in both Miss USA (which goes on to Miss Universe) and Miss America (which goes on to Penthouse). In 2000, Randall started Renaissance Pageants, a queer-inclusive, racially diverse, Atlanta-based celebration of beauty. In one way or another, Randall is immersed in the world of beauty, and his different spheres of practice all inform each other. His boxes of sprays and creams are taken to the extravagant and extreme in real-girl pageants. His queer pageant girls show him innovative uses of hair, body, dress, and sparkle. Randall is in the beauty hustle, and Atlanta is his home base.
What I immediately learned about pageants from Randall is that they are true businesses. He refers to himself as an "owner" -- meaning his name and check book are on the line with each Renaissance event. The girls that enter into his pageants very often use titles to advance their own performance careers. Many drag queens spend months and beaucoup bucks to prepare gowns for pageant competitions like Renaissance. At the pageants themselves, entrepreneur twinks set up a booth selling custom-ordered rhinestoned-on-the-fly jewelry to shine-deficient competitors. Pageants allow us to celebrate beauty's power to transcend our differences; however, beauty doesn't come cheap in this world.
I arrived to the Turner Field Holiday Inn, the venue of choice for Renaissance Pageants, the Friday afternoon before the weekend's beauty blowout. I made my way up to the penthouse suite to go behind the scenes. From the top of the Holiday Inn, against sun-aged, printed brocade curtains you can see all of Southwest Atlanta. In the Turner Field parking lot was an electric-bright fair, rides and all, spinning away. The neon pulsed and pulsed, yet nobody was out in the chilling weather. Past the fair sat highways in both directions creating clear divides in the landscape. Up north peeked the northwest of Atlanta, a more developed and affluent area of the city. What you mostly saw from the penthouse suite was Southwest Atlanta -- the SWATS, the airport, low-rise buildings, the Tri-Cities, and whatever is out there until you hit I-285.
I took a seat in a boudoir-red plush-back formal chair and waited for the action. I caught one last pre-interview for Miss Renaissance: Kyra Mora. Poor miss thing was late, and the judges had just packed up to go. Upon apologizing for her lateness, one judged quipped to Kyra "Better late than pregnant." In true businesses-like fashion, the whole Miss Renaissance process is a big interview. No matter how many rhinestones you put on that gown, you can't ever overcome being late for the interview.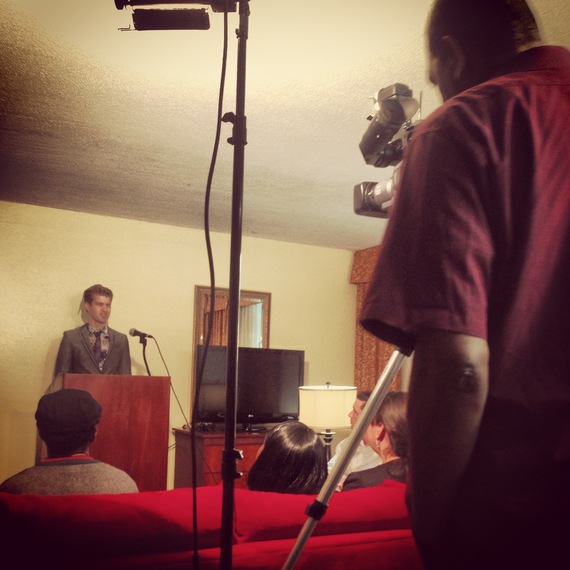 Kyra in Boy Face

Miss Kyra didn't even have any rhinestones on -- she was in white boy face. She was all twinkalicious in sport jacket, askew tie, and tight trousers. She had gotten an afternoon break in her job in a salon up north in Buckhead; she sped down the highway to the Holiday Inn and even changed clothes in the car! Her interview was a bit stiff in delivery and abstract in message, but she was cute. At 24, she's got a lot of learning to do, but she's still ambitious and adorable. She'll conquer a pageant one day -- just not this one.
After she left, the judges dished on her. They were mostly impressed by Kyra's ability to transition to a very fishy queen. She has such boyish features on the street (a strong jaw and man's nose), and it's a surprise how beautiful she becomes. She interviewed very well for a queen so fresh to pageants, and they think she's a competitor to watch.
Carl Walton, head judge for the past seven years, explained that every judge looks for something different in their interview evaluations. Everything from message, to poise, to having a proper "gig line" might be taken into account in these interviews. Carl, an asset manager from Florida, values eloquence the most. He wants to see that girls have the ability speak well despite the setbacks they may have in education or upbringing. This is the South, after all, and queer folks down here don't get a lot of breaks. The Renaissance girls transcend the isolating world of the queer South to be well-spoken representations of beauty in their community, and this is what the judges want to reward. They expect the girls to be grounded and intelligent -- they can't just talk out of their gaff.
The judges are a multi-racial, multi-gender, trans-inclusive set of folks; and they all look fabulous! Carl wears a pink cashmere sweater, ultra-denim jeans, and blindingly white sneakers. A bag of Cheetos was passed between the judges and not a speck of cheez stained anyone. Each judge came from a different region and life experience; each has their own nit-picky obsession (that they probably learned themselves the hard way).
A judge's job is not easy. Pageants are nights-long affairs set over the course of a very sparkly weekend. Fridays were hours of interviews. Saturday night brings hours of Renaissance Newcomers pageant competition (for folks who want to dip their toes into the pageant world). And Sunday night is the big Renaissance Pageant -- a seven-hour long event from 7 p.m. until 2 a.m. There are a lot of crowns to hand out and a gaggle of queens to watch fight over them -- the judges sit through all of it.
The competitors themselves have come from all over the South weekend. To call this a drag queen pageant is a bit unfair. Of the many crowns given, not all of them are for drag queens. Drag kings have their own category (Male Illusion), as do real men (Mr.) and real women (Femme). Drag queens compete in Miss Renaissance and Miss Renaissance Plus (for girls over 200 pounds). Not all of the queens in the Miss categories are drag queens, several are transsexual women (men who now live as women). Almost all of them perform, do hair, sew, dance, etc. You have to be a Jill-of-all-trades to make it in this world.
The previous year's Miss Renaissance was Celeste Holmes. She's a well-seasoned performer who often uses her over-the-top pageant costumes in live shows. Celeste is no stranger to the art of self-presentation; in boy world, she's a vice president at the world's largest PR firm. Having a professional job helps pay for the feathers and glitter, but costumes only fly high with time and practice. Since winning Miss Renaissance, Celeste has become a regular performer with Jaye Lish and The Birds of Paradise (at Trader Vic's) as well as The Other Show in Atlanta. Crowns can launch careers, but they don't come easy.
Calling all HuffPost superfans!
Sign up for membership to become a founding member and help shape HuffPost's next chapter