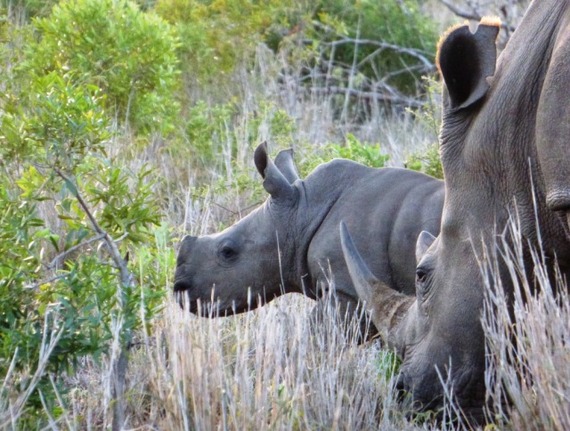 Photo credit: Jamie Joseph / © savingthewild.com
In December I completed a 14 week "solving poverty saves wildlife" expedition across Zimbabwe, Zambia, Kenya and South Africa, living among rural communities and shadowing farmers and anti poaching rangers that were once impoverished poachers. I've seen time and again that when NGOs tackled the poverty link to the poaching crisis, rhino and elephant poaching in those ecosystems collapsed.
It's not a new idea, but it is a slow idea, especially in South Africa, home to the majority of the remaining 20,000 wild rhinos on the brink of extinction. The value of community to the anti poaching strategy, and the value of community empowerment, is the secret weapon that needs to be unleashed.
Fast forward to present day, and I'm on location at andBeyond Phinda Private Game Reserve in Zululand shooting a documentary about the rhino crisis. We are joined by Zulu Princess Latoya Buthelezi, better known in recent years by her stage name Toya Delazy. The exceptionally talented young singer songwriter is currently based in London, but our global rising star always makes time for the place she calls home.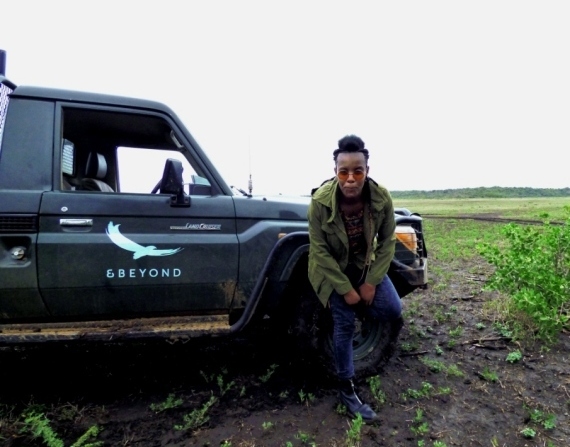 Photo: Toya Delazy at Phinda / © savingthewild.com
Phinda is the birthplace of andBeyond, one of the world's leading experiential travel companies, operating 35 extraordinary lodges with a footprint of less than 800 beds, positively impacting more than nine million acres of wildlife land. andBeyond's commitment to sustainability and empowering communities is the reason we're all here right now; to prove to the world that we can save the rhino -- but first we have to save our own humanity during a time in history where greed and ego and a status driven demand for rhino horn in China and Vietnam is fueling this wildlife holocaust.
We're currently experiencing the worst drought in 100 years, but as if scripted, as soon as Toya arrived at Phinda's Forest Lodge set among some of earth's remaining rare sand forest, thunder erupted, and the rains began to drum across the landscape. Birds sang in chorus, dried up fibers transformed to green grass shoots, cheetah cubs pranced across the dew, and rhinos travelled far distances across the 24,000 hectare reserve to reach watering holes that were mud and dust a day earlier.
The next morning we visited the Mnqobokazi community, hosted by Bheki Ntuli, a community liaison for Africa Foundation, andBeyond's social development partner. Africa Foundation has been working with communities adjacent to conservation areas for over two decades, and supports five communities surrounding Phinda. Recently completed projects include boreholes at six schools, and The Community Business Linkage Programme -- an initiative providing innovative solutions to promote employment generation in historically disadvantaged communities -- has created new markets for three farms in the region.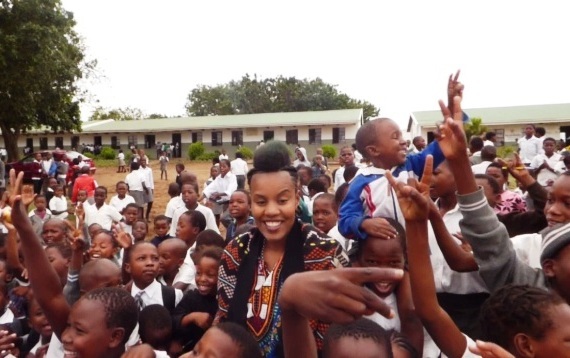 Photo: Toya Delazy at Nkomo Primary School / © savingthewild.com
Our journey into authentic community development began with the Principal of Nkomo Primary School, Mrs Zikhali. As she sat across from Toya, sharing her own personal story of learning and progress, chapter one began like so many African stories, under a tree. In 1999 Mrs Zikhali started Nkomo Primary School with 220 children.
"We began by teaching under those trees over there," Mrs Zikhali told Toya as she pointed out the window. "But then we heard through Africa Foundation that Phinda was keen to help empower the community through education. Phinda funded the first two classrooms at the end of 1999, and the project was lead by us -- we've always felt that what they brought to us was ours."
In 2001, Mrs. Zikhali requested that her community and Phinda join forces to build another classroom because the three teachers were sharing two classrooms, and her office and classroom was still outside, under the trees.
"From there I felt empowered, and began approaching businesses from all over the world to help us grow our school. By 2004 there were 591 children and 13 teachers sharing nine classrooms."
One early morning in 2004, Phinda employees came to visit the school, arriving just before classes commenced, and parked under the Principal's tree, not knowing that this was her classroom.
"Please m'am," said one of the school boys to Mrs Zikhali, "Can you tell your visitors to remove their car so that we can learn?"
Phinda then went back to the drawing board and found the funds to ensure the inspiringly determined Principal of Nkomo Primary got her own classroom. There are now 19 classrooms, of which 13 ½ were built by Phinda.
"Working with Phinda and Africa Foundation I have now visited many countries around the world," beamed Mrs Zikhali while Toya listened intently. "I share ideas with teachers about education initiatives, such as our orphan program, and I have many opportunities to fundraise for our school. Our community is what it is because Phinda believes in us."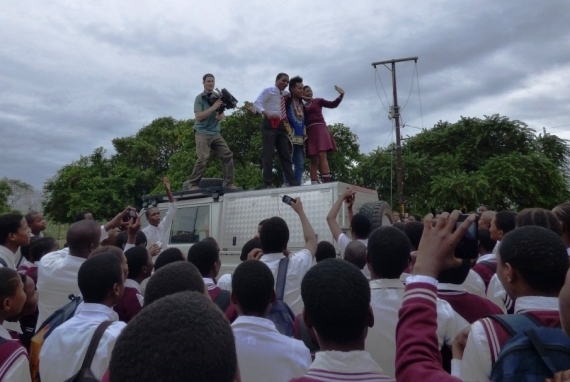 Photo: Toya Delazy at Giba High School / © savingthewild.com
Toya was so moved by Mrs. Zikhali's story that she asked if we could swing by the neighboring high school. Toya is salt of the earth, gracious and humble, and wherever we went she requested that no one make a fuss over her visit, and so we caught the high school completely by surprise. However no one could have expected what happened next as she stepped out of the vehicle...
Music, like nature, is one of those binding forces that connect us all. Music does not see race or politics, or how many zeros you have in your bank account. It's that feeling that hits you like a thunderbolt. And when Toya Delazy stepped out from the vehicle, hundreds of teenagers instantly recognized her from her music videos on TV. She was swept away in a wave of positive energy, boys and girls singing along to her latest hit single, "My City."
Sometime later, somewhere along a dirt road, we met up with one of the high school kids that had sprinted home to get music he had made, because it was his wish for Toya to listen, and like Toya says, "Listening doesn't cost a cent."
Track number three: "Stop killing rhinos!"
The song has a catchy beat, it has potential, but even more than that, it is a conscious echo. How do we expect rural communities living on the breadline to protect an animal they have never seen before, or defend a conservation model they have no stake in? Right across the continent fathers and sons from communities that border wildlife areas are being recruited by poaching syndicates, and poverty will continue to be an exploitable avenue until a lot more people invest in a new breed of wildlife ambassadors.
Says Toya, "When an artist makes music about an issue as serious as rhino poaching, I would think they do it because it means something to them; it is an issue that touches them deeply. I am so glad to see that this community is embracing conservation. It's not just words. It's real."
Follow Toya Delazy's journey through rhino conservation on Saving the Wild Facebook & Twitter: #2016YearOfTheRhino.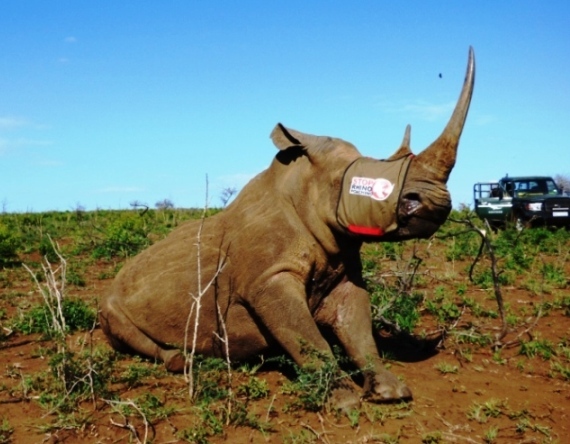 Photo credit: Phinda #RhinosWithoutBorders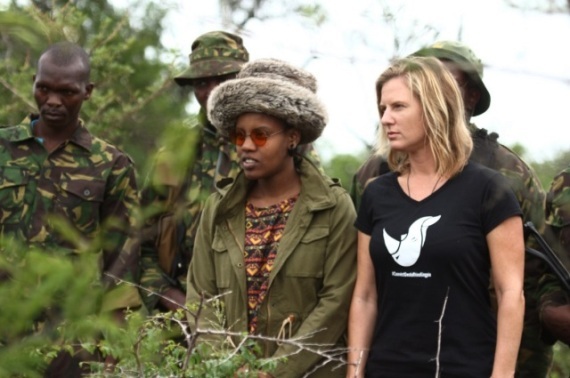 Photo: Toya Delazy, Jamie Joseph and APU / © Amy McMillan