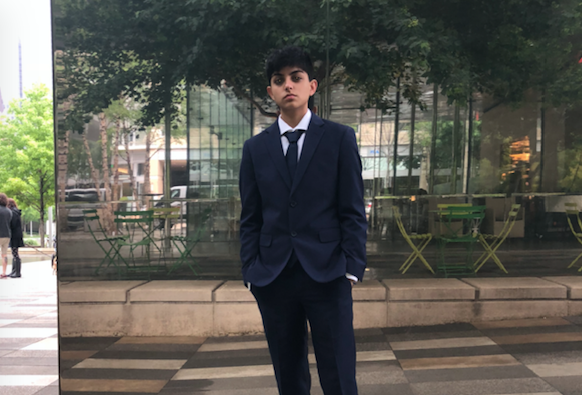 As recently as Tuesday morning, Allen High School senior Jay Alfie wasn't sure whether he would hear his own name during his graduation ceremony on Friday.
Administrators of the Allen Independent School District in Texas have a policy: Use only students' legal names during graduation. No nicknames.
But "Jay" isn't a nickname. Alfie, 18, is transgender and hasn't recognized his birth name in years. Since he came out his freshman year at a new school, everybody there ― teachers, classmates and friends ― has called him "Jay." Some never knew his birth name.
Alfie said he first asked the school staff more than a year ago whether he would be able to graduate high school with his chosen name, and a school staffer told him it wouldn't be a problem. When a different school staffer told him in January he had been informed incorrectly, Alfie said he and his parents contacted the graduation ceremony coordinator directly.
"I felt horrible," Alfie told HuffPost. "I felt like all of the hard work and accomplishments that I made that year weren't going to be shown. I was dreading the day of graduation.
"I was afraid that people were going to talk badly about me or were going to see me differently if they saw me walk the stage not as the person they know but as a person that I left behind."
Because Alfie moved from Cancun, Mexico, when he was 6 years old, the family needed to file paperwork in that country to make the name change official. They did so earlier in the year in an attempt to satisfy the school policy, but their lawyer could not say when the process would be complete.
With the clock ticking closer to graduation day, Alfie's sister Isabella started an online petition to rally support for her brother last Friday. It swiftly gathered thousands of signatures, and with them came calls from reporters.
The family was told their request had finally been approved late Tuesday.
Allen Superintendent Scott Niven released a statement explaining the reversal: Although the district's policy is to use legal names "for consistency," the Alfie family's request would be honored because they had filed the paperwork needed to make the legal change.
"The Alfie family has been in the process of obtaining a legal name change for several months," Nive said. "Due to circumstances beyond the family's control, the legal process will not be completed before graduation on June 1. Therefore, since the family has filed legal papers to change the name, the request to change the name at graduation will be honored."
Alfie wishes the situation had been handled differently.
"They didn't see it as a big deal, but to me, obviously, it was the biggest deal ever," he said. "I just feel like they should've taken into consideration my feelings more than anything before it got so big."
Niven declined to comment for this article.
The importance of showing respect for individuals' chosen names is backed up by science. Research suggests that allowing transgender youth to use their preferred names promotes better mental health ― a serious concern considering that transgender people are at greater risk of self-harm.
For a March study, researchers at the University of Texas at Austin interviewed nearly 130 transgender youth living in three regions around the country, concluding that those who are able to use their chosen name in more contexts are at a decreased risk of depression and suicide. Author Stephen T. Russell said in a statement that even though he has 20 years' experience studying LGBTQ youth, he still felt "surprised by how clear that link was."
For Alfie, knowing he'll hear his chosen name at graduation is one less reason to feel nervous.
"Without all the people that came together and helped me, I don't think this would have been possible," he said.
Popular in the Community