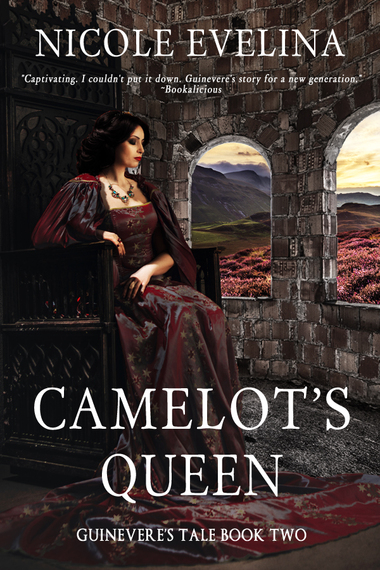 My second book, Camelot's Queen (Guinevere's Tale Book 2) is out today. It's really hard to promote a second book in a series because you don't want to give spoilers for the either book, so I decided to take a different approach by taking you through some of the settings you'll see in the book and their real-life counterparts.
In 2013, I was fortunate to take an Arthurian legend tour of southwest England (officially called From Avalon to Camelot) with Gothic Image Tours, led by the wonderful and hilarious Jamie George. (Photos from all the places we visited, including those not mentioned here are on my Flickr page.) It was two weeks and let me tell you, it was jam-packed with once-in-a-lifetime experiences. These are the places immediately linked to Arthurian legend that we visited, plus a bit about how they factor into my book.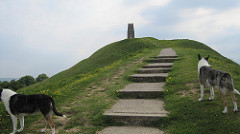 Glastonbury Tor - The Tor, the tallest hill in the otherwise flat lands of Somerset, was made famous in Arthurian legend by Marion Zimmer Bradley in her book The Mists of Avalon. But it really has been a holy site for centuries. The area used to be marshland and was surrounded by water, creating the lake associated with the Lady of the Lake and Avalon. Today, the land is dry and the Tor is topped with the ruins of St. Michael's Tower, all that remains of the medieval church that once stood on the site. Some say there used to be a stone circle at the top and that the labyrinth-like terraces carved into the sides were a ritual procession path. Whatever it's true origins, the Tor has become a New Age and Arthurian sacred site and climbing it (and it is one heck of a climb, even using the stairs) should be on every traveler's bucket list.
Connection to my books: The Tor is the center of Avalon in my books and is the sacred place where all rituals are held. You see more of it in the first book than the second, but it's still an important spiritual force.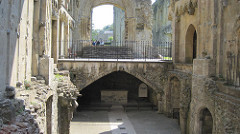 Glastonbury Abbey - The abbey was one of the biggest and wealthiest in England before King Henry VIII suppressed it in 1539. All that remains today are ruins of a once breathtaking structure. Of course, its connection to Arthur and Guinevere is their supposed graves that were "discovered" there by monks in the 12th century. While this has pretty much been proven a hoax, it's still fun to sit at their "gravesite" and dream about who they were. Plus, there's a holy thorn tree on the property that is descendant from one supposedly brought to Glastonbury by St. Joseph of Arimathea.
Be sure to visit the town and if you get the chance, take the bus to the nearby town of Wells to visit the spectacular cathedral, which some say was modeled on what Glastonbury Abbey used to look like or vice versa (either way, their architecture seems to be related) and the Bishop's Gardens, which are prettier than any botanical garden.
Connection to my books: No direct connection in this book, but there will be in the final book of my trilogy.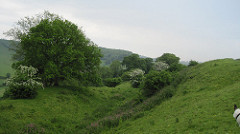 Cadbury Castle - Nowadays, Cadbury is little more than an earthwork fort, but in its heyday it must have belonged to someone spectacular. The ramparts are still impressive and from the top (you can climb to it) you can see for miles around. Cadbury is thought by many to be the true location of Camelot. The land behind the hill was thought to have been the real Round Table, and is the area Guinevere brought to Arthur as part of her dowry. If this is true and we assume Cadbury was Camelot, then Arthur's marriage to Guinevere makes strategic sense.
Connection to my books: Because my Camelot is located in the Lake District in northern England, near Carlisle, Cadbury is Arthur's southern power base. There are several scenes that take place in this castle.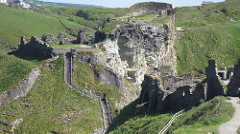 Tintagel - This is Arthur's legendary birthplace. Historically, it was a major tin trading site and its owner would have controlled the distribution of all goods coming into the port, making him very powerful. Situated high (and I mean high) on the Cornish coast, the visible ruins are all that is left of a 12th century castle. To get there, you have to walk up a crazy series of stairways that jut this way and that, and many of the steps are uneven. At the top, you'll see the monastery/castle ruins, and there are several stone foundations of early Celtic settlements.
There's also a rock with an impression in it called King Arthur's footprint, where, legend says, he was crowned and symbolically married to the land. It does indeed look like a large man's foot made the impression. You can put your own foot in it, too. Not far away, just off the coast, is a triangular island known as Merlin's hat. Far below are several caves, only one of which actually connects to the mainland, known as Merlin's cave, home of the legendary enchanter.
We stayed at the hotel on the cliffs that calls itself Camelot Castle Hotel. I loved it, although I upgraded to one of their bigger rooms with a balcony and full bath. I recommend doing this if you can. The food is top notch and if you get a chance to meet their artist in residence, tell him I said hi. I bought one of his paintings.
Connection to my books: No direct connection, though it is mentioned in Daughter of Destiny, the first book in this series.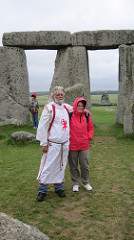 Stonehenge - You can't think Arthurian legend without thinking of Stonehenge, right? Even though there is no historical connection between the two (Stonehenge is much older than when a historical Arthur would have lived), the two are inextricably linked because of Merlin. We were fortunate to be given permission to go inside the stones and participate in an actual Druid ceremony with a Druid who claims to be the reincarnation of King Arthur.
Connection to my books: No direct connection, though Stonehenge is where I place the center of Druid learning, though that is not specifically stated.
Other places not so obviously tied to Arthur that we visited include Avebury and Boscawen-Un, both sacred stone circles, several ancient holy wells (St. Clether's has my heart and I fell into the well at St. Nectan's, so I'll never forget it!), the famous Jamaica Inn, and the towns of Marlborough and Penzance.
I cannot recommend Gothic Image tours highly enough. I plan to take all of their other tours (Ireland, Scotland, Wales) as soon as time and money allow. The accommodations are top-notch, Jamie does all of the driving for you (plus he's highly entertaining) and you get more than your money's worth from the side experiences and his knowledge. I am truly blessed to have had this experience and I hope many of you will get to as well.
Support HuffPost
A No-B.S. Guide To Life
Related
Popular in the Community