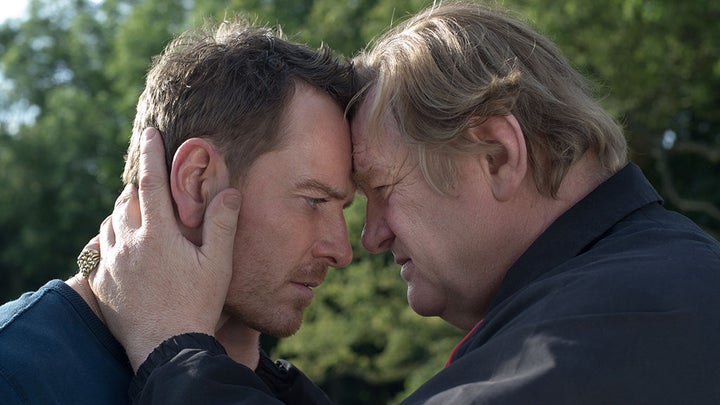 A corrupt Irish family settles in a makeshift camp, living out of trailers as they fulfill their family's criminal duties as thieves. Despite his father's orders, though, one son is done with the heist lifestyle and wants out. Well, that's not going to happen easily, right? 
That pretty much sums up the plot for "Trespass Against Us," the first feature-length film from "Doctor Who" director and frequent Chemical Brothers collaborator Adam Smith. The movie, which The Huffington Post saw at the 16th annual New Hampshire Film Festival over the weekend, stars powerhouse actors Brendan Gleeson and Michael Fassbender as father and son, and boasts a strong supporting cast, with Lyndsey Marshal and young newcomer Georgie Smith. "Trespass Against Us" is a story about the relationships between fathers and sons, and how one bad choice causes a ripple effect. 
Chad Cutler (Fassbender) and his wife (Marshal) just want to give their two children (Smith, Kacie Anderson) a normal life and a full education, but Chad seems to always get swindled into completing various robberies for his no-nonsense, ill-tempered father Colby (Gleeson). Despite trying to leave this life behind, Chad can't seem to escape Colby's grip, which leads him ― and his wife and children ― into a downward spiral. 
The part of Chad is a different one for Fassbender, whom we know from the "X-Men" franchise and Oscar-nominated films like "12 Years a Slave" and "Steve Jobs." His latest buzzy role is in Derek Cianfrance's "The Light Between Oceans," which he stars in with his real-life girlfriend and fellow actor Alicia Vikander.
In it, Fassbender plays Tom, a World War I veteran who, along with his new bride Isabel (Vikander), becomes an occupant of an island that houses the Janus Rock lighthouse. Tom maintains the lighthouse and he and Isabel live out their days happily, until she learns her dream of having a child might not be attainable. Then, a surprise arrival on the island changes everything.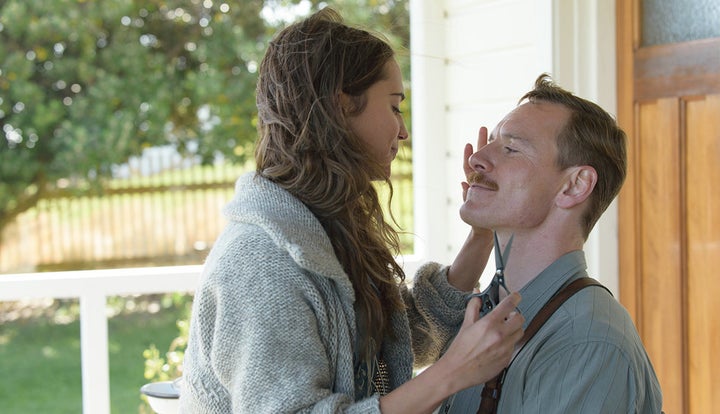 "He's an honorable man. He's got dignity and stoicism and principles. If there were more people like him in the world, it would be a better place," Fassbender told Entertainment Weekly of Tom, adding that it was nice to play a "regular" person. "There wasn't some villain and good guys. Just regular people. The fact that I hadn't played somebody like this very much interested me in doing it. It's a difficult thing as an actor not to repeat one's self. I try my best to find variety in what I'm doing, but there's a lot out there that's the same."
The Irish actor clearly wanted to test out the waters when he agreed to do "Trespass Against Us." It's not as talked about as "Light Between Oceans," and it's a far departure from what we've seen Fassbender take on, but it's worth a watch. The movie is a bit of a mishmash, but an interesting, nonconventional heist thriller. There's action. There's comedy. There are thick accents. Plus, Fassbender envelops himself in the story he's inhabiting and shines, as he always does, on screen.
All in all, though, perhaps his upcoming film "Assassin's Creed" or "The Light Between Oceans" is more your speed. You decide which Fassbender works for you. 
"Trespass Against Us" does not yet have a U.S. release date. 
REAL LIFE. REAL NEWS. REAL VOICES.
Help us tell more of the stories that matter from voices that too often remain unheard.
BEFORE YOU GO
PHOTO GALLERY
Best Movies of 2016 So Far