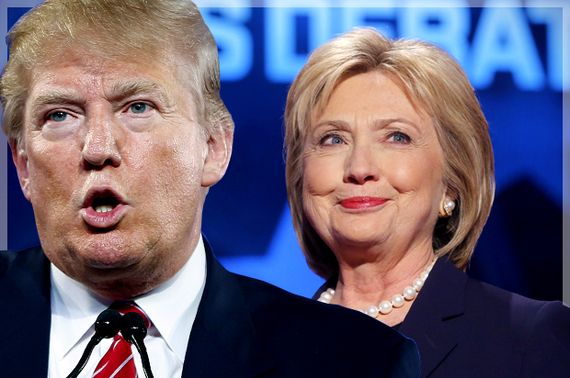 Dear Mr. Trump and Ms. Clinton,
On January 20th, one of the two of you will be inaugurated. Mr. Trump, at 70, you will be the oldest President in US history. Ms. Clinton, at 69, you will be second only to President Reagan.
I know that you both believe that age should not be an issue in your hiring by the American people in November or throughout your term. Alas, that is not an option for many older Americans. You may have seen AARP's "Staying Ahead of the Curve" survey. Sixty-one percent of workers aged 45-74 were not confident that they would find a job without a drop in pay and 33% of that group cited age discrimination or other age related issues as the reason. And of the 64% of that cohort who had seen age discrimination on the job, ninety-two percent said, "it is very or somewhat common."
Yet when I look for your solutions for this issue, I find very little. While you both have your key issues laid out here and here, there's no one category that covers this topic. I'm not seeing much on the campaign trail. For example, on the same week in August you both gave economic speeches in Michigan, a state where older workers have been hit particularly hard. No solutions were offered.
Potential pockets in the job market exist. By 2020, Georgetown University Researchers estimate that 5 million jobs won't be filled due to lack of skills and some of the older boomers retiring. We started to see that gap in July of this year when there were 5.8 million job openings, the largest number since 2000 and only 5.04 million hires. Retraining older workers can be part of the solution. And that brings the added bonus of more workers retiring later and contributing to Social Security longer. But training is expensive.
It's a tough, gnarly issue. And it can be subtle. Yes, the Age Discrimination in Employment Act of 1967 is on the books. Class action suits and discrimination claims have been filed. But they can trigger backlashes. And how do you change the behavior of the management recruiter who is rejecting resumes of older workers but doesn't even realize her bias? Or the fifty-something middle manager whose performance suffers because he doesn't accord his boss, the same age as his son, the proper level of respect? Or the Gen X Lead Engineer who doles out the best projects to the younger coders?
As you both know, unless tragedy strikes, age happens to all. It's a multi-generational problem that needs to be solved from multiple angles: government policies, business initiatives, tax incentives, private public partnerships, skills training and so on. On a positive note, this country has tackled and been successful with issues that required behavioral change before by pulling multiple levers. For example, the prevalence of cigarette smoking in the adult population has decreased from 42% in 1965 to 16% in 2014.
A few years ago, I had the good fortune to hear Sheryl Sandberg address an audience at Harvard Business School on her book "Lean In." Polished and poised, she brimmed with useful advice for women who wanted to be ambitious in all areas. My friends and I, older Gen Xers or tail-end Boomers, lamented that most of us were just past the "leaning in" stage with high school children or older or none at all. We'd made our choices. But Sandberg raised a question that has resonated with me since then. What would you do if you weren't afraid?
I would solve ageism. Am I afraid of it? Yes. I've seen older, qualified friends retire before their time and many former classmates and colleagues over 45 laid off in disproportionate numbers. And then there are those depressing stories in the media.
I'm fortunate. I work on an executive team with a mix of the generations. The "learn, earn, return at the same time" philosophy of many millennials has transformed my life. It's turned me into a poster child for the multi-generational workforce. And I might add that both of you also embody the multi-generational spirit with your Gen-X wing women (KellyAnne Conway and Huma Abedin), Gen Y children/spokespeople, Gen Z volunteers.
So I'd follow Ms. Sandberg's model to start a national discussion on the topic. "Lean In" puts a positive and powerful spin on the decades-old challenges of sexism, gender politics and "having it all." Ms. Sandberg assigns responsibility to all involved in labor force, not just working mothers.
I would substitute "Stay In" for "Lean In" and challenge all stakeholders (e.g., government, corporations, all generations, national associations) to build and leverage a multi-generational workforce. A workforce where all able individuals can stay in as long as possibles--as I imagine November's winner will want to in 2020.
So while one of you may be the last Boomer President, you may also be the first from Gen B. And who knows? If you build a multi-generational workforce, there may be more to come.
Yours,
A Swing State Voter
Popular in the Community