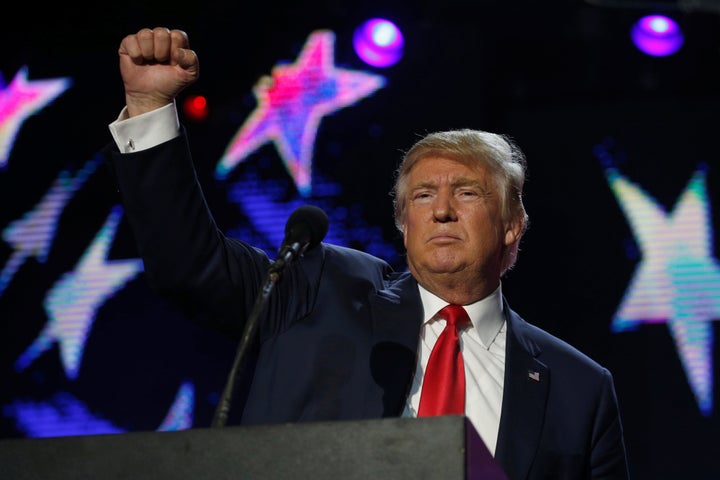 BERLIN, Nov 6 (Reuters) - More than three quarters of Germans believe U.S.-German ties would come under severe strain if Republican candidate Donald Trump is elected president in U.S. elections on Nov.8, a poll showed on Sunday, a fear echoed by German politicians.
Germany is the United States' largest European trading partner and the sixth largest market for U.S. exports. The two countries have had close ties since the U.S. helped to rebuild a devastated Germany after World War Two.
Chancellor Angela Merkel has been tight-lipped about Trump, despite his repeated attacks on her decision to welcome nearly one million refugees into the country last year. In September, however, he described Merkel as "a really great world leader."
But Germany's President Joachim Gauck, a former Lutheran pastor who was a anti-communist civil rights activist in the former East Germany, said he was worried.
"What causes us concern, among other things, is his unpredictability," Gauck, a former Lutheran pastor, told Spiegel Online in an interview published on Sunday. "We cannot say what could be expected from a President Donald Trump."
And plenty of other Germans agree with Gauck.
A new poll by the Emnid organization showed 77 percent of Germany feared strains in U.S.-German relations if Trump wins the election. By contrast, 67 percent said they expected Germany's close ties to the United States to remain unchanged if Democratic candidate Hillary Clinton was elected.
Among Germany's top concerns are Trump's stance on Russia and on the NATO alliance, of which Germany and the United States are both members. In July, many were shocked when he said that if Russia attacked a NATO member, he would consider whether the targeted country had met its defense commitments before providing military aid.
Norbert Roettgen, a member of Merkel's Christian Democratic Union (CDU) and head of the German parliament's foreign afffairs committee, said he also saw German-U.S. relations under pressure if Trump wins.
"The election of Trump as president would put a historic burden on the German-American relationship," Roettgen told the Bild am Sonntag newspaper. "It would lead to the worst estrangement in German-U.S. relations since the Vietnam War."
But Horst Seehofer, Bavarian state premier and head of the Christian Social Union (CSU), the sister party of Merkel's CDU, said either of the candidates would be welcomed in Bavaria if they won.
"If the American people vote for a person in a democratic election, then the democrats in Germany and Bavaria must accept it," Seehofer told the Bild am Sonntag newspaper. "We can't go around acting like the headmaster ofthe whole world."
In the latest Washington Post-ABC Tracking Poll released early on Sunday, Clinton is leading with 48 percent, compared to Trump's 43 percent.
Calling all HuffPost superfans!
Sign up for membership to become a founding member and help shape HuffPost's next chapter
BEFORE YOU GO
PHOTO GALLERY
This Is What The World Finds Scariest About Trump