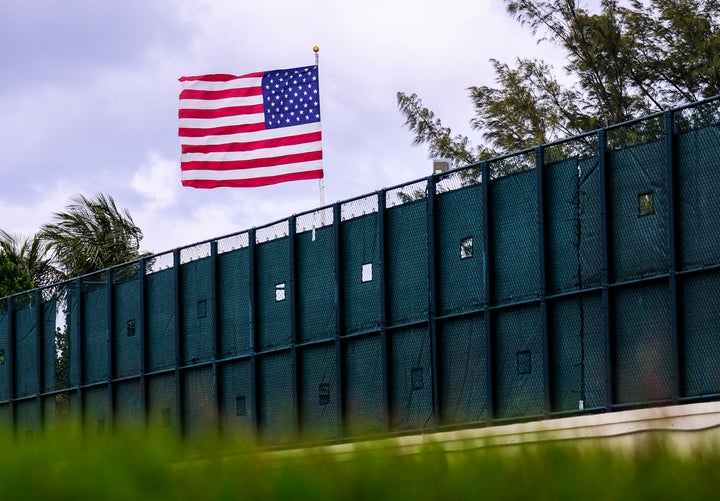 PALM BEACH, Fla. – The president who literally hugs and kisses the U.S. flag to show his patriotism appears to fly a nonstandard version, particularly on windy days, at his Florida resort, perhaps to save money.
Donald Trump calls Mar-a-Lago the "Southern White House" and has hosted foreign leaders there, complete with military honors, suggesting it is an official residence. Despite this, the property fails to fly the standard U.S. ensign, which under a decades-old executive order, all official buildings are required to use.
Under that directive, signed by President Dwight Eisenhower in 1959, who before winning the White House commanded the Allied forces in Europe that defeated Nazi Germany, executive branch offices are to use the official flag that is precisely 1.9 times as long as it is tall, with the blue "union" in the corner stretching 40% across the length.
But the flag flown at Mar-a-Lago by Trump, who avoided military service during the Vietnam War by claiming bone spurs in his heels, has no more than a 1.67 to 1 ratio of "fly" to "hoist," and on some days appears to have one as low as 1.4 to 1. Also on some days, the blue union appears to stretch to the halfway point across the length of the flag or even beyond ― possibly because the flag has had its fraying end cut off and has been rehemmed.
And on the last day of Trump's early March trip to what he calls his new legal residence in Palm Beach ― his last visit there ― the end of the flag was visibly torn, in violation of the code found in federal statutes stating that banners in disrepair "be destroyed in a dignified way, preferably by burning."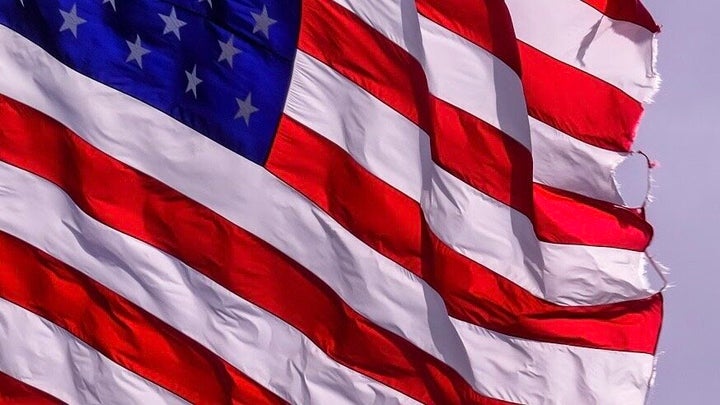 "To most people who served, this is not the biggest deal in the world, but it should be, for someone who makes such a huge deal of respecting the flag, who wants states to ban flag burning, and calls people who kneel in front of it 'sons of bitches,'" said Will Goodwin, director of government relations with the group VoteVets.
The White House did not respond to HuffPost queries about why Trump chooses to fly a nonstandard flag. The Trump Organization, the president's private company that runs his golf courses and resorts, including Mar-a-Lago, declined to answer questions.
One possible reason for the nonstandard flags could be the cost. A banner that is 15 feet by 25 feet – the size described in news accounts a dozen years ago when Trump was feuding with Palm Beach over his newly installed flag and pole that violated the town code ― costs hundreds of dollars less than one meeting the official standard of 20 feet by 38 feet, according to a HuffPost review of large flag distributors.
Collins Flags in Marion, Indiana, for example, charges $360.50 for a 15x25 flag made of nylon, but $543.25 for the 20x38 size. In heavier duty polyester, a 15x25 flag costs $435.50, while a 20x38 flag costs $785.95.
Dixie Flag Company in Houston, which makes a weather and UV resistant flag specifically made for heavy-duty outdoor use, charges $806.36 for a 15x25 flag and $1,444.90 for a 20x38 flag.
Exactly how many different flags Trump has available to fly at Mar-a-Lago is unclear, but there appear to be at least a few, with the more squarish ones apparently flown on days with more wind coming off the Atlantic Ocean just over 100 yards away, according to a military college graduate who occasionally bicycles past the property. He said the nonstandard flag offends him, particularly given Trump's frequent claims of his great love for it.
Longer flags tend to suffer more wind damage than shorter ones, he said, requiring more frequent repairs or replacement, which likely explains why Mar-a-Lago flies shorter ones on blustery days.
"Ike would have recognized that flag as nonstandard and if he saw it at a military base would have ordered it lowered immediately with severe consequences for those responsible," the man said on condition of anonymity, referring to Eisenhower's executive order. "I think it's disgraceful that President Trump's club is disrespecting our flag on a daily basis."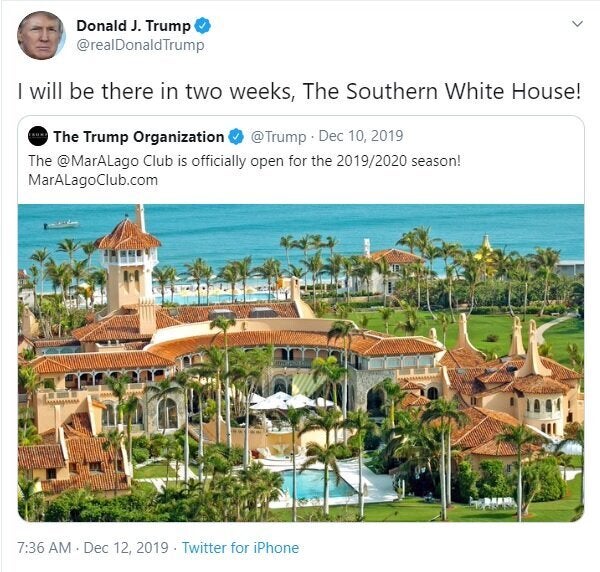 Trump cited his great patriotism in 2006, when he sued Palm Beach for $10 million for fining him $1,250 per day in the flag/flag pole dispute ― and later increased the demand to $25 million. The town's rules limited flag poles to 42 feet in height and flags to no longer than six feet in length. Trump's flag pole was 80 feet tall and flew a flag 25 feet long.
"They're fining me for putting up the American flag. This is probably a first in United States history," Trump told the Associated Press at the time.
According to Trump's lawsuit: "A smaller flag and pole on Mar-a-Lago's property would be lost given its massive size, look silly instead of make a statement, and most importantly, would fail to appropriately express the magnitude of Donald J. Trump's and the Club's members' patriotism."
Trump and the town settled the suit in April 2007, with the town agreeing to forgo the fine, which had built to $120,000, and Trump agreeing to limit the pole height to 70 feet.
Since winning the presidency, Trump has continued to use the flag for political effect and to attack critics.
His speeches frequently talk about the "beautiful" flag and how he will always protect it. Recently he pushed for a law banning the burning of the flag ― even though the Supreme Court ruled such a statute unconstitutional in 1989.
He has called NFL football players who protest racial injustice and police brutality by taking one knee during the national anthem ― most of whom are Black – "sons of bitches" who should be fired for disrespecting the flag.
And during his most recent appearances at the annual Conservative Political Action Conference held just outside Washington, he has literally hugged and kissed the U.S. flag on the stage.
"You would think such a person would not cheap out with a nonstandard flag," Goodwin said.
Popular in the Community