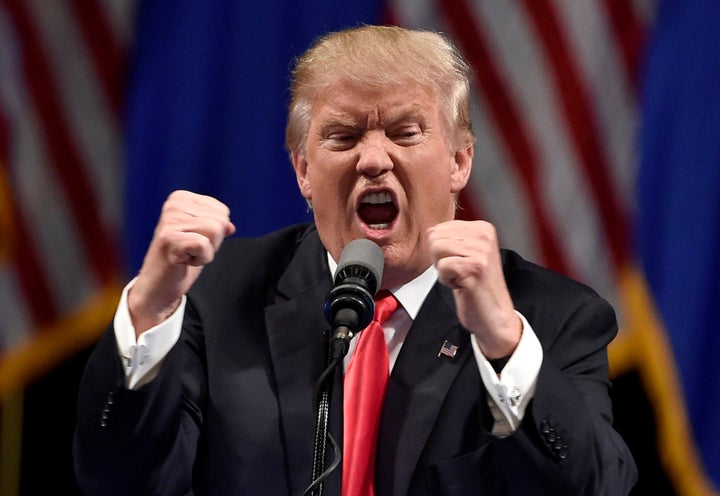 TOP STORIES
INSIDE TRUMP'S PITIFUL WAR CHEST Donald Trump had just $1.3 million cash on hand in June, compared to Hillary Clinton's $42 million. Twitter had a field day with #TrumpSoPoor. [Paul Blumenthal, HuffPost] 
MARK LEIBOVICH: 'WILL TRUMP SWALLOW THE GOP WHOLE?'"Still, our meetings sometimes took on the feel of therapy sessions, with Priebus playing the role of the betrayed spouse trying to convince me that his tormentor really could change. Trump would soon be 'pivoting' into a more 'presidential' mode, Priebus kept promising." [NYT]
BOTH GUN CONTROL MEASURES FAIL TO PASS SENATE Neither could get the 60 votes needed to advance. See the New York Daily News's controversial cover in response. [Mike McAuliff and Jen Bendery, HuffPost]
TRUMP FIRES CAMPAIGN MANAGER And staff rejoiced. Watch his CNN exit interview if you would like to feel incredibly awkward. [Michelle Fields, HuffPost]
MOTHER OF 11 MOURNED IN ORLANDO Brenda Lee Marquez McCool beat cancer twice and was at Pulse to support her openly gay son. [WaPo]
WHEN YOU'RE REPAIRING JESUS'S TOMB Not your average fixer-upper. [WaPo]
ANOTHER LISTERIA RECALL Watch out for frozen mixed veggies and peas from Bountiful Harvest, First Street, Great Value, Live Smart, Market Pantry and Sprout. [CNN]
For more video news from The Huffington Post, check out this morning's newsbrief.
WHAT'S BREWING
HOW TO SNAG FREE TICKETS From the aftermath of that Ticketmaster lawsuit. [HuffPost]
'ELON MUSK IS WRONG' "We aren't living in a simulation." [Motherboard]
HOW KODAK KNEW ABOUT THE ATOMIC BOMB TESTING Some weird things started happening to their photos. [Popular Mechanics]
NETFLIX HAS A SNAZZY NEW LOGO It's all about the N. [HuffPost]
AFTER THE SURGERY "As much as 40% of patients suffer from depression after cardiac surgery, research shows. And in older patients, psychological and social issues such as isolation and a lack of a strong support network can also limit recovery after the stress of cardiac surgery." [WSJ | Paywall]
IN DEFENSE OF HANDWRITING We here at The Morning Email still write in cursive, so obviously it should stick around forever. [NYT]
WHAT'S WORKING 
THE DETROIT TEEN WHO WANTS THERE TO BE A SPACE FOR HIS PEERS' GRIEF "Here in the city of Detroit, we lose someone on a day-to-day basis," DeAngelo Hughes said. "I created Detroit Flutter, which is an organization where we all as youth can come together and share our stories among each other, find a sense of hope and comfort and find people who are going through the same obstacles we're going through." [HuffPost]
For more, sign up for the What's Working newsletter.
BEFORE YOU GO
Calling all HuffPost superfans!
Sign up for membership to become a founding member and help shape HuffPost's next chapter