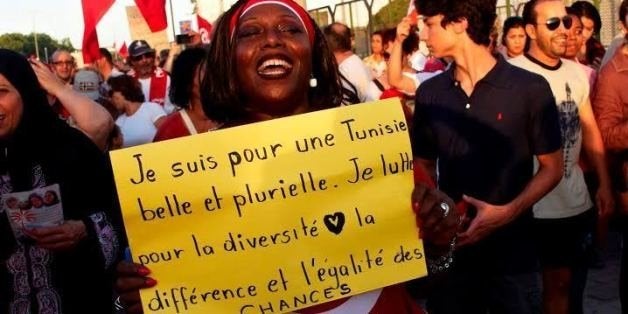 When we met her in a tea house in Bardo, we could hardly bring ourselves to ask where she's from. That's because Saadia Mosbah is the head of the group M'nemty – "Where Are You From?"-- which fights racial discrimination.
After 15 minutes of sipping hot chocolate, which Saadia filled with an irreverent joke or two, we finally ask the question that was causing such anxiety.
"I was born in Bab Souika [Tunisia], my father is from Téboulba, and my ancestors from my father's side would have originally been from Timbuktu, in Mali," Saadia says, all smiles. No, the question doesn't annoy her. "It is important to know your origins."
Her father had always wanted to know where he came from. Confined as a child to working in the field to help his mother, he would watch the classroom of his local school through the window. Thanks to an attentive teacher, he was eventually welcomed into the class and discovered his love for history.
He transmitted this passion for history to his children. Saadia is inexhaustible. Her head is full of stories from the past. She enthusiastically explains how, long ago, the black communities of South Tunisia used to raise goats, camels, and sheep, from which they would gather wool and fur to weave their tents (called ghrara). She also explained how slavery, officially abolished in 1846, actually continued in the South until 1890. "And until today in Jerba," she added.
Even if "slavery" today is no longer the same as it was, some industries on the tourist resort island of Jerba, notably the pastry industry, take on the same black families for generations, Saadia said. "They always call them 'Ousifi'- 'my negro.' It is inconceivable that they would work anywhere else." "What do you mean, racism?"
But underlying this heritage of slavery, and obscuring it, is the denial of racism in Tunisia. "Nobody ever talks about it," she says.
Before the Tunisian revolution of 2011, she tried to launch her organization twice. The government then in power told her, "What are you talking about? That doesn't exist. You are welcome guests here." Tolerance is not what Saadia wants. She is not a "welcome guest": she is home, and she wants a diverse and equal Tunisia.
Listening to her, you can't stop yourself from thinking that this dream is a long way from coming true. As a flight attendant for the nationally-owned Tunisair for 30 years, and now as the chief flight attendant for the airline, she has had to face the ignorance of passengers and, to a lesser extent, her colleagues.
The stories are almost funny. "When we do return flights to Tunis, certain passengers who see me welcome them at the entrance ask if we are really going to Tunis," she says.
One time, in 1983, her chief flight attendant asked her to change positions and go work in the back of the plane because the CEO of Tunisair was on board. Another time, two of her colleagues didn't want to fly with her. "It's degrading to fly under the command of an 'Ousifa,'" they said, using a derogatory term for a black woman.
Racism in Tunisia "is something silent, and rampant," says Saadia. After the popular uprisings of 2011, during which the populace rose up and joined their voices against the government, she also wanted to make some noise.
There are six people who take care of managing "M'Nemty," Saadia's organization, and they are working to raise awareness amongst the population, especially the children, because they believe that's where the fight must start.
"After the game, they talked about skin color"
Another struggle is the promotion of black Tunisians. There are no black governmental officials in Tunisia, and only one deputy parliamentarian in the national assembly, Jamila Ksiksi.
Saadia and her peers with "M'nemty" approached Ksiksi, the nation's sole black parliamentary official, in order to get her to discuss this problem of representation with the entire assembly and give recognition to their cause. Saadia laments, "After the match, I thought that Tunisians were going to talk about corruption, but instead they talked about skin color."
Skilled in word games and political speech, Saadia says she tries not to "see everything in black." But she would like black Tunisians to mobilize, even if she thinks they are ashamed to openly expose the problem, out of fear of being treated as different. "They don't want to be seen as a minority. However, we perfectly fit that definition."
She said it's also impossible to get statistics on the country's demographics. The government counted the Jewish population, they counted the Christians. But not the blacks--or the Amazighs (a local indigenous minority), either.
Saadia would like to see the numbers, if only to have serious evidence. But for now, the cafe rings with her laughter.
On the table, drops of hot chocolate boil over the edge of the white teapot. Saadia says mischievously: "It only makes the white more beautiful, no?"
This piece was originally published on HuffPost Maghreband was translated into English.
Support HuffPost
Every Voice Matters
Popular in the Community