 An armored vehicle isn't protecting the UCPD against public outrage.
Critics of the University of California Police Department at Berkeley, Berkeley Police Department and Albany Police Department's pact to seek government funding for a shared armored vehicle are wary that police forces are seeking to use the machine to stifle protests.
According to the Los Angeles Times, a report written by the campus' independent Police Review Board "found that officers appeared to have strayed from campus policies and norms in their use of batons against protesters and called on the university to better explain when the use of force is appropriate." Additionally, The Daily Californian reports that an armored vehicle was brought by officers to a UC Davis Occupy protest.

"[The armored vehicle] is not going to be used for protests or crowd control," UCPD Public Information Officer and Administrative Lieutenant Eric Tejada told the Huffington Post in a phone interview. "It's a regional asset, and it's nothing to be feared. It is for the community's benefit."
"We do not want our police officers sent to other jurisdictions to suppress protected First Amendment activity or non-violent civil disobedience," the Social Justice Committee of the Berkeley Fellowship of Unitarian Universalists stated in a letter to members of the Berkeley Police Review Commission and Subcommittee on Mutual Aid Pacts, according to the Californian. "(R)ecent events, including various police agencies' responses to Occupy demonstrations, show that there is a need for additional review of our mutual aid policy."
UCPD's SWAT team has wanted an armored vehicle for "several years," says Tejada. He said that for the three departments who would share it, the vehicle would be a way to "fill a gap in resources … that we can utilize in an officer or civilian rescue situation. Or when there is an active shooter or situation where firearms are being used."
Tejada said that there has never been, during his years working on the force, an active shooter on UC Berkeley's campus; however, in November 2011, an armed undergraduate student entered the campus, aimed a firearm at police officers, refused to lower his weapon in the computer lab and was shot by officers. He later died in a hospital from his injuries. Prior to that shooting, in which no one but the suspect was physically harmed, CBS News reported the last shooting on UC Berkeley's campus was in the 1980s.
Officers on the SWAT team have had active shooter training since 2000, soon after the shooting tragedies at Columbine High School shook the nation, according to Tejada. The force has also created a guided presentation to educate students about active shooter procedures.
"My point is people do bring firearms onto campuses, it does happen," he added. "You have to be prepared for these types of situation." Currently, Tejada said UCPD's SWAT team uses regular police vehicles in situations like high-risk warrant cases, which, Tejada said the armored car would be useful as these calls could evolve into more dangerous circumstances for officers and civilians.
According to Tejada, with funding from the organization, none of the three agencies, the university or the local governments would be responsible for the vehicle's payments. City Council is set to discuss the vehicle on June 26, where the Californian reports members of the ACLU of Northern California and the city's Peace and Justice Commission will also be speaking.
Related
Before You Go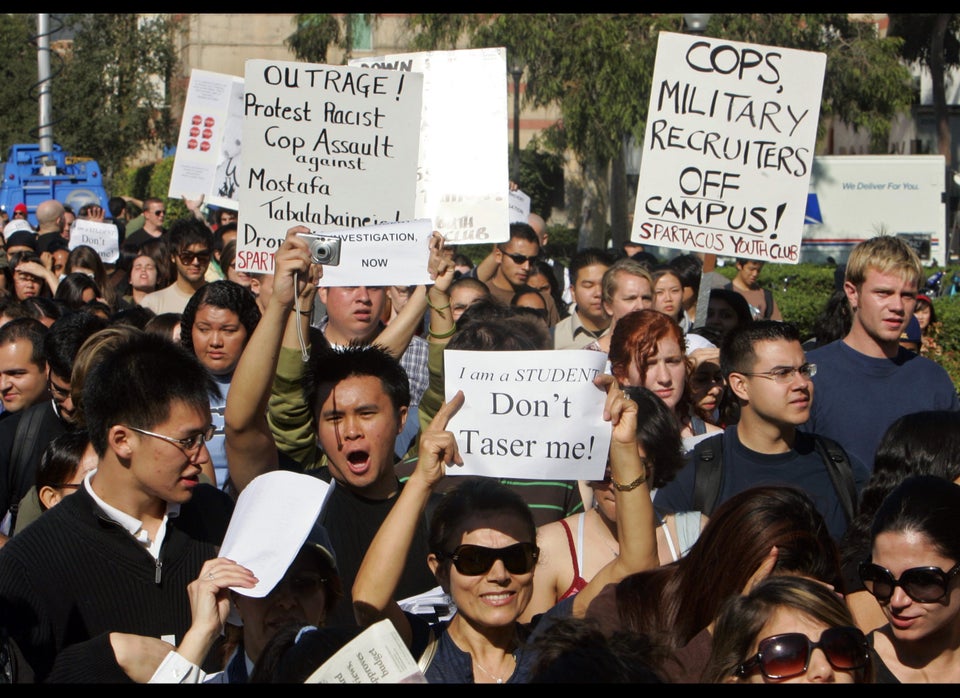 UC Protests And Police Violence
Popular in the Community