Ilona Chernobai, a Ukrainian fitness instructor and model, was removed from the red carpet of the French festival Sunday after covering herself in fake blood in a show of support for her home country in its war with Russia.
Chernobai represented Ukraine wearing a blue and gold dress, the colors of the nation's flag. As she climbed the steps of the Palais des Festivals, she pulled bags of prop blood from beneath her skirt and poured them onto her body.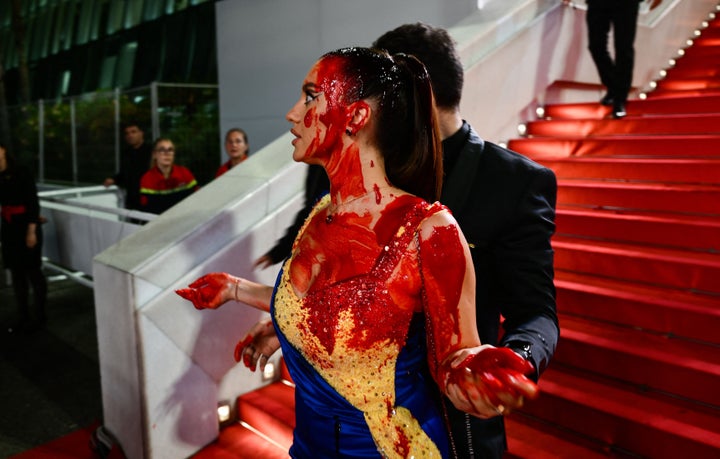 Security moved quickly to take away the woman, who was violating a protest ban the city of Cannes, France, announced earlier this month.
Chernobai wrote about her actions on Instagram, telling her 1 million followers, "The action was in support of the occupied territories and our people who live there."
In the caption, translated into English by Variety, she continued, "On the red carpet of the 76th Cannes Film Festival, I came out in a dress in the colors of our flag and poured red paint on myself. I used my chance and with this act I reminded what is happening in Ukraine!!!"
Though Chernobai said she worried about losing her social media platform for sharing the bloody scene, she said, "I am very glad that my act spread all over the world media! People should not forget about us!"
"I am with Ukraine in my heart. I did what I had to do!" Chernobai added, going on to say that while she's "banned from the festival," the protest was "worth it."
Ukrainian President Volodymyr Zelenskyy challenged the Kremlin's claims during a Group of 7 summit in Nagasaki, Japan, where he told delegates that Bakhmut was "not occupied" by Russian forces.
"We are not throwing people [away] to die," Zelenskyy said in Ukrainian through an interpreter on Sunday. "People are the treasure. I clearly understand what is happening in Bakhmut. I cannot share with you the technical details of what is happening with our warriors."
Popular in the Community