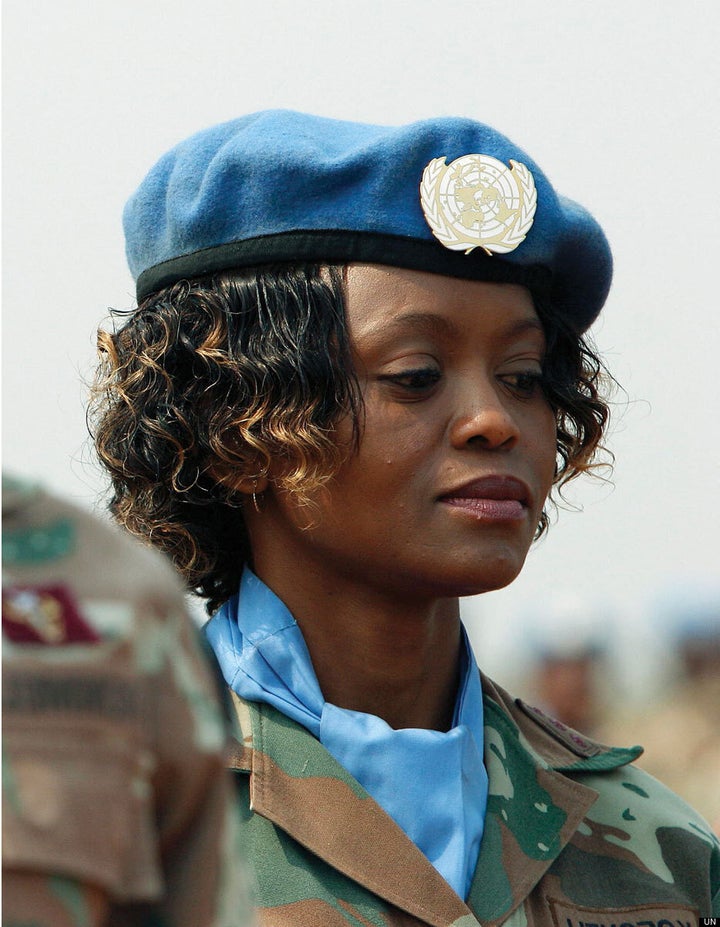 By Lydia Zemke | Inter Press Service
UNITED NATIONS, Jun 2 (IPS) - Even as U.N. peacekeeping operations in the world's battle zones continue to expand, women soldiers, police and civilian support staff remain a small minority - something that sorely needs to change, U.N. officials say.
Today, there are more than 113,000 peacekeepers, including 90,000 military and police personnel, serving in 18 U.N. operations in four continents.
But women make up only eight percent of the U.N. police force and about two percent of the soldiers provided by member states. The ratio of women deployed as civilians in peacekeeping operations is higher, at 30 percent, but still not equally representative.
"Women bring a softer face to U.N. peacekeeping missions, one that is not about war fighting but about peacekeeping," Lt. Col. Carmen Estrella, special assistant to the U.N. deputy military advisor, told IPS. "We help women of these nations to understand and see that they have a voice and can be part of the peacekeeping process themselves, and that is what the U.N. is trying to promote."
"I've been in the army for 21 years, and I know women can do anything men can," she added.
As the U.N. struggles to fill more police and military positions with women, one success story has been India's 125-member contingent in Liberia, the first all-female U.N. force, which spent six months training Liberian police in 2007.
"When you really embed in the concept of peacekeeping and its additional challenges, rebuilding the basic building blocks of the development of a society, the role of women in that society becomes critical, particularly when you are talking about post conflict when many men have died," Susana Malcorra, undersecretary-general of field support, told journalists last week on the occasion of the International Day of U.N. Peacekeepers.
"The leadership women play may make the difference between making or breaking it. So for us to mirror that challenge with our own staff is very important," she added.
Last week, Secretary-General Ban Ki-moon urged more member states to contribute female personnel to peacekeeping operations.
"By including female police among our ranks, we foster a safe environment for victims to get the help they need and deserve. And by enabling victims to feel secure enough to come forward and press charges against perpetrators, we fight the culture of impunity that has prevailed for too long," Ban said.
A record high of 132 peacekeepers were killed in 2008, 10 of them women. On May 29, Ban awarded the Dag Hammarskjöld medal to 48 countries as a symbol for the "ultimate sacrifice one can make".
The largest troop contributors to the U.N. peacekeeping force are concentrated in a small set of member states including Pakistan (10,626), Bangladesh (9,220), India (8,617), Nigeria (5,792) and Nepal (3,856).
The total debt by member states to the United Nations for peacekeeping operations has reached a record of 1.8 billion dollars, of which the United States maintains the largest outstanding balance with 790 million dollars.
The U.S. is followed by Japan (266 million dollars), Ukraine (138 million dollars), and Britain (104 million dollars), described as the five major defaulters.
Under-Secretary General for Management Angela Kane told journalists, "The Secretary-General and all of us recognise of course that the current global financial crisis may have affected this contributory pattern. And I think we all know that the financial health of the organization depends on member states, and that includes the main contributors, and that means they must meet their payments on full and on time."
The proposed budget of 8.2 billion dollars for peacekeeping operations for the period Jul. 1, 2009 to 30 Jun. 30, 2010 represents an increase of 16.8 percent since the budget of 7.03 billion dollars which will expire on Jun. 30, 2009.
Czech Republic delegate Ivana Krahulcová, speaking on behalf of the European Union, suggested synthesising missions in neighbouring regions to be more cost effective and overcome the "continuous deficiencies in effective management."
As of Apr. 30, the U.N. owed a total of 919 million dollars to 75 troop- and police-contributing countries. Its greatest debt is to Pakistan (120 million dollars), followed by India (104 million dollars), Bangladesh (102 million dollars), Egypt (40 million dollars), Jordan (33 million dollars), and 457 million dollars to 68 other member states.
Calling all HuffPost superfans!
Sign up for membership to become a founding member and help shape HuffPost's next chapter