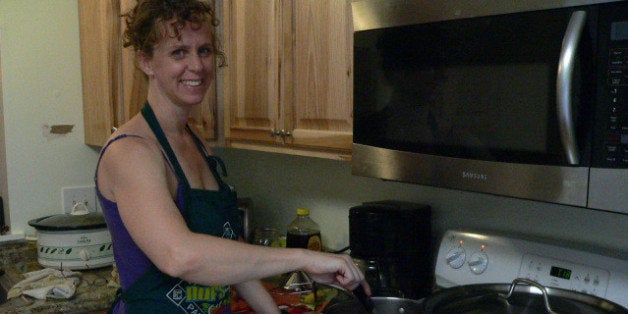 When Michelle Van Doren's husband, Carl, was laid off from his job with the federal government in September 2013, the couple gave themselves a deadline: Carl would search for a comparable job until January. If he didn't find anything by then, they would sell their townhouse in the suburbs of D.C. and build a simpler life together in the country.
"It was scary, thinking about leaving our home, our family, our friends, and doing what we had dreamed about doing now, instead of later," Michelle, 44, told The Huffington Post.
January came and went, and the couple made good on their promise. After that, she said, "Everything happened very quickly."
Although Carl's layoff was the catalyst for the couple's big move, they'd been flirting with the idea of embracing a different lifestyle for years. When their now-4-year-old daughter was born, Michelle decided to shift from a full-time job as a clinical dietitian to working two days a week to save on childcare costs. She also began to homeschool her 10-year-old and 13-year-old daughters from a previous marriage.
To offset Michelle's salary cut, the couple slashed their expenses. They traded in their new, more expensive cars for used models they were able to pay off in full. They ignored the temptation of buying a home at the upper end of their budget -- though their broker and bank suggested it -- and bought one they could easily afford instead. They cancelled their cable TV plan.
Michelle began to settle into the rhythm of her rearranged life. But Carl, now 54, was miserable.
"He had long commutes and a high-stress job," Michelle said. "Every year, he kept making more money, but we weren't happy."
For Michelle and Carl, the layoff was a blessing in disguise, forcing them to face head-on the question of what they wanted the rest of their lives to look like.
"I really was the one who pushed it, because I wanted [my husband] to be happy," Michelle said. "His stress levels were so high. He would be off on Saturday, and relaxed, but by Sunday he would already be stressing about going to work on Monday. He was grinding his teeth in his sleep so bad he was cracking them. I didn't want him to live the rest of his life like that."
In many conversations after their kids went to bed, and emails back and forth, the couple strengthened each other's resolve. Once they'd agreed to move and downsize, it took roughly a month or so for things to fall into place. Michelle and Carl moved their family into a rental home in rural Southern Virginia that was much less expensive, allowing Carl -- a "naturalist at heart," according to Michelle -- to take a lower-paying job at an outdoor provision company.
Now, Carl earns a quarter of what he once did, but gets to spend his days with fellow outdoor enthusiasts at a job he loves. Michelle, on the other hand, continues to homeschool her kids, work part-time as a health coach, blog and study herbal medicine. To stretch their income, Michelle and Carl avoid buying new clothes and don't regularly eat out at restaurants. They don't watch TV either, instead playing board games together at night.
Ultimately, they hope to buy a piece of land and a modest home using the money from the sale of their townhouse, where they can grow their own garden and raise animals, like chickens and goats. Michelle aims to be mortgage-free in 10 years, in order to have "more freedom to do whatever we want to do" -- freedom to hike at the foot of the Blue Ridge Mountains, and just spend more time together as a family outdoors.
The hardest thing for others to wrap their heads around, Michelle said, was the fact that Carl was just nine years away from being able to retire with a pension when he was laid off -- a goal he could have reached had he found another government job.
"It's that carrot on the stick," she said. "Any rational, reasonable person would say, 'You're almost there. Just put in the time and then you'll have that steady income for the rest of your life.'"
But Michelle and Carl kept returning to a Ralph Waldo Emerson quote -- "We are always getting ready to live, but never living" -- and decided there was no time to waste.
"My biggest thing was the fear, 'What if we do all this and we're not happy? What if it's too uncomfortable?'" Michelle said. "And it is uncomfortable -- we do have to be careful with our spending in a way we never were before -- but it's worth it. It's so worth it."
After downsizing, Michelle and her family have much more time to explore the land around them.
If you or someone you know is taking steps to live a life that's simpler, saner and more fulfilling, we want to hear about it. To submit a Letting Go nomination, email thirdmetric@huffingtonpost.com.