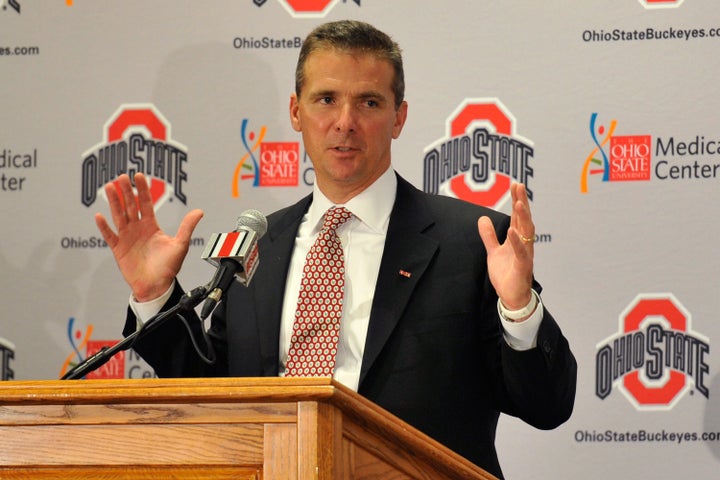 Recently, The Ohio State University lured Urban Meyer back to the college football sidelines from the television studio with the promise of a king's ransom for his service for the next six years. Meyer's $4 million a year salary makes him the best compensated university official and is more than double what university president E. Gordon Gee, who is the best compensated university president, makes per annum.
In a state where the median income reached a 25-year low in 2010, such a lavish package for an employee who is only tangentially connected to the university's primary mission is sure to raise a few eyebrows. Those with peaked brows, however, are not likely to be among the more than 100,000 who turn The Horseshoe stadium into one of Ohio's largest cities on game days. That The Ohio State University administration, like many others, was willing to make such a large commitment to Meyer is yet another sign of the perceived value that a good coach and a winning athletic program have to a school. But the question still remains: What is the value of a winning coach?
Everyone loves a winner, and a successful program in a high-profile sport like football or basketball can raise the national profile of an institution. In 2006 an unheralded coach, Jim Larranaga, at a virtually unknown school, George Mason, led his team to the NCAA Men's Basketball Final Four. According to George Mason, their 2006 tournament success has proved a boon for the university and played a significant role in their growth. Enrollment is up from 29,000 to over 35,000, while the acceptance rate is down from 70 percent to 50 percent. Since 2006 Mason has added 43 new academic programs and generated some $35 million in new research funds. While such growth cannot be solely attributed to Jim Larranaga, now the coach at University of Miami, it would be fallacious to say his success that season played no part, because the national exposure from those three weeks in March immediately resulted in an exponential increase in requests for information. Clearly someone was watching.
If a small, mostly commuter college like George Mason can benefit from one coach's good season, what does regular success in a number of programs mean for a major institution? Bloomberg reported that the University of Texas-Austin's athletic programs brought in an NCAA high $143.6 million in 2009-2010. About two-thirds of that figure can be attributed to the football program and Mack Brown, and still more of it came from Rick Barnes's basketball program. The Texas Longhorns have been so successful and become so popular that Texas was able to create the Longhorn Network to provide 24 hour coverage of Longhorn sports. While such a feat was generations in the making, Mack Brown and Rick Barnes have only helped to enhance the University of Texas's profile and profits during their tenures.
Of course colleges should be wary of overestimating the value of a coach. Notre Dame has been richly rewarded by their football team's success over the years, but the decision to welcome Charlie Weis with open arms and wallets in 2004 proved less than fruitful. After initially paying Weis a reported $2 million a season in 2004 and 2005, Notre Dame offered him a 10 year extension worth between $30 and $40 million only to be forced to offer him a multi-million dollar buyout when his contract was terminated in 2009. Similarly, Rutgers rewarded head football coach Greg Schiano with a multi-million dollar contract after a successful 2006-2007 season that saw his Scarlet Knights burst onto the national scene. While Schiano has enjoyed success in the intervening years, his teams have not reached the same lofty heights since. To compound maters, it was recently revealed that Rutgers has diverted more that $115 million from student fees and its general fund to cover its athletic budget since 2006, a budget which includes golf and car allowances for women's basketball coach Vivian Stringer and loan forgiveness for Schiano. During this time academic programs have been forced to freeze professors' salaries, reduce student funding, and raise tuition and fees.
The moral of the story is quite simple: Coaches do have a value, and a winning coach can be an immeasurable asset to a university. Over the years successful coaches like Pat Summitt, Mike Krzyzweski, Frank Beamer, Jay Wright, and others have helped to raise the profile of their universities through their successes. The national attention that these coaches have garnered has attracted more and better students to their schools, resulted in millions in donations to their respective universities, and brought in millions more in merchandising revenue. Schools should always proceed with caution when estimating a coach's value, however, because success is far from guaranteed and failure can cost millions.
This post first appeared on Constitution Daily, the blog of the National Constitution Center in Philadelphia.
Calling all HuffPost superfans!
Sign up for membership to become a founding member and help shape HuffPost's next chapter