When Jackie and I are traveling, our ideal evening out is an opera in a not-too-big theater followed by dinner in a not-too-noisy restaurant. In England during the spring and summer, the Glyndebourne Festival, shuffles that favorite program into a leisurely outing that can be a day trip from London or - better - a mini-vacation centered on a historic country town. The performances start early - typically around 5 p.m. (though by tradition never on the hour: the shows are scheduled for times like 4:50 or 5:05) - and audience members eat half-way through the show: there is always a 90-minute-plus "Long Interval" during which dinner is served in any of several restaurants or picnics consumed on the estate's extensive lawns.
Our first visit to Glyndebourne was thirty-odd years ago, when we saw David Hockney's just about perfect production of Stravinsky's The Rake's Progress. Back then, we took the train to and from Lewes, East Sussex (the nearest town), in a single day, and saw nothing but the railroad station and Glyndebourne itself.
By contrast, toward the end of the 2014 summer season we adopted a far more unhurried approach, and one that I recommend to anyone who can spare the time during an English vacation. We saw two performances on successive evenings and spent a couple of nights in Lewes rather than rushing to catch late trains back to London. (A single performance and an overnight in Lewes would be almost as nice. A little while ago, I wrote a few words about what to see in Lewes and where to stay.)
Like most members of the audience, we arrived about an hour before curtain time to grab hold of a glass of Champagne and stroll around the garden and the parts of the house that are open to the public. (If you've rented a car, I recommend leaving it behind: there's plenty of parking, but there are also plenty of cars, so departing at the end of the show is a slow process. Take a taxi from your hotel or the station - or reserve seats on the Glyndebourne jitney if you are arriving by train.) It's like a huge dreamy garden party in dinner clothes. As a youth I'd have felt intimidated and underdressed even in my best dark-blue suit and white shirt: almost all the men are in black tie. Nowadays, as a graybeard - literally - I'm less susceptible to such social pressures; and of course Jackie, in Issey Miyake, outshone just about all the other women. My advice is that, while formality is definitely the order of the day, showing up in a tuxedo or a ball gown isn't worth the inconvenience of traveling with a set of clothes you're not going to be wearing repeatedly - unless you're sailing to Britain on the Queen Mary II and will be packing a steamer trunk or two.
Both of our productions were of operas we'd never seen in the flesh: Mozart's La finta giardiniera and Handel's Rinaldo. Mozart has been part of the Glyndebourne scene since the festival's earliest days in the 1930s; the first four seasons, in fact, were all Mozart all the time. And latterly, Glyndebourne's Handel stagings have been stunners. If you haven't seen the director David McVicar's brilliant 2005 production of Giulio Cesare, take a look at the DVD: tears still come to my eyes when I think of its high points.
La finta giardiniera, whose music Mozart composed when he was 18, tells a strange and confusing tale of ambiguous identity and unrequited love - as expected in what initially appears to be a light comedy. But there is darkness here: the heroine is a noblewoman who has disguised herself as a gardener after barely surviving a knife attack by her fiancé, who left her for dead and who of course turns up at the house in whose garden she's "employed." In its latter stages the plot rises to surrealism, when a couple of the characters lose their senses and believe themselves to be gods. The first half of director Frederic Wake-Walker's production does little to clarify the confusion, but in the second part things begin to make sense, and, as the house (designed by Antony McDonald) gradually falls apart before our eyes, we understand the dysfunction that underlies the story. Singing and acting were consistently fine, and it was a pleasure to hear the score stylishly played on period instruments by the Orchestra of the Age of Enlightenment led by the festival's music director, Robin Ticciati.
The same orchestra, conducted by Ottavio Dantone, appeared the following night for Handel's Rinaldo in a revival of Robert Carson's 2011 production. Rinaldo is a tale of Crusaders and Saracens and magic - drawn, like so many other eighteenth-century operas, from Tasso's Jerusalem Delivered. Rather than trying to present the story literally as a medieval adventure or to twist it into some sort of twentieth-century political metaphor, Mr. Carson envisions it as a bookish, solitary schoolboy's romantic fantasy. After being bullied by other boys and blamed by his teachers for the disruption, the lad (the excellent countertenor Iestyn Davies) dreams of saving the fair maiden Almirena (imagined as the pigtailed girl he's got a crush on and charmingly performed by soprano Christina Landshamer) from evil Saracens and the wicked sorceress Armida (one of the teachers, sung by soprano Karina Gauvin, a favorite of mine), whose familiar spirits are portrayed in dance as the sort of bad girls who dye their hair black and wear very short versions of their school uniforms.
The marvel is that none of this trivialized the work; Mr. Carson did not sell the text short, as too many directors do when faced with the conventions of Baroque opera. The more preposterous plot elements inherent in this kind of mythological narrative became humorous, not ridiculous; the tender moments were imbued with genuine feeling. And what can seem more real than a lovesick child's fantasy life? An exhilarating show.
Our original plan for intermission dining had been to bring a picnic one day and eat in one of Glyndebourne's restaurants the next: In addition to pre-ordering restaurant meals (which you must do in advance), you can hire a table and chairs for a picnic, and order food and wine, on the festival website, so you don't need to sprawl on the lawn in your best clothes. But the friends who were joining us for La finta giardiniera, who have a keen weather eye, felt that it could be too chilly to sit outdoors as the daylight faded (they were right: the weather was gorgeous, but there was a nip in the late August air). So we had dinner in the principal restaurant (named after the two Hampshire villages of Middle Wallop and Over Wallop), marveling at the efficiency, good humor and grace with which the kitchen and dining room staff managed to feed around 300 people simultaneously. The food is surprisingly good; if you are a meat-eater, consider ordering a main course of something like lamb, which is all the better for a good rest after roasting, while hot fish dishes can too easily be overcooked.
On the second night, we were on our own and ate in Nether Wallop, which offers a full-service buffet of hot and cold roasts, plus all manner of other dishes, including a most creditable salmon in pastry with mushroom stuffing. Great desserts and friendly, snappy service, too.
An obvious question is: Does this long dinner break disrupt your train of thought and interfere with serious enjoyment of the opera? Amazingly, it doesn't; not at all. The moment the lights go down in the 1,200-seat theater, it's as though you'd never left.
"Unique" is a much misused word, but it applies to Glyndebourne. The festival is something that anyone who loves opera - or is charmed by Things English - should experience. The upcoming May to August 2015 season includes the first British production of Donizetti's 1838 opera Poliuto - a rarity that I'll look forward to seeing. Also unusual is a new staged version of Handel's dramatic oratorio Saul with the wonderful soprano Lucy Crowe and countertenor Iestyn Davies. Bizet's Carmen, Britten's The Rape of Lucretia in a new production directed by Fiona Shaw and some more Mozart - The Abduction From the Seraglio - are also on the program, along with a Ravel double bill with that ball of fire Danielle de Niese. If you're thinking of going, tickets will be put on general sale March 9 (after Glyndebourne donors have had a chance to pick them over), and they always sell quickly. But if you're flexible about what you see and exactly when you see it, you'll probably be able to find something. No matter what that something turns out to be, you'll have a ball.
Glyndebourne: The theater (center right) and the house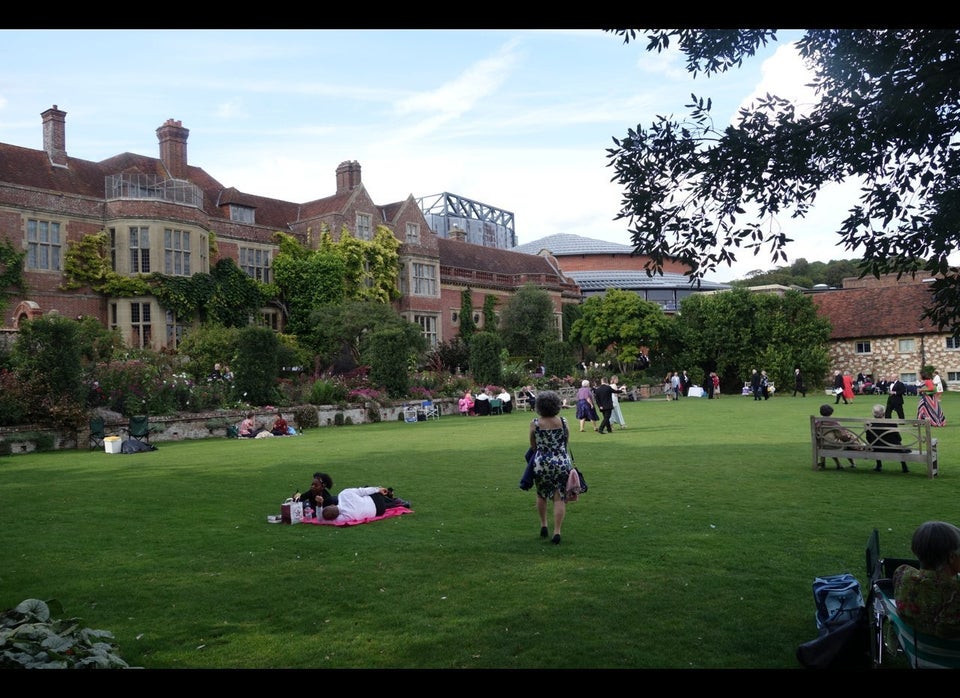 The 1,200-seat theater at Glyndebourne is the perfect size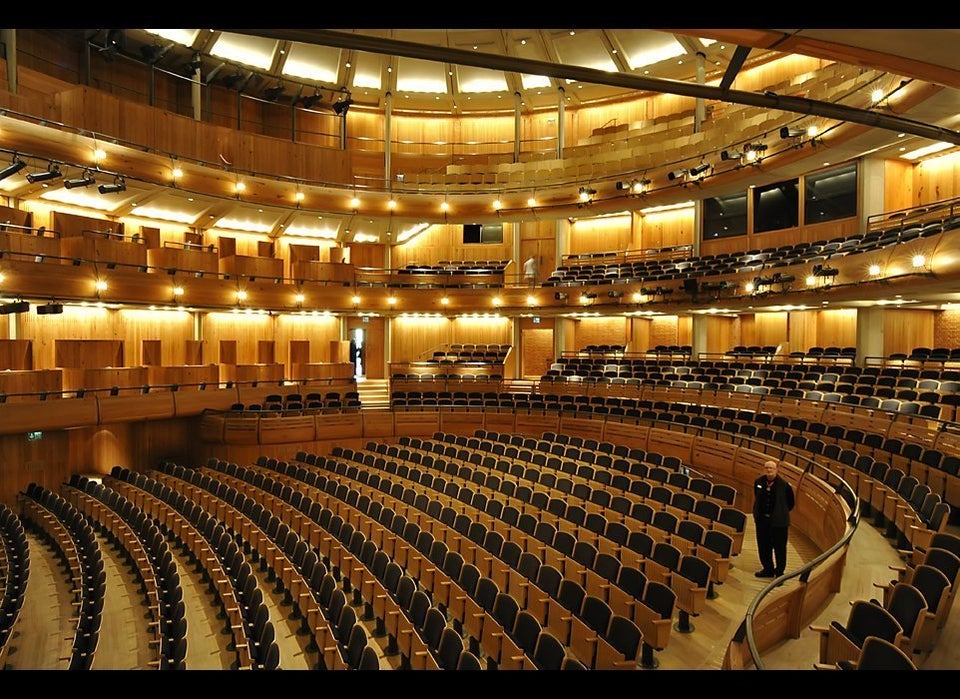 A picnic on the lawn is quintessential Glyndebourne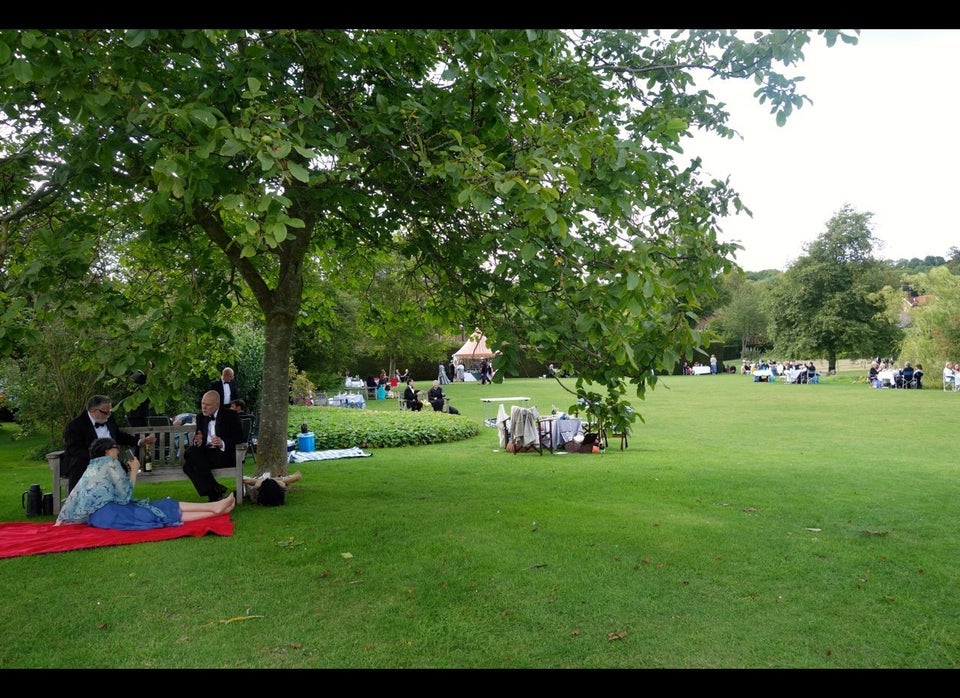 Only in England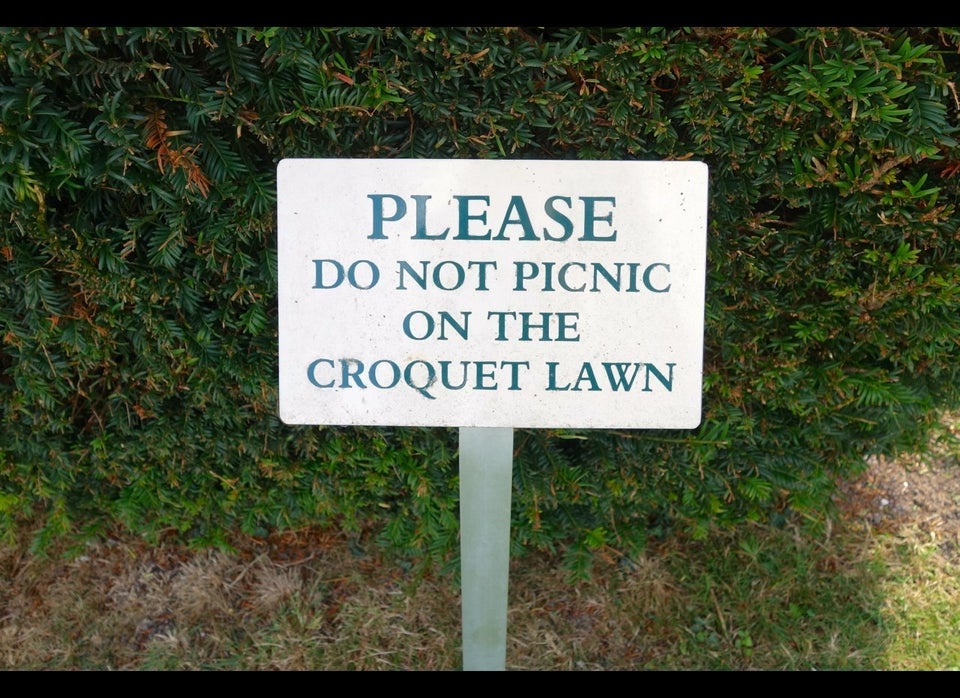 Mozart's La finta giardiniera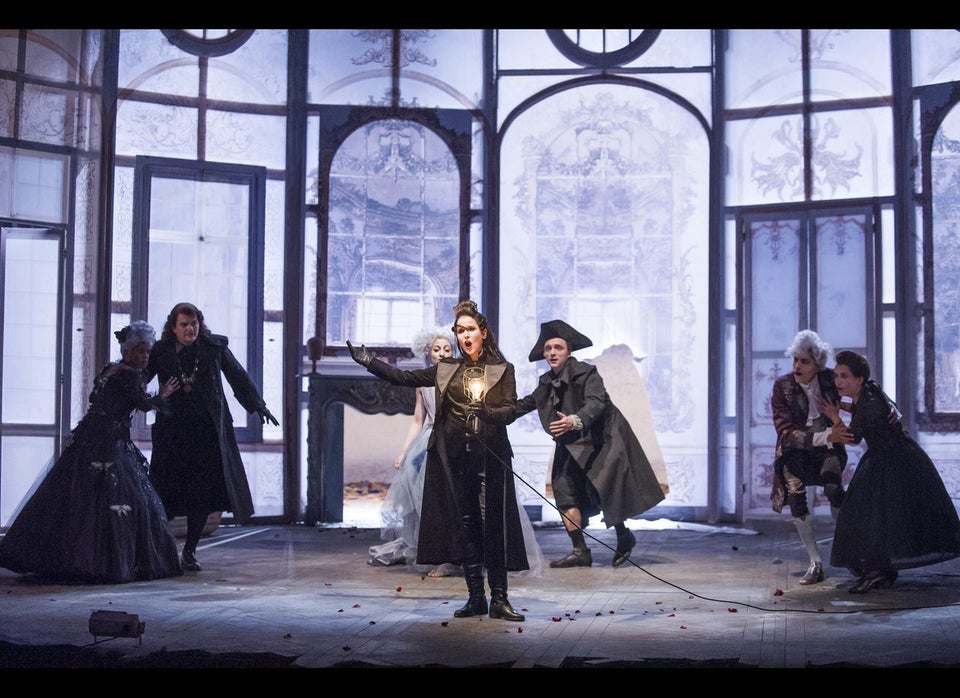 La finta giardiniera. By the end, the house has disintegrated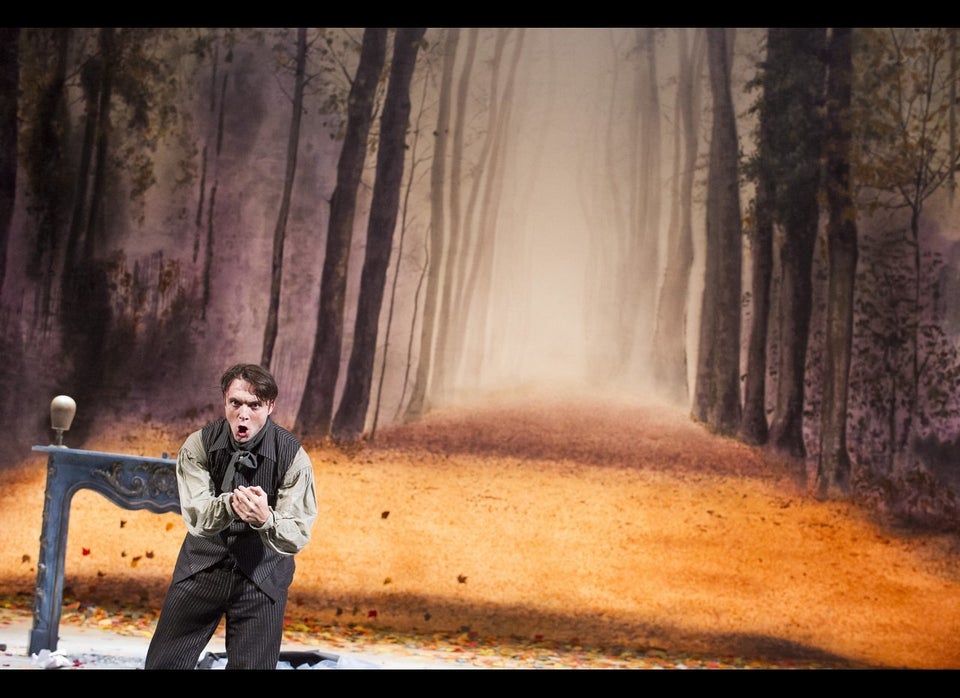 Handel's Rinaldo. The loner schoolboy being bullied. In his fantasy he will become the Crusader knight Rinaldo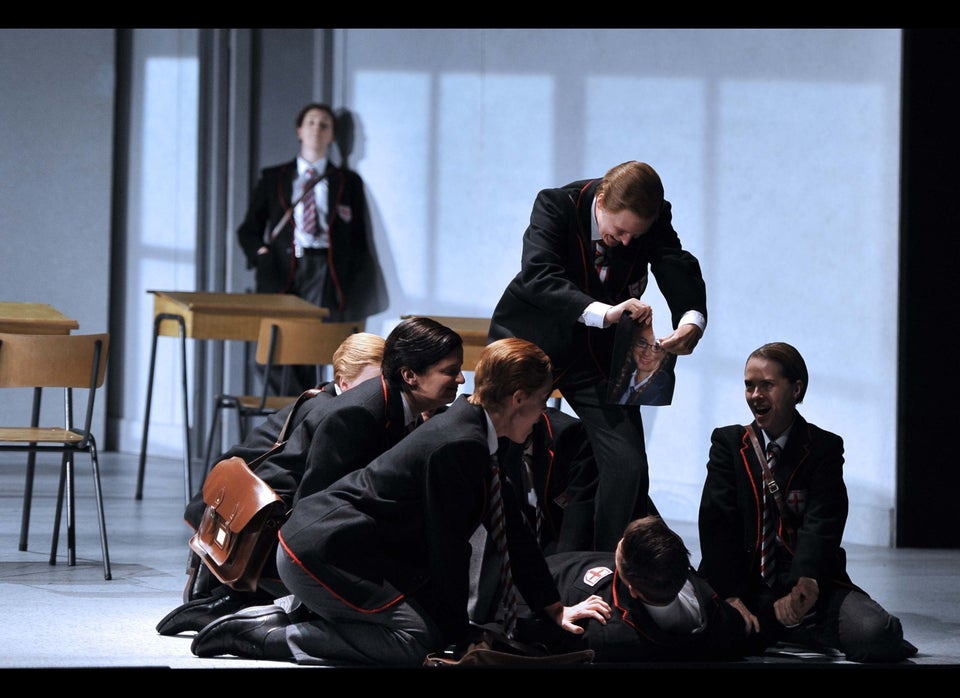 The wicked sorceress Armida and her evil spirits (note their short school uniform skirts)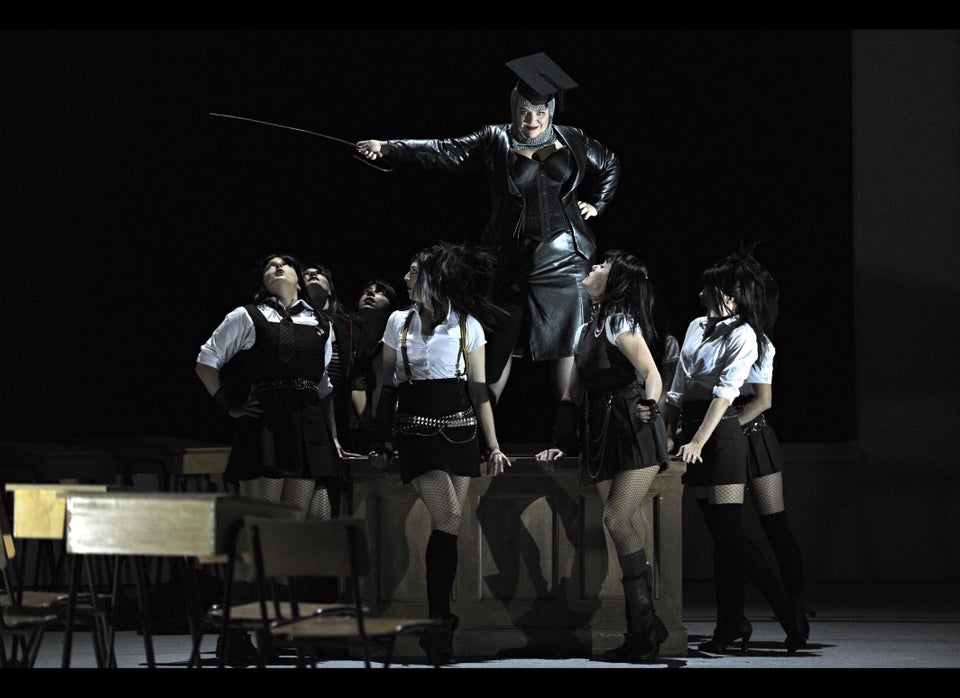 Rinaldo saves the day and gets the girl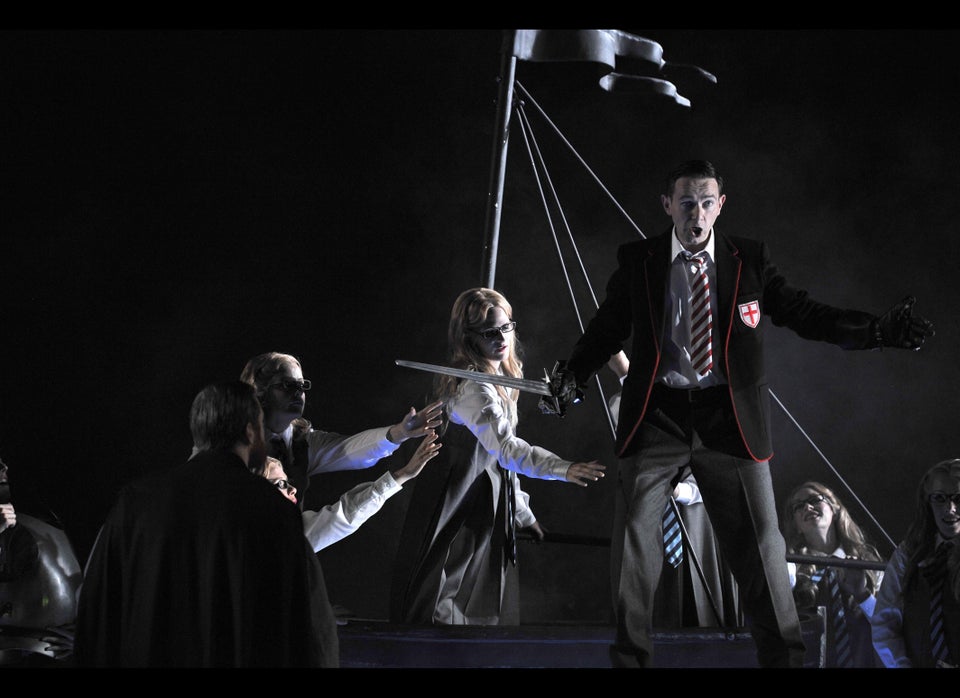 Next season, you can see Danielle de Niese in a Ravel double bill