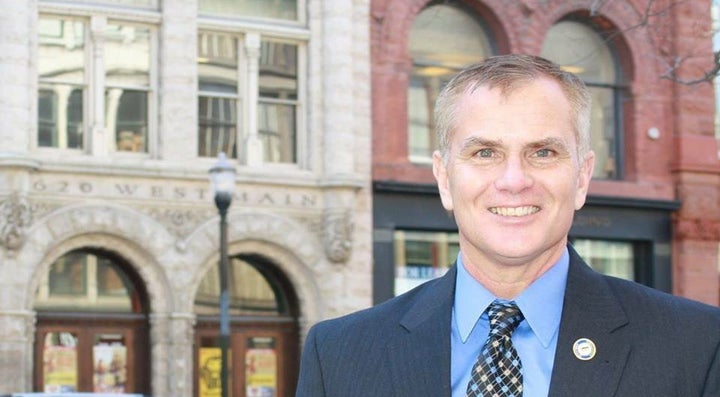 Fred Johnson is effusive.
After a 29-year career in the Army, including three combat tours, he has moved on to a dream job as a fundraiser for a nonprofit -- in Louisville, Kentucky, a city he loves.
I can hear the excitement in his voice as he tells me I must visit Louisville.
"You've gotta come, dude -- it's awesome," Johnson told me. "This is an up-and-coming town."
But Johnson might not have been able to find the job and community of his dreams were it not for Where Opportunity Knox, an innovative new veterans re-integration program.
Last year, Johnson was one of more than 100,000 soldiers leaving active duty Army service. Every single one of them passes through Fort Knox before re-entering the civilian world.
Those Army veterans are looking for jobs and communities where they can begin a new life as civilians. The greater Louisville, Kentucky, area where Fort Knox is located has a vibrant cultural scene and growing economy in need of capable workers and young families.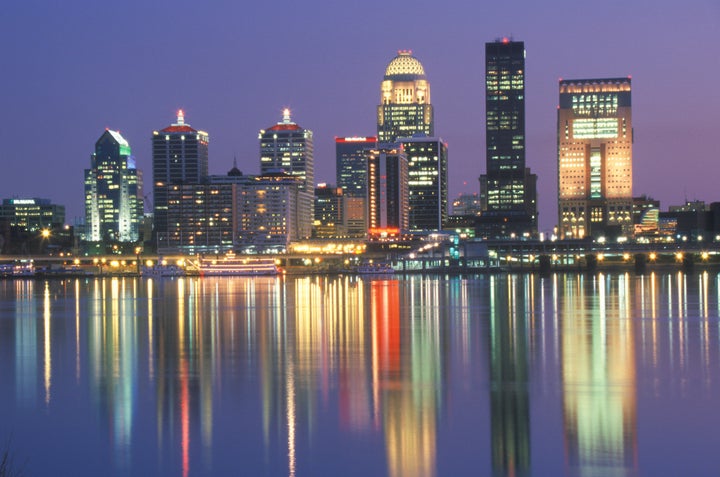 Until recently, however, there was no coordinated effort to connect the soon-to-be civilians in Fort Knox with job opportunities and communal life in Louisville.
So in September 2014, three regional chambers of commerce launched Where Opportunity Knox to try to change that. 
The program has the enthusiastic backing of the U.S. Army, but it does not take a dime from the government. It relies exclusively on funding from philanthropic foundations. And it has already racked up some impressive numbers. 
Where Opportunity Knox claims credit for connecting 1,500 veterans to jobs in the region already. And it has the goal of navigating 10,000 veterans to jobs in the greater Louisville area by 2017.
The transition to civilian life for soldiers being processed at Fort Knox has two stages, according to retired Col. Walter Herd, the director of the Army's Transition Assistance Program: preparation for a career outside the Army and connection to opportunities in the civilian world.
The Army spends two weeks on the first part, Herd said, helping soldiers with "everything from their own personal and psychological understanding, to their budgetary needs, culminating with a résumé and job preparation."
Connecting those soldiers to a career and community is how Where Opportunity Knox complements the Army's work. Representatives of the group are often on premises at training sessions in Fort Knox to assess soldiers' needs and answer questions. They advertise their availability to talk by email or phone on RallyPoint, an internal military professional networking site.
Where Opportunity Knox emphasizes that it is not a job placement program. It just gives veterans the personal support, insight and connections to the employer community that they are less likely to find on, say, Monster.com.
In addition to a team of several permanent staff members, Where Opportunity Knox uses a proverbial army of "regional veteran connectors" -- 35 trained volunteers -- to help veterans identify job opportunities in the region, and a local community to live in that meets their needs. The latter component means helping veterans identify everything from a quiet neighborhood to buy a home to educational services for children with disabilities to adult recreational sports leagues. 
I'm excited about Where Opportunity Knox because it connects them not just to a job, but to a community.

Retired Col. Walter Herd, director, Army Transition Assistance Program
Herd said there is no veterans reintegration program in the United States as comprehensive as Where Opportunity Knox.
"The Army does not owe it to a soldier to get them a job, but we believe we do owe it to a soldier to get them ready and get 'em introduced to something on the outside so they can at least begin that conversation," Herd said. "The preparation piece is the easy part, the hard part is the connection piece. I'm excited about Where Opportunity Knox because it connects them not just to a job, but to a community."
The feeling is mutual. For Kentucky's business community, Where Opportunity Knox is a portal to a pool of reliable, skilled workers that they say would otherwise be lacking.
"As economic developers, workforce is a challenge," said Eileen Pickett, an economic consultant and co-founder of Where Opportunity Knox. "We have this ongoing problem and certainly now since we've gotten past the recession, we're starting to see growth and we need people with the right skills."
The population of the greater Louisville area has grown 2.8 percent since 2010 -- in no small part due to its relatively successful recovery from the Great Recession.
Unemployment in the Louisville metropolitan area went from a peak of 11.9 percent in February 2010 to 4 percent today. That is a better record than the country as a whole, which went from a peak official jobless rate of 10 percent in October 2009 to 5 percent today.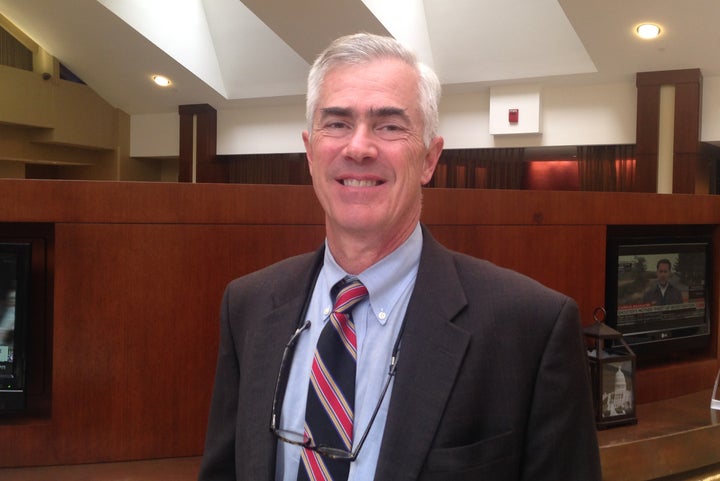 The Federal Reserve Bank of St. Louis points to the greater Louisville area as a model for successful diversification of what was once a primarily industrial economy. The city and surrounding areas now also boast a thriving service sector.
Louisville proper is home to UPS' Worldport air hub, as well as two Ford production plants and the corporate headquarters of health insurance giant Humana. And while the city is known for its bourbon distilleries -- think Maker's Mark, Woodford Reserve and Evan Williams -- it is also the base of Yum! Brands, parent company of KFC, Pizza Hut and Taco Bell.
Army veterans are ideal candidates for the mid- and high-skill jobs that make the region's businesses tick, Herd and Pickett insist.
For one thing, a person must be healthy, free of a criminal record and have completed high school to get into the Army in the first place.
Soldiers then learn concrete skills in the Army that often translate into civilian occupations -- everything from truck driving to supply chain management to computer science.
But more valuable than the skills the Army teaches soldiers are the "attributes" that service instills, Herd said. Soldiers are virtually guaranteed to develop discipline, a collaborative spirit and an ability to think on their feet before they emerge from Fort Knox's walls to return to the civilian world.
And those are often the intangible qualities that make people reliable employees and innovators.
"The military is pretty much a pre-screening event for employers, because all employers want the same people, right? They graduated school, they're healthy, they stay out of trouble," Herd said. "So we take those people and we train them and discipline them and mature them and we steal them for a few years and then we give them back to society."
The military is pretty much a pre-screening event for employers, because all employers want the same people, right? They graduated school, they're healthy, they stay out of trouble.

Retired Col. Walter Herd, director, Army Transition Assistance Program
The Visit To An Army Base That Inspired A New Initiative
Pickett got the idea for the program after taking a group tour of Fort Irwin, the Army's training center in California. There she saw the life-size replicas of entire towns in Afghanistan and Iraq that soldiers trained in before being deployed to war zones overseas.
It is the crucible that turns young high-school graduates into hardened adults, ready to face unknown physical and mental challenges in a foreign nation.
"What was so striking to me -- this was really my first kind of up close with the military -- I remember this captain who told us, their job is to make every soldier that comes through there have their worst day in the service happen at Fort Irwin so it doesn't happen somewhere else," Pickett said.
To Pickett, it was obvious that any soldiers that underwent training at that base -- let alone the experiences that followed -- would make for terrific employees and members of the community. If they could make it through Fort Irwin, wouldn't they make a superb supply chain manager for UPS?
"I wish every American could go through there," Pickett said. "I was just inspired by it."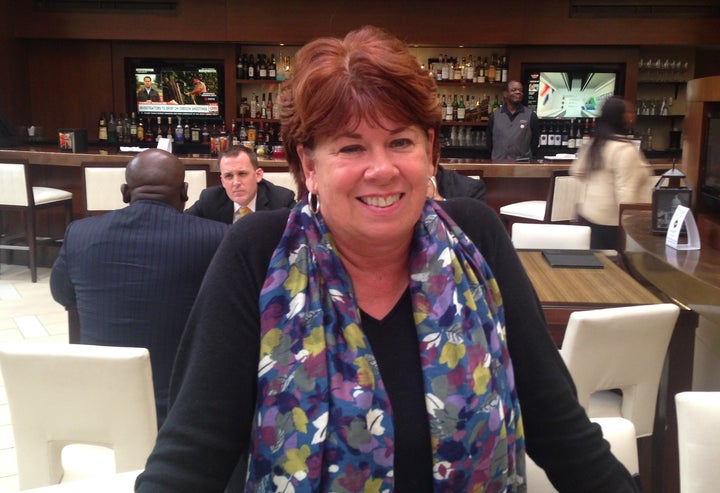 Translating "Army-Speak" To "Corporate-Speak"
Given how intuitively appealing these veterans sound as employees, one would think veterans would have a relatively low unemployment rate.
But unemployment among young, post-9/11 veterans has been higher than among their non-veteran peers.
In 2014, the unemployment rate among post-9/11 veterans was 7.2 percent, compared with 6 percent among non-veterans. For post-9/11 veterans ages 18 to 24, the jobless rate was 16.2 percent, compared with 12.5 percent among non-veterans of the same age. (The figures have since declined, but on the advice of the Bureau of Labor Statistics, we are using annual data here for greatest possible accuracy.)
The reasons are complicated. The high incidence of post-traumatic stress disorder and traumatic brain injury among returning Iraq and Afghanistan veterans no doubt plays a role -- though that may be more due to employers' stigmas about the conditions than their actual effects.
There are other factors, however, that have more to do with the military's separation from civilian society. The networks that soldiers rely on to advance in the military often do not extend into the civilian world. As a result, it is hard to make professional connections with peers in the civilian world that are so essential to finding a job in today's economy.
Herd believes that departing soldiers are also sometimes unsure how to present the broader attributes they acquire in the military as professional assets in the civilian world.
The hard part comes in translating those skills from Army/Navy-speak to corporate-speak, and explaining how military service-specific skills are universally applicable.

Kathy Robinson, founder, Turning Point
Kathy Robinson, founder of TurningPoint, a Boston-based career counseling firm, and a former human resources executive, has worked alongside veterans, recruited them to work for companies and advised them on finding work.
"Veterans bring a lot to the table when it comes to collaboration, ability to assess a vision and execute on that vision. When I was working with veterans they were often the most effective people in their jobs," Robinson said. "The hard part comes in translating those skills from Army/Navy-speak to corporate-speak, and explaining how military service-specific skills are universally applicable."
In fact, those with the most easily translatable skills often have a harder time realizing the value of the attributes they have honed in the military -- let alone communicating them in terms employers can easily grasp. Herd notes that machine gunners and infantrymen, who worked in positions that do not exist in the civilian world, are less likely to be unemployed than Army truck drivers, who can easily become civilian truck drivers.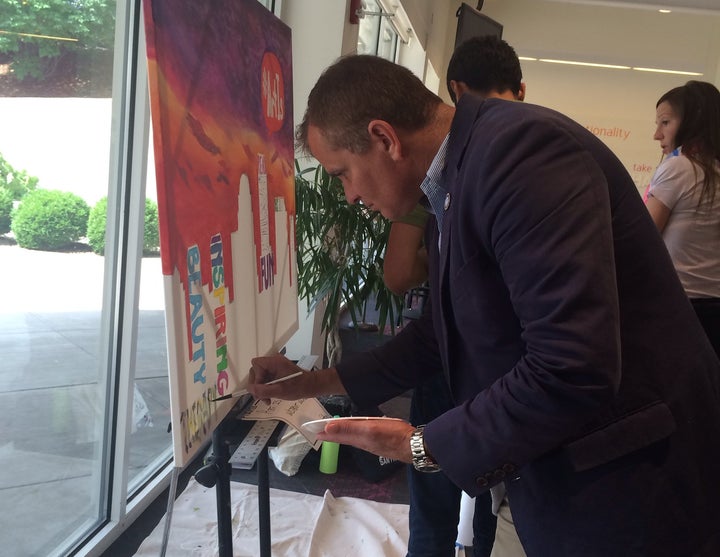 "You Can Actually See The Community Change."
Johnson, the Army vet, sees another challenge in the transition to civilian life. Like many veterans, Johnson wanted a job that provided him with a sense of purpose like the kind he enjoyed in the Army.
Given Johnson's worries about the applicability of his Army skills in the civilian world altogether, he did not think he would have the luxury of finding a job that fit that description.
That was before he met with the folks at Where Opportunity Knox.
They told him about an opening at Fund for the Arts, a Louisville nonprofit that raises money for arts supplies and programs in Louisville's underprivileged schools. Johnson is now the organization's director of workplace giving.
"I had a certain idea in mind for what I wanted to do and they helped me work through that," Johnson said. "They helped me learn how to go through the civilian interview process. I knew what I wanted and they helped me articulate that in a way that made sense."
Through his work at Fund for the Arts, Johnson sees himself as part of a process of community building in the underserved west side of Louisville. He compares it to the reconstruction work he did in the Iraqi city of Baquba after the Army brigade he led helped conquer it.
I tell them, 'Follow your heart, not the money.' You can actually see the community change.

Fred Johnson, Army veteran and director of workplace giving, Fund for the Arts
"When we attacked that city it was like a wasteland," Johnson said. "Then we helped rebuild the city. We are trying to do that here in Louisville. On the west side, it is almost barren -- it almost reminds me of Baquba."
In addition to the Army instilling in him a desire to be a part of something greater than himself, Johnson said his service equipped him with communication skills and a comfort with diversity of all kinds. Both of those characteristics are assets to him in his fundraising work.
"The vast majority of people in the Army -- unless you don't do your work, who cares? Same thing with a female, a gay person, or any ethnic or racial minority," Johnson added. "The west side [of Louisville] is very poor and racially diverse. I fit in as well there as at Humana or Brown-Forman where everybody is wearing suits."
But Johnson said he was also fortunate that Fund for the Arts was willing to give him an opportunity to prove himself despite his lack of formal fundraising experience -- and struggles with post-traumatic stress disorder from combat in Iraq and Afghanistan.
"I told [Fund for the Arts CEO] Christen Boone, this is what [my PTSD] means and this is what I am doing to overcome it," Johnson said. "I said I am bringing more positive baggage than negative. She took a chance on me. I wish more CEOs and executives had the courage."
And prove himself Johnson has. Local magazine Business First recently named him one of Louisville's top 20 veterans in business.
Now Johnson is using his experience to help younger returning veterans find their way. He volunteers with a joint civilian-military initiative called Arts and Healing. The group uses art to help veterans cope with PTSD.
"I tell them, 'Follow your heart, not the money," Johnson said. "You can actually see the community change."
Where Opportunity Knox helped give Johnson the confidence that the skills he acquired in the Army had prepared him well for a civilian career. He explains to younger veterans that they too have attained those skills, even if they do not yet know it.
"A lot of time the younger kids do not realize what they've learned," he observed. "They are 21 years old -- I say, 'No, dude, you experienced a lifetime in that short span. You just don't realize how many tools you have.'"
PHOTO GALLERY
5 Best Cities To Live In
REAL LIFE. REAL NEWS. REAL VOICES.
Help us tell more of the stories that matter from voices that too often remain unheard.