When the most notorious drug lord in the Americas, Joaquín "El Chapo" Guzmán Loera, escaped from a maximum security prison for a second time last year, Mexican officials finally agreed to extradite him to the United States. It was a humiliating change of heart, amounting to an admission that the Mexican government couldn't guarantee it could keep the kingpin behind bars.
After Guzmán was recaptured last month, Mexican President Enrique Peña Nieto said he'd instructed his country's attorney general's office to carry out the extradition as quickly as possible. It won't be easy. The outsourcing of justice has always wounded national pride in Mexico, and the country's laws afford so much latitude to appeal that local media report it could take as long as six years before the process is complete.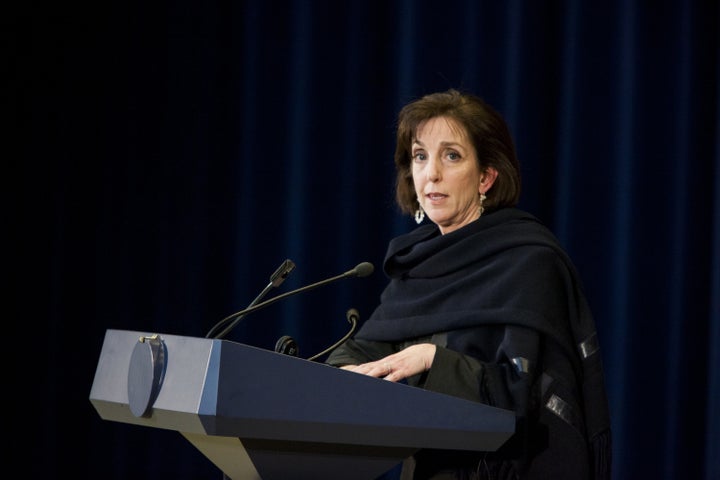 Complicating matters, U.S. officials hoping that Mexico will speedily send Guzmán north to face criminal charges are working against a self-inflicted handicap. Due to a political feud over re-establishing diplomatic relations with Cuba, the U.S. Embassy in Mexico hasn't had an ambassador for eight months, and may not send one any time soon.
"For all the hoopla there has been about the need for Mexico to extradite 'El Chapo' Guzmán as part of its cooperation with the United States, the United States is missing a key element in its cross-border cooperation apparatus because it doesn't have an ambassador," David Shirk, director of the University of San Diego's Trans-Border Institute, told The WorldPost. "That jeopardizes the effectiveness of U.S.-Mexico cooperation in a really serious way."
The U.S. doesn't technically need an ambassador to extradite Guzmán or anyone else. But experts and former diplomats told The WorldPost that the American inability to send an ambassador needlessly hobbles the kind of high-level communication between the two governments that could help nudge the politically sensitive process along. It also undermines the relationship between the two countries more generally, by suggesting that the U.S. doesn't view its southern neighbor as a priority.
Rank-and-file members of the diplomatic corp don't have the clout to speak on behalf of the White House in real time. And they don't have the same ability as an ambassador to meet personally with high-level officials Mexican officials on short notice to discuss an issue or make an argument.
"It's not structurally important because the extradition process will continue to wind its way through the bureaucratic chain of command," Arturo Sarukhán, a former Mexican ambassador to the United States, told The WorldPost. "But it can create an on-the-ground leadership void for the U.S. diplomatic footprint. Would it derail the process? No. But it doesn't help either."
Marco Rubio Won't Budge
Roberta Jacobson would seem like a natural choice to be the U.S. ambassador to Mexico. She has roughly three decades of experience in foreign policy and diplomacy serving both Republican and Democratic administrations, and the vast majority of her work has focused on Latin America. She currently serves as assistant secretary for the State Department's Bureau of Western Hemisphere Affairs. 
"As far as this hemisphere is concerned she is, quite simply, the kind of diplomat that comes along once in a generation," former U.S. Ambassador to Mexico Antonio Garza said in an interview.
But when the Obama administration submitted Jacobson as its choice to replace the outgoing Ambassador Earl Anthony Wayne, who left the position in July, a vocal minority protested before the U.S. Senate Foreign Relations committee. Sen. Bob Menendez (D-N.J.), who is Cuban-American, accused Jacobson of presiding over growing authoritarianism in Latin America and described her as "not all that consultative and forthcoming as to informational requests."
Sen. Marco Rubio (R-Fla.), who is vying for the GOP presidential nomination, questioned Jacobson's record on prioritizing human rights in Cuba and Venezuela. Both Menendez and Rubio faulted her for waiting more than a year after Guzmán's 2014 arrest to request his extradition -- though the extradition process is initiated by the Justice Department rather than the State Department, and the Mexican government had publicly refused to hand over Guzmán, only switching gears after he escaped last year.
"It is clear that the Obama administration's foreign policy around the world, and specifically in the Western Hemisphere has been short-sighted and counter-productive," Rubio wrote in a November statement opposing Jacobson's nomination. "As the United States' lead diplomat for the Western Hemisphere, Roberta Jacobson has played a central role in that failure."
Needing only a simple majority vote, her nomination would likely sail through the full U.S. Senate, but Rubio has submitted a hold to keep the body from considering it.
By tradition, any U.S. senator can request such a hold and the majority leader usually honors it, though Senate rules don't require it. The Obama administration hasn't submitted an alternative nominee, and Rubio doesn't seem likely to let up. Alex Burgos, a spokesman for Rubio, told The WorldPost in an email this week that the senator "maintains his strong opposition to this nominee."
Any Senator Can Block A Nominee
It's common for the U.S. to let its embassies in Latin America sail along without an ambassador at the helm, often after public spats with the region's left-wing governments. Other times, political wrangling leaves a more prominent position vacant.
Otto Reich's 2001 nomination as assistant secretary of state for Western hemisphere affairs languished in the Senate for months as Democrats objected to his hard-line views on Cuba and what they saw as his Cold War-driven mentality. The Senate put the brakes on Ambassador Tom Shannon's appointment to Brazil in 2009, then did it again when Shannon was nominated to serve as undersecretary of state for political affairs last year. In all three instances, Reich and Shannon ultimately took up the posts for which they'd been nominated.
"There's a certain perversity in the way Latin America policy decisions are made," Chris Sabatini, the director of the think tank Global Americans, told The WorldPost. "Ideologically controversial countries, irrespective of their economic, political or security importance, are given greater weight than countries that are far more central to U.S. national interests."
"Cuba is a small country of 11 million people," Sabatini went on. "It's not as central to our national and security interests as Mexico."
El Chapo's Legal Team Notices These Things
The complexities of U.S. diplomacy in Mexico aren't lost on Guzmán's attorneys. The Obama administration sent an extradition request for the kingpin over the summer. In one of several court filings protesting Guzmán's extradition, the defense attorneys argue that the Mexican courts should nullify that request because the accompanying diplomatic note wasn't signed by an ambassador.
"The diplomatic note can't be signed by just anyone," one of Guzmán's lawyers, José Refugio Rodríguez, told The WorldPost. "It needs to be the ambassador or the Chargé d'Affaires... The convention of Vienna on diplomatic relations establishes this and it's signed by both the United States and Mexico."
If a judge were to accept the Guzmán team's argument, no one could blame Rubio for it. The State Department's extradition request is dated June 16, and the Mexican Secretariat of Foreign Relations stamped it two days later -- about a month before the previous ambassador, Wayne, left the post.
"Yes, they had an ambassador [at the time]," Rodríguez said. "Maybe he wasn't around for a few days."
Calling all HuffPost superfans!
Sign up for membership to become a founding member and help shape HuffPost's next chapter
BEFORE YOU GO
PHOTO GALLERY
Why Latin Americans Really Come To The U.S.