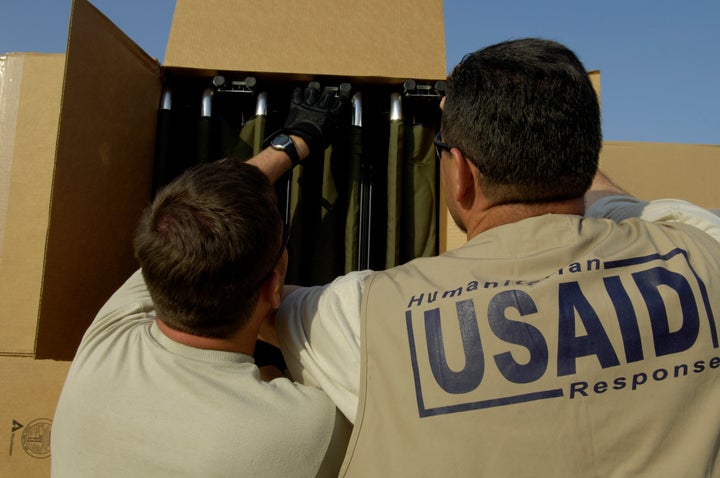 Today, I write a very different "commentary," one not related to CEDPA but instead to my past. I write about USAID in the Russian Federation, not to bemoan its end -- although the way in which the end came saddens me -- but rather to celebrate what was accomplished over a 20-year period.
I was honored to be part of that 20-year history, serving as the USAID mission director for four years, 1999-2003. Over the past two weeks, we have heard lots about the decision to close out USAID and about "re-set buttons" and geo-political implications. But, there is another important story that should also be told.
The press -- both in the United States and in Russia -- could and should have been congratulating the many Russians and Americans who worked so hard together to achieve so much since 1992. The governments of both countries should have been celebrating those accomplishments, all of which were achieved in the spirit of partnership and collaboration.
I write today to celebrate that Russian-American partnership. In my four short years in Russia, I traveled throughout the Federation and I saw first-hand the relationships, the hard work and the results. It came in so many ways and from so many places. To name a few:
Through American think tanks which worked with Russian counterparts to build similar institutions that could analyze the toughest issues and influence policy. The Institute of Urban Economics and the Center for Fiscal Policy in Moscow are two of those extraordinary success stories. They have helped craft housing, mortgage, municipal finance, intergovernmental fiscal and infrastructure policies - and are now providing Russian technical assistance globally through the World Bank and other donors.
Through community groups -- especially those far outside of Washington, D.C.'s "beltway" and Moscow's "MKAD" -- that came together through USAID-funded mechanisms to learn from one another and to craft locally-driven solutions. I will certainly never forget seeing hospital and community leaders from Lexington, Kentucky working hand-in-hand with their peers from Khabarovsk in the Russian Far East to improve preventative and community-based medicine. Similar partnerships brought diverse communities together to learn from one another on how to best meet the needs of the disabled, the vulnerable and the disaffected. Countless lives were improved through these partnerships.
Through programs like Junior Achievement that helped build a generation of young Russian innovators and entrepreneurs. I will certainly never forget "young Nikolai" from Kazan who was a Junior Achievement success story. While at University, he created his own internet/Web site development company and became a very successful young entrepreneur. He is now the youngest member of Russia's cabinet, the Minister of Social Media.
Through professional exchanges that brought together a wide range of experts from every conceivable technical area, including (1) the U.S. Federal Reserve System to work with Russian colleagues to build a new, resilient payments system and to help link Russia's Reserve Bank to its global counterparts; (2) small radio and television stations across the U.S. to work with Russian counterparts to build new, independent media outlets that provided news, entertainment and a commitment to public education; and (3) American Federal and State judges who built bridges and friendships with the Russian judiciary and forums for judicial ethics and independence.
Through the collaboration of physicians from the Centers for Disease Control and the Russian Ministry of Health in cities like Orel and Tomsk where they made huge strides in the treatment of drug-resistant tuberculosis.
Through the visits of American small business owners and farmers to their equivalents in Russia. They shared their business and marketing expertise. There were many memorable people, but I will certainly never forget the Arkansas goat farmer in the outskirts of Samara, not far from the Volga River, helping a Russian woman farmer and entrepreneur perfect her new goat cheeses and expand her markets and income.
These are only a few of many examples. The key point is that everything USAID did in Russia was done in partnership with Russian organizations and people. This spirit of partnership existed regardless of the areas in which people worked: whether physicians and nurses, entrepreneurs, environmentalists, economists, educators, bankers, social workers, judges, policy makers or community activists. This spirit of partnership also helped to enhance the voices and contributions of Russians as they sought to solve problems, community by community. All of these Russians and Americans -- whether from local municipalities in Samara or La Crosse, or from think tanks, or businesses, or government, or from groups like the International Republican Institute, the National Democratic Institute, and Golos (Voice), or from the USAID mission itself -- all deserve our thanks and our congratulations. So, let us celebrate 20 years of accomplishment by USAID in Russia!
Related
Popular in the Community