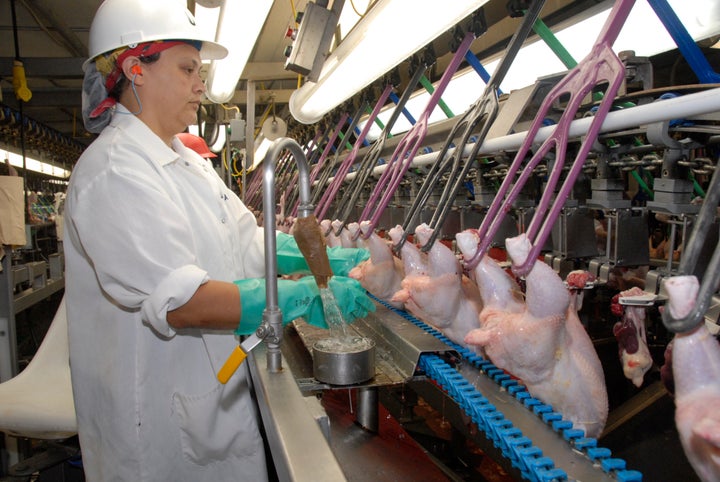 Phyllis McKelvey, a mother of three and grandmother of eight, worked in the poultry business for 44 years. She dedicated her professional life to protecting the integrity of the food supply. Knowing her oversight could literally mean the difference between life and death for consumers, she took her work seriously.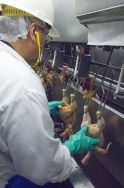 Phyllis has, in her words, "walked on both sides of the fence," having worked for the poultry industry and the federal government. She has seen the industry from both sides. And she's proud to have been a part of assuring that the American food system is the safest in the world. She was committed "to making sure U.S. food is the safest in the world."
But Phyllis, like GAP, is losing faith in our country's food safety system and the USDA due to the agency plan to implement a new inspection program known as the HAACP-Based Inspection Models Project (HIMP). She worries that a new government program designed to change poultry plant inspection methods will compromise public health and hurt workers.
HIMP is a high-speed poultry production model (designed by FSIS), which permits more "self-policing" by poultry processing companies. The proposal would limit FSIS inspectors' authority in plants, and hands over most of their duties to company employees. A pilot program version of HIMP was originally implemented over a decade ago. The hallmark of the program is its intense line speeds (inspectors are expected to examine a chicken in 1/3 of a second) and reduced government inspection.
Other problems with HIMP include:
Under traditional inspection methods, inspectors can see all sides (and the inside) of the bird. But inspectors at HIMP plants can only see the backside of the bird - not the front (where the breast meat is) that may clearly show tumors or scabs. Nor can HIMP inspectors see the inside of the bird, where fecal matter and other disease causing abnormalities are found.
Under HIMP plans, federal inspectors are replaced with plant workers who are powerless to speak out against their employers, and are responsible for removing adulterated product. The inspector whistleblowers have witnessed that these sorters are "rebuked by supervisors" when they try to slow down the line for food safety concerns.
Phyllis's Unique Perspective
If there's someone who knows about the dangers of HIMP, it's Phyllis. She worked in one of those very pilot HIMP plants for a decade before retiring in 2010. And even though she's no longer getting a paycheck, she continues to work for the public and crusade against the proposal, believing "it will have disastrous impacts on food and worker safety."
Since her retirement, Phyllis has kept in close contact with current FSIS inspectors and industry employees, many of whom share her concerns. But current inspectors who wish to speak out publicly against the new plan typically avoid doing so for fear of being reprimanded or losing their jobs - Phyllis knows this for a fact, after speaking with former colleagues and friends. Being retired, Phyllis doesn't risk retaliation for criticizing FSIS practices - and now she's blowing the whistle.
Phyllis worked in the very first HIMP pilot program, located in Guntersville, Alabama. She knew it just wasn't right from the beginning: "The government wasn't ready for the new program. They didn't even have the correct forms for the inspectors to use. It doesn't seem like things have gotten much better."
Furthermore, she saw inconsistencies at companies that were supposedly implementing the same model for inspection. "It's as if plant by plant the rules change," she noted.
"We're moving back in time 100 years." Citing journalist Upton Sinclair's The Jungle, an exposé of the dangerous standards of early meatpacking plants, Phyllis contends that the poultry industry is reverting to ancient, inadequate monitoring methods by implementing this new program. Phyllis remembers the line as a dizzying blur of carcasses. Speeds were so fast, that inspectors could do little more than sit there, incapable of anything remotely resembling oversight duties. If workers tried to keep up, they would risk injury. Case in point: Phyllis recalls one event where a worker was feverishly working to keep pace with the line despite an injury. The worker's wrist had doubled in size from a knot caused by repetitive movement on the line, but continued to work despite the pain.
Phyllis explains how this could happen, as the food industry exploits immigrant workers: "Most can't speak English, and just smile and accept the task without knowing they are about to be put in harm's way. They are such hard workers ... and they are doing the best they can for their family."
Not only does a language barrier prevent non-English speaking workers from being aware of their rights, but it also contributes to unreported injuries in the workplace. Oftentimes, workers have difficulty communicating with nurses or supervisors about health and safety concerns. Additional underreporting can be a result of the precarious employment status of many workers who are afraid to report injuries due to fears over job loss. Despite the disproportionate number of non-English speaking employees in the poultry processing industry, Phyllis notes that plants typically have only one interpreter available on each shift.
Under the new inspection model, the jobs once done by inspectors will be taken over by plant workers themselves - the quintessential fox guarding the hen house model. These plant workers are often not trained, Phyllis says, and are tasked without adequate instruction for jobs essential to food safety. As a consequence, not only do they miss problems with the birds, they also expose themselves to injury.
"If the general public knew what was going on, I think they would protest," said Phyllis. "I want my tax dollars to be spent making the food in this country safe for my grandchildren, not on bonuses for USDA agents who turn a blind eye to the public safety concerns in our food system."
Phyllis is concerned about the wellbeing of her children and grandchildren, and hopes to bring awareness about the negative impacts of HIMP to other families. She also suggested that government leaders should take the time to see for themselves what goes on in poultry processing plants.
Commenting further, she said: "FSIS needs to be working with their employees, not against us. The first thing we do when we get our paychecks is put food on the table for our families - that's our priority. This is why food safety is important for the wellbeing of everyone, and the USDA should align its priorities with those of the American people."
Take it from someone who knows the industry inside and out--the safety of the nation's food supply will be at a serious risk if HIMP is put into play. Fortunately, brave and concerned insiders like Phyllis are willing to come forward and speak out against insufficient practices and looming public health threats. We must demand that USDA reconsider this proposal before it's too late.
Alyssa Doom is Investigation & Outreach Coordinator for the Government Accountability Project, the nation's leading whistleblower protection and advocacy organization.
Support HuffPost
A No-B.S. Guide To Life
Related
Popular in the Community