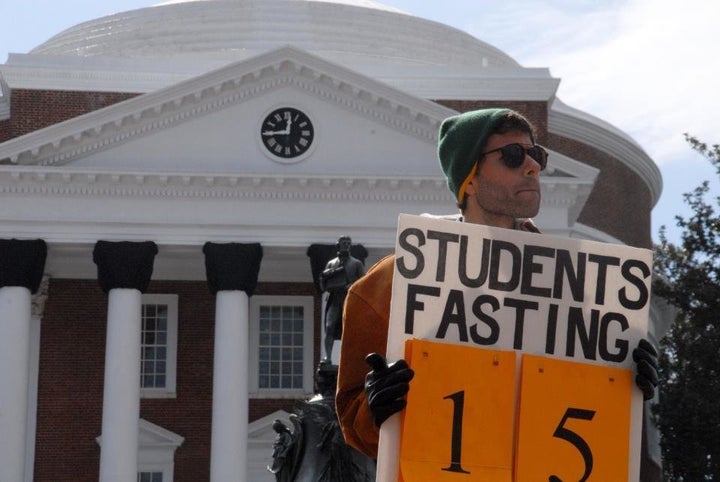 Twenty students at the University of Virginia Charlottesville campus are on a hunger strike protesting the low wages paid to hourly employees in the university system.
The hunger strike, now at day 11, is organized by the Living Wage Campaign, a student group that's pushed for higher pay for low level employees at UVA for the past decade. The Campaign is demanding UVA pay its employees at least $13 an hour, plus benefits. They also want the wages indexed to inflation.
"We are engaging in this hunger strike to call attention to the administration's moral hypocrisy and to finally produce results in the form of a Living Wage," Joseph Williams, a UVA football player and hunger striker wrote on filmmaker Michael Moore's blog. "Although I am exhausted, hungry, dry-mouthed, and emotionally taxed, I believe it is my responsibility as a member of the University community, and even more as a member of the human race, to stand up and speak for those whose voices have been silenced and whose livelihoods are marginalized by the policies of the current University administration."
The University currently has a minimum hiring rate of $10.65 an hour, but the Living Wage Campaign says that doesn't consider contract work that can be paid the federal minimum wage of $7.25 an hour.
University officials insist they have no say over how much contractors pay their employees.
"[W]e learned in a 2006 opinion from Virginia's attorney general, the University does not have the authority to stipulate a living wage requirement that must be paid by private contractors and vendors," UVA President Teresa Sullivan wrote in an email to the student body.
UVA has had a robust growth in their endowment recently, but Sullivan cautioned that she doesn't want to risk investment in the school.
"U.Va. is and must continue to be a top-tier institution," hunger striking student David Flood wrote on the Campaign's blog, "but it cannot do this on the backs of underpaid and exploited workers."
The hunger strikers met with Sullivan and other officials Monday, but declared the meeting unsuccessful and said they would remain hunger strike until their demands were met.
Students at Georgetown University got their school to raise the pay of hourly employees with their own hunger strike back in 2005.
The UVA protesters gathered more than 325 signatures from faculty members supporting their demands. A number of student groups and Greeks have also signed on in support.
Related
Popular in the Community