Valentine's Day is on the horizon. We all know what that means: chocolates, flowers and sexy lingerie. Some women love a beautiful bra or a lacy pair of boy shorts, while others of us balk at the thought of teeny bits of material tucked and wedged into our … well, teeny bits. And if we are intimidated by the thought of buying lingerie, imagine how our boyfriends, husbands and lovers feel? Downright terrified.
We sat down with a lingerie expert to get some tips for our men on how to best buy lingerie for Valentine's Day. Our expert is Rebecca Apsan, the founder and owner of New York City lingerie boutique La Petite Coquette. Apsan opened the store 35 years ago, and has since penned a guide on how to purchase lingerie called "Lessons In Lingerie." It's clear that Apsan knows her subject, and that she's passionate about the topic. She said, "Lingerie gives women a sense of confidence and empowers them, because when you wear lingerie that fits and makes you feel good you walk around with a kick in your step."
We then had to find a willing male, which was easier in theory than it was in reality. Finally, our fearless colleague, Daniel Treadway, stepped up to the task. Treadway has been in a relationship for a year and was happy for the help in choosing his girlfriend's Valentine's Day gift. That was, until he stepped into the shop and was surrounded by silk underthings, vibrators, harnesses and more. The store has an elegant boudoir feel that women relish, but men can become intimidated. Apsan told that men have become more comfortable: "Men are not as nervous as they used to be. Some of them used to break out in a cold sweat. Men in 2013 are much more in tune with what their partners want." Women have also become more comfortable with shopping for lingerie, and more adventurous. Apsan also said that as a result of "Fifty Shades Of Grey," she has had to up the kink factor in her store, which explained the wrist restraints and laser-cut leather corsets.
Emboldened by Apsan's brazen speech, Dan browsed through racks of camisoles, bras and thongs. What he chose for his gal surprised us. Though surrounded by very kinky, yet gorgeous options (think "air-conditioned panties" and pearl thongs), he chose subdued, elegant underthings. Actually, he chose exactly what we would have chosen.
Dan had this to say on shopping for ladies' lingerie: "I've never bought lingerie for the same reason that I don't buy jewelry. I don't want her to have to wear something she doesn't like. If I came with my girlfriend, this would be a lot of fun. We could laugh about it, and I wouldn't be going out on a limb. Just walking in the door [alone] is intimidating, because essentially, it's admitting that you're thinking about sex."
To assuage men's fears, Apsan gave us three handy guidelines for buying lingerie:

1. Do your homework. "Find out her size before you come in. Look in her drawers -- the furniture kind. Snoop to see what she has the most of. Look at the panty and dress sizes and find out what type of bras she has. You should be armed with information when you walk into the store."
2. Always be sensitive to issues that women have with their bodies. "If she doesn't love her thighs, buy her something that covers them. Make sure the woman is comfortable, because when she's relaxed and confident who knows what the night will bring."

3. This is the time to indulge in your fantasies. "Try something a little different, think outside of the box. But avoid cheap lace -- unless you want to just rip it off -- because it can irritate the skin."
Click through to see what Dan chose ... you may be surprised.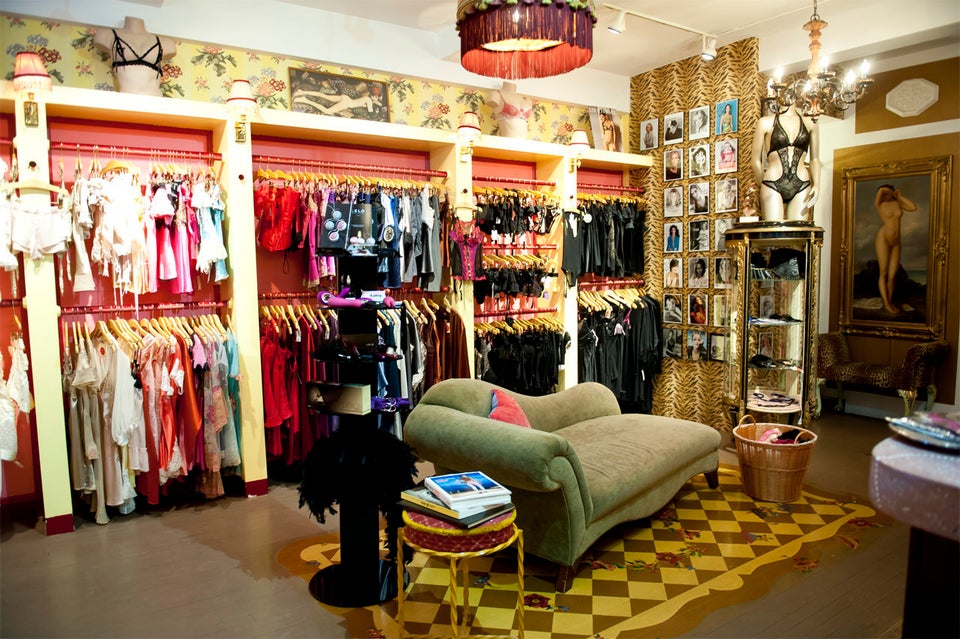 Tips On Shopping For Lingerie
Popular in the Community