In recent years, concerns around food safety, health and nutrition, climate change and animal welfare have led to more people making informed food choices. But is there any evidence that this gradual shift in habits is significant enough to give rise to a viable market for healthier, plant-based foods in the U.S.? Moreover, even if people are trying to make better choices that are good for their health, the lives of animals and the future of the planet, do quality products exist that can conquer the hearts, minds and (most importantly) taste buds of mainstream consumers?

We decided to test the potential of this market by putting our support behind the recently concluded second annual New York City Vegetarian (but Vegan, really) Food Festival. After the first festival proved to be an overwhelming success in 2011 (with lines spanning four New York City blocks), the organizers decided to double down this year. The festival was turned into a two-day event, at a 30,000 square feet venue, featuring 75+ vendors offering vegan food (from marshmallows, raw vegan ice cream and "faux" gras to plant-based cheeses and "caviar!"), along with a full lineup of expert speakers (including chefs, nutritionists, athletes, etc.) and live entertainment. Judging by the large crowds (which included locavores, vegetarians, vegans, flexitarians and beyond) that started lining up in the rain, early on Saturday morning, to the thousands that packed the venue over the course of two days, calling the event a success would be an understatement.

It felt great to support a local market of conscientious consumers and businesses, but we wanted to find a way to take the festival to a national audience and gauge the feedback. So, we at One Green Planet launched an innovative social media campaign that made it easy for anyone to share photos from the event on our website, in real-time.

What began as a sputter of photos in the days leading up to the event, quickly erupted into a storm of images being added into the gallery during the festival. Everyone, from vendors, attendees and speakers got involved with the live photo blogging and shared pictures of their experiences. The best part was, our online audience, spread across the country, got to witness the event unfold LIVE, by viewing the photo gallery on our site. What followed was a flood of correspondence from people across the U.S., who now want to bring a vegan food festival to their cities (in addition to the ones that already exist), demonstrating the growing demand for quality goods and services focused on health and sustainability.
But what happened at this festival is just a small part of a much larger trend. A recent Harris Interactive study commissioned by the Vegetarian Resource Group found that approximately 5% of the U.S. is vegetarian (close to 16 million people) and about half of these vegetarians are vegan. While this may sound like a small number, what's amazing is that the number of vegans in the U.S. has doubled since 2009 to 2.5% of the population. This means that 7.5 million people in the U.S. now eat diets that do not include any animal products. The study also revealed that 33% of Americans are eating vegan/vegetarian meals more often, though they are not vegan or vegetarian. That is over 100 million people, or one third of the country consciously choosing more plant-based foods!
On the other hand, according to USDA forecasts, the average American will consume 12.2% less meat and poultry in 2012 than they did in 2007. Beef consumption has been in decline for about 20 years; the drop in poultry and pork has also been steady for about five years. And this phenomenon is not limited to meat. USDA statistics reveal that per capita egg consumption in the U.S. has been steadily declining for the past six years and average per-capita consumption of cow's milk fell from 24.3 gallons per person in 1994 to 20.8 gallons per person in 2008. At the same time, total retail sales of soy milk, almond milk, rice milk and other plant milks reached $1.33 billion in 2011. If you don't think the growing market for plant-based foods has anything to do with these declining statistics, ask the multi-billion dollar dairy industry! They took the trouble to recently launch an entire ad campaign attacking plant milks.
So, back to my original question: is there a market for vegan food? YES! And the market doesn't just exist, it's exploding! Further, as more people discover the benefits of choosing vegan and the wide spectrum of food choices that exist within this growing market, scenes such as those witnessed at the recent New York City Vegetarian Food Festival are bound to become commonplace across the U.S.
You can browse through some of the photos of the festival below, along with recipes from select vendors. To see all the photos, click here.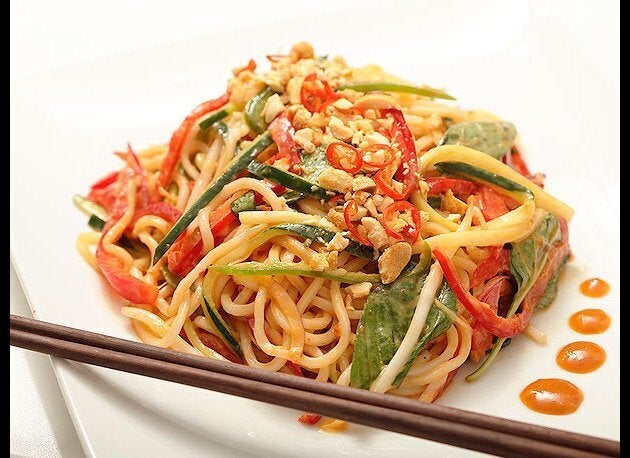 The New York City Vegetarian Food Festival 2012
Related