A Southern California hospital is under fire after a former patient and employee has come forward with a humiliating photo taken while she was anesthetized for a procedure in Oct. 2011.
Veronica Valdez, 27, is suing Torrance Memorial Hospital because an anesthesiologist took the liberty of decorating her face with a mustache and teardrops while she was unconscious. A nursing attendant then snapped a photo of Valdez's face, which was seen around the medical office where Valdez also used to work.
LOOK: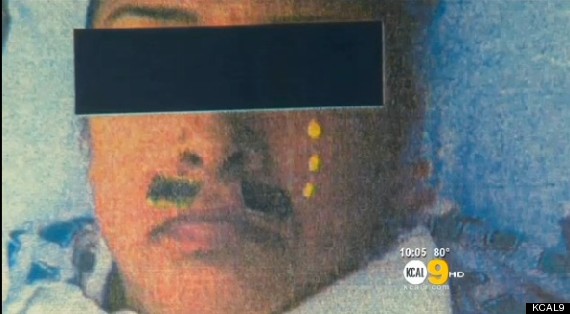 The photo of Valdez, obtained by KCAL9.
In the lawsuit, Valdez says that her humiliation over the photo grew so intense that she eventually had to step down from her job. Now, two years later, she's suing the hospital to make sure patients never have to go through a similar experience.
Watch KCAL9's video report above or head over to KCAL9 to see what Valdez's lawyer has to say about the photo.
There is some dispute over how the photo of Valdez spread, according to the Los Angeles Times. Patricia Gomez, the nursing attendant, testified that she did not email or post Valdez's photo anywhere. Instead, she claims, she deleted the photo after showing it to Valdez. However, others at the hospital testified they saw the photo on Facebook.
Dr. Patrick Yang, the anesthesiologist, was suspended for two weeks from his job over the incident but is working in good standing with the hospital now, reports the Times. Gomez was also disciplined, but not fired.
In a statement to KCAL9, the hospital explained that they've since put safeguards in place to protect patients' safety and confidentiality during operations. From KCAL9:
The anesthesiologist and the nurse employee who took the photograph, both friendly with the patient, demonstrated poor judgement. This type of behavior, despite the familiarity of the patient is not condoned and cannot happen in an operating room.
The hospital wants the lawsuit to be dismissed.
REAL LIFE. REAL NEWS. REAL VOICES.
Help us tell more of the stories that matter from voices that too often remain unheard.
BEFORE YOU GO
PHOTO GALLERY
Weird News: Strange, But True