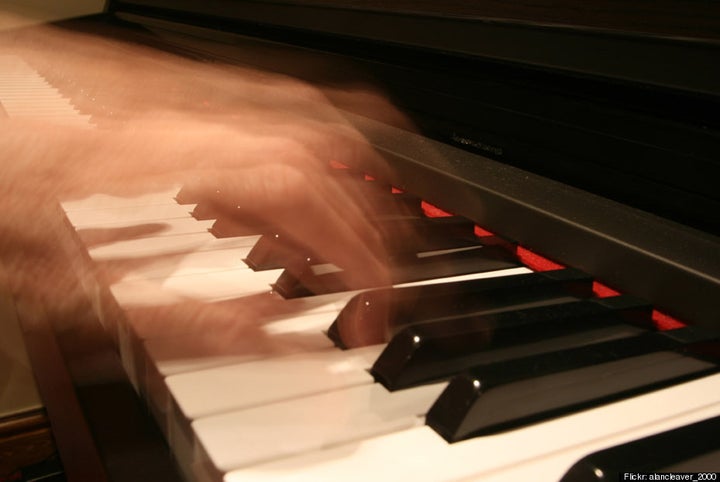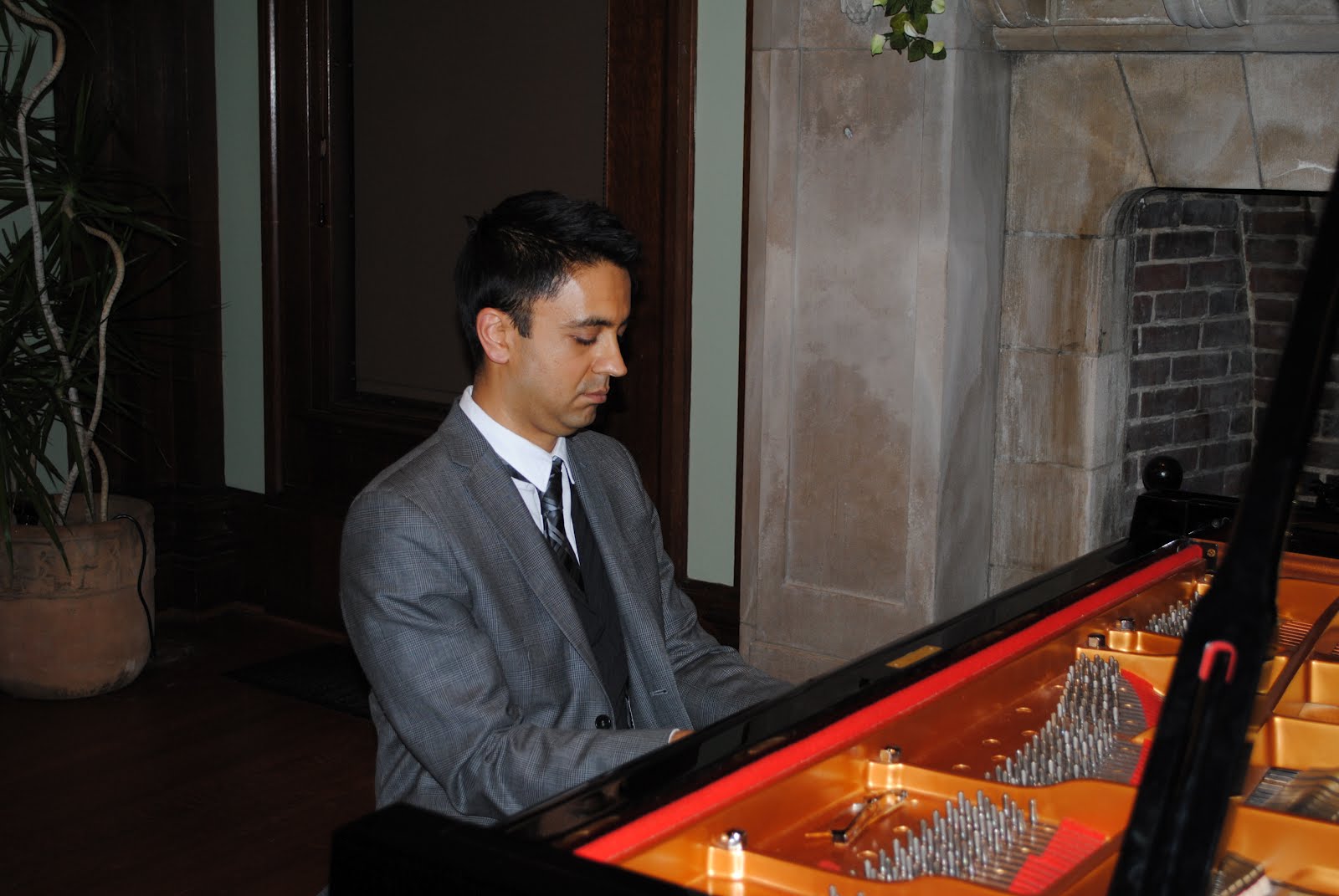 The pianist Vijay Iyer is one of the most celebrated jazz musicians of his generation. He has garnered an endless collection of awards from the press, a cult-like following by his fans and deserved respect and recognition from his fellow musicians. With this in mind, it was with anxious anticipation that I ventured to the Carnegie Room at the Nyack Library to see this phenom play solo piano.
The Rockland County Jazz and Blues Society is one of those vibrant organizations that for 25 years has been promoting both the heritage and the appreciation of jazz and blues music. In addition to Mr. Iyer, the President, Richard Sussman, a gifted pianist in his own right, has presented special performances by pianists Rachel Z and the tasteful Kenny Werner this season.
The Carnegie room is an elegant setting. With its warm wood details and its limestone clad fireplace, the room's large open hearth is used as a backdrop, framing the gleaming black Yamaha Grand piano at center stage. Seating just one hundred, it is an extraordinarily intimate setting for piano or chamber music.
The 40-year-old Mr. Iyer was impeccably dressed in suit and tie. He approached the piano with a perceived reverence, took a seat, closed his eyes and after brief reflection began with a tune by Thelonious Monk titled "We See." The unorthodox approach would have made the old master of quirky melodies proud. Mr. Iyer produced a rhythmic undertone by the repeated use of single note motifs with his left hand. The tune was vaguely familiar to those who know Monk's music, but thoroughly individualistic. That seemed to be the theme of the evening, as Mr. Iyer has a harmonic language that defies convention or predictability.
The second song was one of Iyer's own compositions titled "Spellbound and Sacroscant" from his 1995 release Memorphilia. The beautifully evocative piece was a fascinating exploration. Watching his fingers I was reminded of lithe spider legs moving ever so delicately, although at times with astonishing speed, over the keyboard. His legato right hand produced expansive ideas as the ostinato of his left hand-held you riveted. He showed a mastery of dynamics as he modulated from whisper-like pianissimo to thundering fortissimo throughout the piece.
The third song of the first set was a composition by the pianist Andrew Hill, like Monk another of Mr. Iyer's admitted inspirations. The song was played in 7/8 time and titled "Siete Ocho." Mr. Iyer stabbed at his keys punctuating each note. At times he created a drone-like sound, but his approach was true to both Mr. Hill's tricky rhythmic and harmonic sensibilities.
Mr. Iyer gave a thoughtful introduction to his next composition "Autoscopy" which he explained is a musical expression of having an out-of-body experience. As if in a trance, with eyes closed and hands starting slow and deliberately, Mr. Iyer created an eruptive cauldron of sounds. His hands blurred as he frenetically cascaded up and down the keyboard in a wild display of free expression. He was euphemistically deconstructing his own atoms, ultimately floating above the music he was creating.
The highlight of the evening was Mr. Iyer's magical re-construction of Coltrane's "Giant Steps." The tune started off deceptively concealed by Mr. Iyer's clever introduction, but when the distinctive line was finally exposed it became apparent at how authentically original Mr. Iyer's harmonies can be.
The first set ended with a more traditional telling of the Duke Ellington classic "Black and Tan Fantasy" where the pianist's stride-like left hand comping was a nod to the tradition of the old masters like Ellington himself and Ellington's inspiration Willie "the Lion" Smith.
The second set included another piece by Thelonious Monk, this time the more familiar "Epistrophy," which Iyer performed beautifully and which he recorded on his 2010 album Vijay Iyer Solo.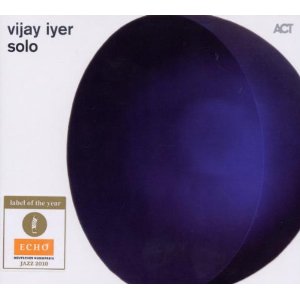 Iyer's own "Abundance" from his Tirtha album of 2011 was just that, a sumptuous feast of beautiful sounds. A spellbinding version of "Tangerine" provided a Tristano connection.
An Art Tatum-like approach to "Darn That Dream" was Iyer's one concession to the great American songbook, again played with a glancing nod to the tradition. Iyer introduced the next song., "Patterns," by explaining its genesis, a Southern Indian tradition of creating geometric designs in sand.
Mr. Iyer ended the evening of music with a dedication to another of his inspirations, the extraterrestrial bandleader Sun Ra. The composition titled "One for Blount," an allusion to Sun Ra's real name Herman Poole Blount, featured Mr. Iyer's use of double-handed block chording in a stirring finale.
Vijay Iyer is a musical force to be reckoned with. According to his bio, he is a polymath, a person whose expertise spans a significant number of different subject areas. With degrees in mathematics, physics and a Phd in Technology and the Arts, it is no wonder why his music is so fascinatingly fertile. His complex harmonies and creative use of rhythmic devices are all designed to stimulate the cognitive mind while at the same time reaching out to touch the humanity in us all. It will be a fascinating journey to follow his musical development as he continues to push the limits of his music. His latest release is titled Accelerado.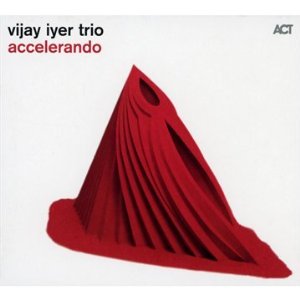 Related
Popular in the Community