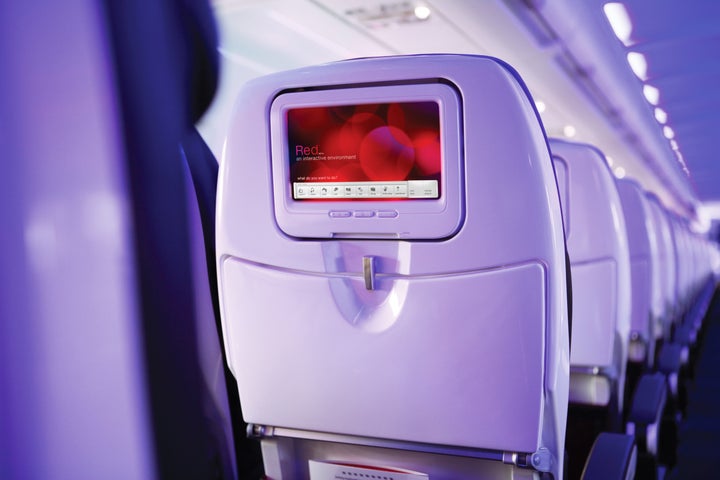 "Virgin America treats the 99 percent like the 1 percent," President Obama said over the intercom during the airline's inaugural flight to Reagan Airport in DC this past Tuesday.
No, it wasn't actually Barack. It was his freakishly identical impersonator, Reggie Brown.
Virgin always kicks off new routes with localized themes, this time being no different as both 2012 presidential candidates worked the aisles.
It was a feat for Virgin to get into DCA, and they are now the only airline offering nonstop service from San Francisco. And to build onto the election-themed celebration on the flight, they also announced an inventive partnership with Rock The Vote.
For the first time in American history, passengers on board Virgin America planes will be able to register to vote directly from the "make a difference" menu on the in-flight entertainment platform. Guests may easily go online using inflight WiFi, scan the QR Code, and a mobile page powered by PromoJam Social Marketing Platform will launch on their phone. From this page flyers can take social actions, watch educational videos and register to vote with Rock The Vote -- cool stuff.
Oh Virgin America, how I love thee. Fueling us with mimosas at 6:30 a.m. and enabling me to spill a full anchor steam beer all over myself right before meeting Rock The Vote Executive Director, Heather Smith.
"We want people to understand the power they have as citizens in this country," Smith told me.
As 12,000 kids turn 18 everyday, Rock The Vote is attempting to reach them in as many places as they can -- a new mobile app, bus tour, a partnership with electronic music leaders Insomniac Events, and now at 35,000 feet in the air on Virgin. With a goal of 1.5 million new registered voters, it's partnerships like this that are required to help make that happen.
"We want to ensure people make their voice heard," Virgin America CEO, David Cush explained to me from the first class cabin.
Cush, who normally flies from the fourth row in coach, is a longtime veteran of the airline industry, Agassi Foundation board member and yoga practitioner. He's also got great hair.
I was thrilled to discuss with him the Rock The Vote partnership as well how giving back is part of Virgin's DNA.
"We have a sense of a higher purpose," Cush added. "Virgin's always been about having good, solid, profitable businesses but finding a way to give something back."
A lot of companies 'give back,' but in Virgin's case it's so much more.
Not only do they change the game time and time again by raising the status quo in various businesses, they impact how we think. They're a reflection of the consciousness of their founder, Richard Branson, and it's contagious.
As Cush describes it, "Here's a guy that could sit on his island and do nothing, but he's interested in pushing human boundaries and going out and seeing what's achievable."
Like building commercial submarines and spacelines.
I may have peaked at age 27, as I was fortunate enough to sit next to Branson last year on another Virgin America flight while he witnessed his spaceship flying for the first time out the window next to us. I had to get Cush's thoughts on Galactic as just last week Virgin America announced they're offering a ticket to space as part of the Elevate frequent flier program.
"it's very aspirational for people. I'm hoping that as more and more people go into space that it just opens up people's imagination as to what is possible," he said.
Yes sir! It's working, and the role this company plays in accelerating that kind of social change is only going to get bigger.
All in all, it was another great day filled with inspiration from the Virgin team, and a milestone for Rock The Vote. Until we meet again, Uncle Rich.
I'll leave you with this thought as given to me from Heather Smith:
"There are 46 million voters under the age of 30. That's one in every four voters in this entire country, that's a ton of power if we use it. Young people understand that we can change the world, we just have to do something with that power we have."
All photos used with permission.