 Atlanta, Georgia - A few days before I left for Jordan and Iraq, an old friend rang me up. He was emotional, begging me to be safe 'over there.' I gave him every assurance I could think of, but in the end he hung up as agitated as he'd called. I can't blame him: he's a war veteran. He was deployed to this region shortly after September 11th and he's never been the same since. He hasn't told me why, and I know better than to ask, but his time there -- where I was just two weeks ago -- ruined years of his life.
It makes me think that we've gotten very good at waging war, we humans. We do it a lot, and we do it full bore. We bomb, snipe, raze, detain, question, torture, rape... you name it, and the costs are enormous to both victims and soldiers all over the world. In fact, they've gotten so good at war in Syria that they're targeting doctors now. Gone are the 'rules of engagement' where hospitals and schools were considered off-limits in conflict -- a red crescent in Syria is nothing more than a bull's eye. One doctor I met in Amman told me that he fled Syria after soldiers stormed his operating room to kill him. He escaped and hid for four days without food or water in an abandoned home before fleeing on foot across the border into Jordan. Every doctor I met had a similar story of being hunted for providing medical services. That, my friends, is a war.
What if we committed ourselves to being as magnificent at creating as we are brilliant at destroying? What if we decided to mine the genius of our collective humanity and become prodigies at healing, at creating safe refuge for those broken by conflict and treating their shattered psyches with compassion and care until they could draw up the strength to rebuild their lives?
There was another phone call that made an impression on me recently: my first day in Jordan, I saw a Bedouin man riding a camel. He had a checkered scarf around his head, sat easily in a traditional saddle, and chattered away in Arabic on a cellphone. It made me look twice -- this man who could have belonged to another century were it not for the decidedly modern technology conveying his words. It's necessary, isn't it? Making room for new technology and new thinking in our lives even as we root in our traditions. We have to evolve, even if just a bit, in order to live in the world as it is.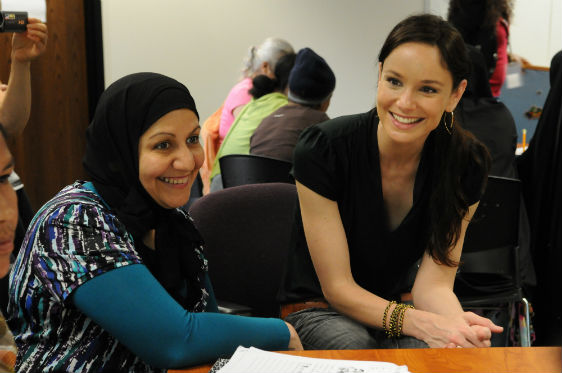 Sarah Wayne Callies sits in on a refugee women's job training class at the International Rescue Committee's offices in Atlanta. Joeff Davis/IRC
So perhaps it's time to adjust our idea of our role in rebuilding. We may not, quite honestly, be doing enough. We've gotten so good at destruction, we humans. It may be that, since we all participate in cultures that make war, it falls to us to be a bit more active in reaching out to the victims of wars -- exercising our powers of intelligence and compassion to heal the many rends in our torn world. What would it look like if we all decided to a little more for healing with all of the same ingenuity and bravery that has been brought to war? And if we chose not to, don't the bad guys win?
Here's a starter list of ideas to get you going -- of course, they're IRC-based, that's my gang.
1. Shop. The IRC has a store of cool stuff and rescue gifts.
2. Talk on the phone. Call your representatives. Members of Congress and the Senate pay attention to who calls them and why: ring them up and ask what they're doing to support and bring aid to victims of wars.
3. Tweet. Or Facebook, whatever social media you use -- make it a part of the zeitgeist that there are people who need help and we can give it. Make it hip to help, you dig? Follow #theIRC. Like the IRC on Facebook.
4. Volunteer. Every nonprofit is understaffed and underfunded. If you have an extra hour a week, you can use it to make un-war.
5. Clean House. Clothing, furniture, household goods -- anything that makes a house is useful to making a home for resettled refugees who are given sanctuary in the US. The IRC has offices in 22 cities that welcome these newcomers and transition them through their first days in the US. Call the office nearest you to find out their needs.

And thank you. Your care means more to people overseas that you know. Their greatest fear is being forgotten -- let's remind them they are not alone.
You can read IRC Voice, Sarah Wayne Callies, blog series about her trip to visit International Rescue Committee programs in Northern Iraq and Jordan on the Huffington Post, here.
You can find out more about the IRC's work in response to the Syrian crisis here.