 There was an employee walkout at a Walmart Supercenter in St. Cloud, Fla., on Wednesday morning, but even if you were shopping there when it happened you probably would have missed it.
The walkout included just one worker -- Vanessa Ferreira, age 59. Ferreira informed her manager publicly Wednesday morning that she was going on strike. The other employees watched her walk out of the store, then went back to doing their jobs.
Within a half hour, Ferreira would be told by police outside that she was trespassing and ordered to leave. She's worked in the store's cake department for eight years, and she earns $11.90 an hour, she said.
"I love to decorate cakes," Ferreira said Wednesday. "That's my priority -- to do my cakes the best I can."
As much as she loves her job, there's plenty Ferreira doesn't like about her employer. According to Ferreira, Walmart's wages are too low for workers to survive on, and the company keeps too many of its employees on part-time status, leaving them to rely on government assistance to get by.
"They pay low wages, then the taxpayers pick up the tab for food stamps and Medicaid," Ferreira said. "They need to take care of their people. They need to be responsible to their workers."
A few months ago, Ferreira heard about the union-backed group OUR Walmart, which is orchestrating an as-yet-unknown number of strikes at Walmart stores throughout the country this week, throwing the world's largest retailer into damage control just ahead of Black Friday. Ferreira said she liked the idea of a group advocating for workers, so she joined.
Ferreira said she tried to recruit members, but it wasn't easy.
"They're so scared," Ferreira said of her co-workers. "I couldn't get anybody to join. They said, 'You can't fight Walmart.'"
Whatever strikes hit Walmart stores this Friday, it's likely only a small, perhaps miniscule fraction of the retailer's 1.4-million member U.S. workforce will take part. And though news footage may show boisterous gatherings by activists outside stores, the more daring acts of protest will have been undertaken by individual workers like Ferreira who walk out when there are no TV cameras around. In recent days, it became clear that if she went on strike she would probably do so alone.
But Ferreira said she felt compelled to walk out after an incident a few days ago. In a letter she's filing with the National Labor Relations Board, Ferreira accuses management of retaliating against her because of legally protected organizing in the workplace.
Ferreira said that on Saturday she received her first-ever "coaching" -- a formal bit of Walmart disciplining that could help lead to dismissal down the road -- after a customer complained about a problem with a cake order. Despite occasional problems with cakes in the past, Ferreira said it was the only coaching she's been given in eight years.
She said she believes she was disciplined because she was a known member of OUR Walmart who might demonstrate on Black Friday. She said in her letter that she would withdraw her complaint if the coaching were removed from her file.
"I've worked at Walmart and never had a writeup, no warning, no nothing," Ferreira said. "I've been in the baking industry in retail operations for 20 years and never [been] disciplined."
On Wednesday morning, Ferreira said she and other employees were called to a meeting where the manager warned there might be distractions led by OUR Walmart surrounding the holiday. According to her own version, Ferreira told her co-workers it was employees' right to go on strike, and then things got "pretty hot." A few workers said Ferreira didn't speak for them. Ferreira said she was speaking for the ones who were afraid to say anything at all. To cool everybody off, Ferreira said the manager tried to lead everybody in a "Walmart cheer."

"Why don't you just quit?" Ferreira said one co-worker told her.
"I said I've got eight years invested in this place -- I'm going to make it better," Ferreira said.
The store manager did not return a call from HuffPost requesting the manager's version of events.
After the meeting, Ferreira said her manager came to the bakery with store security and asked her if she planned on disrupting the store on Black Friday or Thanksgiving. The manager offered an "open-door" discussion to talk about her grievances, which Ferreira declined. Ferreira gave her a letter informing her of her charge being filed with the labor board and then clocked out.
By then, several family members had shown up to support Ferreira, including her daughter, Tanya Russ, who said the scene was "awkward and tense."
"Everybody was looking, but nobody was saying anything," Russ said. "The other workers, they were looking but everybody got really quiet. Then I just said, 'Walk out.' So we walked out."
Russ noted that her mother is in a better position than many workers, since her husband has a good job and they're less dependent on her wages.
"She didn't have to do this," Russ said. "She's not in a position [many] workers are where they live off the government and don't have a car and don't know how the bills will get paid. She's standing up for them and for her future co-workers."
Russ and the other family members had brought homemade protest signs. They included the classic Walmart smiley face with tape over the mouth, to symbolize the silencing of workers. Their signs said "We want to live better, too." Ferreira and her family were joined by labor activists but no other employees.
The police soon arrived, took down their information and ordered them to leave because they were trespassing (the police order comes at the end of the video below). According to Sgt. Denise Roberts of the St. Cloud Police Department, the police issued the trespassing warnings at Walmart's request. They were not given summonses because no civil or criminal charges will be filed. In all, more than 20 such warnings were given to people outside.
"We did it on behalf of Walmart," Roberts said. "Walmart just has a policy with this Black Friday that they don't want anybody doing any demonstrations inside the store or outside."
Angela Williamson, a former Walmart employee and activist with the United Food and Commercial Workers union, was also given a trespassing warning. She said she and the others, including Ferreira, were told they could not come back on Walmart property.
Kory Lundberg, a Walmart spokesman, said the trespassing warning was given to Ferreira mistakenly, and that she's welcome to return to the store for her next shift after her strike.
"It was certainly not intended, and we're reaching back out to her," Lundberg said. Lundberg said Walmart did not have enough information to comment on Ferreira's retaliation claims.
Of the strikes expected Friday, Lundberg said, "We think it's going to be the same small number of associates at the same handful of stores they've targeted over and over, most of it union organized. ... It's not going to have an impact on our stores."
Ferreira has both Thanksgiving and Black Friday off, with her next shift set for Saturday. She'll be spending the holiday at her daughter's house with her family. She said she has much to be thankful for.
"I'm blessed compared to other workers at Walmart," she said.
CORRECTION: This article has been revised to correct the spelling of Ferreira's last name.
If you have stories or tips about the Walmart strikes, please send them to openreporting@huffingtonpost.com.
Related
Before You Go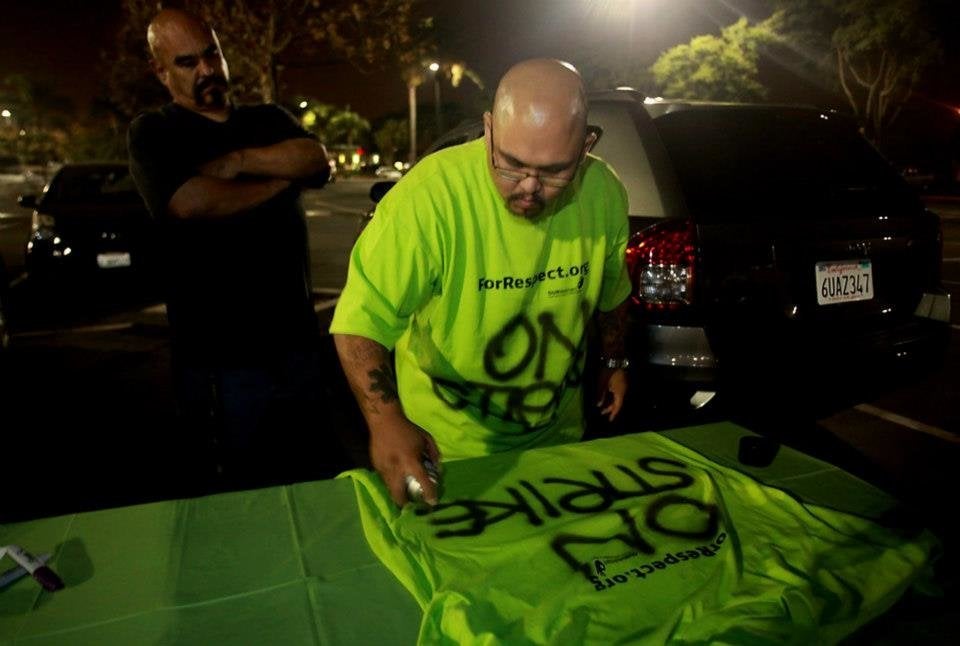 First-Ever Walmart Strike, Oct. 2012, LA
Popular in the Community