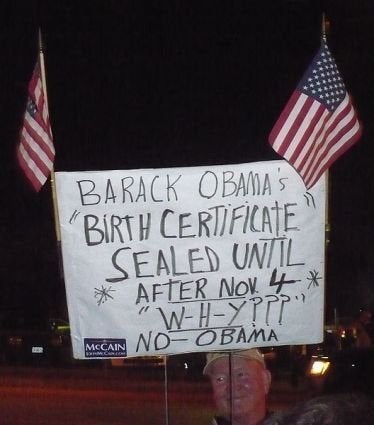 Tea-party style activism has taken some nutty turns before--the Hitler references, the Holocaust pictures. But Walter Fitzpatrick III may be about to push anti-Obama activism to new heights. On Tuesday, he plans to walk into the Monroe County courthouse in tiny Madisonville, Tennessee, and attempt to convince a local grand jury to indict the president on treason and fraud charges.
Fitzpatrick is one of those alternate-reality Americans who believe that Barack Obama is actually one Barry Soetoro, a man who is not an American citizen and thus ineligible to serve as president. Fitzpatrick claims that since March, he has been trying to get federal prosecutors in Tennessee to bring treason charges against the president. All that effort earned him, however, was a visit from the Secret Service.
REAL LIFE. REAL NEWS. REAL VOICES.
Help us tell more of the stories that matter from voices that too often remain unheard.