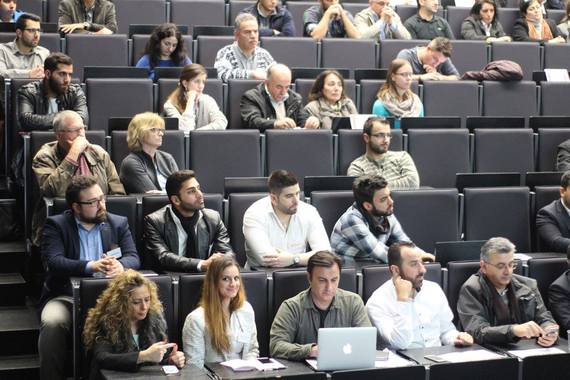 They look similar to everyone else in the audience at the auditorium at Paderborn University. Three, modernly dressed and clean-shaven men. Suddenly, they stand up and start screaming out their hatred against us. They claim that we falsify history, and that the genocide on Christians in 1915 never occurred. They also claim that we presented false facts about the genocide on Christians and Yezidis in 2014-2015. They claim we are exaggerating and lying. That's all I can understand before they are forced out of the auditorium. Some of the Yezidis, who fled to Germany, are shaking with fear.
The day before I met with the Syriac-Orthodox Bishop Nicodemos Sharaf Davut. I met him at the monastery of Mor Jacob Sarug in the city of Warburg in Germany.
"We told the world that protecting us would mean protecting the world, but no one listened. Forcing the terrorists to leave the Nineveh plains in northern Iraq, where over 160 000 Christians were forced to flee in one day, would send the message that the outside world does not allow ISIS to persecute and kill without interference. "
He points out that the horrific acts of violence, the Islamic rampage, began long before the ISIS rampage. 800,000 Christians had already left Iraq before the invasion of Mosul in the summer of 2014, and that the world sat idly by.
"Children are playing soccer with severed heads. I have seen so much. At one point, al-Qaeda were stopping all cars at a major intersection. They dragged men from their cars and shouted that they were traitors who had worked for Americans and then proceeded to cut their heads off. That was five years ago. I was terrified that they would stop my car as well."
I want to know more about his last hours before he left Mosul last summer.
"I did not want to be the last bishop to leave the city, I was dragging my feet. If I escaped, other Christians would do the same and Mosul would be emptied of us. I was at St. Aphrem's Cathedral and heard the bombs fall, but I insisted on staying. A senior officer from the Army called me and said that this was serious, that ISIS would invade the city, kill all Christians and that the army would not be able to protect us. "
Today the church he used to pray in, one of the world's oldest, is a mosque with the name "Jameh al-Mujahideen", the jihadists mosque.
Father Shamoun Demir gave me a lift to the monastery. He was born in Turkey. He reminded me of the lecture the day before, about what the Turkish human rights activist Zeynep Tozdoman had said, that Christians to this day are described as traitors and enemies in Turkish history books.
"A whole state is being radicalised, an entire world. Here in Europe people believe that the problem lies in exclusion and social rank, but that is wrong, it is ideological. It is an ideology that is radicalising people worldwide. We fled from the persecution of Christians in Turkey and now, what is happening in Europe? Look at Paris" Father Shamoun said.
To understand what is happening in the world today you have to put it in context, we cannot be afraid to discuss ethnic, religious, political and historical differences. Iraq, Syria and Turkey - the genocide is repeating itself. One hundred years ago does not feel that far away now, history is repeating itself today and it has landed at Europe's feet, in our universities.
Calling all HuffPost superfans!
Sign up for membership to become a founding member and help shape HuffPost's next chapter